Mayor rejects KSPCB's accusation on Maravoor dam
Mangalore Today News Network
Mangaluru, May 20, 2017: Quoting the claims of environmental officer of KSPCB regional office Rajashekar B Puranik at a meeting held at the DK DC office; Mayor Kavita Sanil on May 19, Friday dismissed the assertions of Karnataka State Pollution Control Board's (KSPCB) regional officials blaming Mangaluru City Corporation (MCC) for the contamination of water at Maravoor vented dam.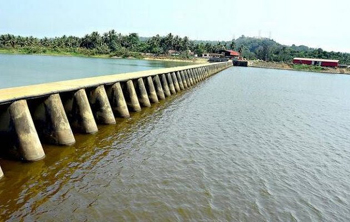 Accusing MCC that owing to large scale contamination water has turned black, the mayor termed it as a bid to pass the buck on MCC for no fault. Moreover, the officer in particular should have come out with his findings to substantiate his claims before pointing fingers, she said.

The mayor added that the MCC on its part will also inspect the dam and its surroundings on May 21, the mayor said she will lead a team of officials, including MCC commissioner and engineers from water supply wing, to get the facts of the issue at the site.

The mayor, who is also the ex-officio member of KSPCB, said that she will raise the issue during the next meeting of the board in Bengaluru. Before that, the mayor said she will also speak to KSPCB chairman Lakshman to stem unfounded accusations.

The mayor said, MCC may have been at fault three to four years ago when water from vented well at Pacchanady was overflowing and mixing with the water at Maravoor as and when there was power cut. A generator was installed in the later days as an alternative to ensure a permanent solution to the problem, she added.

MCC's Commissioner Mohammed Nazeer also refuted the claims of KSPCB officials and accused the latter of having no adequate information on the exact cause of contamination of water that has turned the water on the right side of the dam black.

On KSPCB officer's claim that vented well at Kongoor near Kulshekar is also the source of contamination, Nazeer said, though Dakshina Kannada Milk Union Limited (DKMUL) is releasing waste water at Kongoor that is later flowing towards Pacchanady, it's still devoid of any contaminating agents. Moreover, it is not sewage water, he claimed. According to KSPCB officials, fish have died due to depleting oxygen level in the water caused by contaminating agents. However, they are still unable to get to the root of contamination, Nazeer said.

Write Comment
|

E-Mail
|
Facebook
|

Twitter
|

Print