Maveli Express gets refurbished rake under Project Utkrisht
Mangalore Today News Network
Mangaluru, Feb 06, 2019 : With apricot and red exteriors and swanky interiors, the Mangaluru Central-Thiruvananthapuram Maveli Express (16603) chugged out of Mangaluru Central in style on Tuesday afternoon reported The Hindu.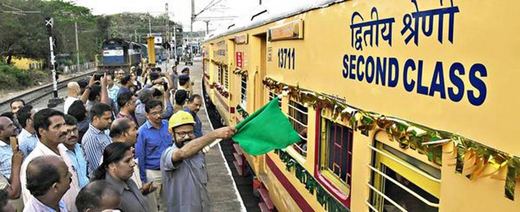 The upgrade and refurbishment was done under Project Utkrisht of the Railway Ministry, which identified 144 rakes of 66 express trains across India last April. The Railway Ministry intended to upgrade the rakes at a cost of ₹60 lakh each.

Officials at Mangaluru Central arranged the flagging off in the hands of M.K. Ravindran, senior technician (Carriageway and Wagon), who is retiring shortly, as a gesture to motivate other railwaymen.

Maveli Express has rake sharing arrangement (RSA) with two other trains — Mangaluru Central-Chennai Central Mail (12602) and Chennai Central-Mangaluru West Coast Express (22637) — with four rakes in all. At present, only one of the four rakes is refurbished and the remaining three would be upgraded in a phased manner, officials at Southern Railway's Palakkad division said.

Maveli Express leaves Mangaluru Central at 5.45 p.m. to reach Thiruvananthapuram at 7.55 a.m. the next day (14 hour journey). In the return direction, it leaves Thiruvananthapuram at 6.45 p.m. to reach Mangaluru Central at 8.30 a.m. the next day (13.45 hour journey).
Improved amenities

Project Utkrisht envisaged improved interiors of rakes of identified trains with LED lighting inside coaches; glowing seat number indicators; vinyl wrapping of doorways and gangways; standard washbasin with uniform taps; epoxy flooring inside toilets instead of PVC flooring with good quality taps; refurbishing damaged floor/seats inside coaches; on-board cleaning with cleaning of toilets once in two hours; regular collection of trash from dustbins; odourless toilets and many more.

The exterior of coaches has poly urethane (PU) painting with new colour scheme and pricot colour in the main body and red in the ends, said a release.

Refurbishing of coaches to Utkrisht standard is being done at SR's workshops — Carriage Works Perambur and Golden Rock Workshop, Ponmalai, Tiruchchirpapalli.

Though Mangaluru Central-Nagercoil Parasuram Express (16649/650) was initially identified for an upgrade under Project Utkrisht, it was dropped as the rake comprises chair car coaches. Instead, the SR selected Maveli Express that has sleeper coaches.


Write Comment
|

E-Mail
|
Facebook
|

Twitter
|

Print