Matter needed review before banning Kambala - DVS
Mangalore Today News Network
Mangaluru, Dec 8, 2014: Speaking on accepting a memorandum from Kambala Samithi against the ban on Kambala, the traditional sports of undivided Dakshina Kannada district, Union Minister for Law DV Sadananda Gowda unilaterally stated that before initiating any move to ban Kambala, the officials should have reviewed the notice adding the officials should have discussed the issue with the ministers in the district. They could have moved forward after obtaining legal opinion. The decision to ban Kambala was taken in a hurry. "I will consider the memorandum submitted by the Kambala samithi seriously," he said.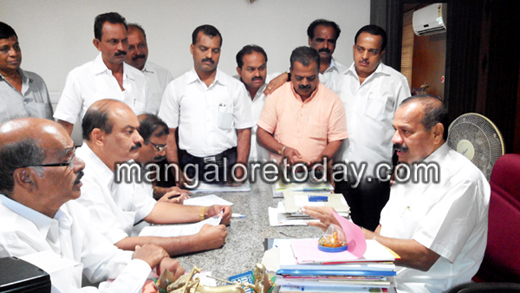 Regarding the case on arecanut is before the Supreme Court. The report that arecanut is not harmful to the health will be placed before the court. A delegation of MPs will meet Union Health Minister shortly to impress him upon not to ban arecanut. Also, research on the medicinal values found in arecanut conducted by a medical college is Chennai will be submitted to the court. All efforts will be made to ensure that no harm will meted out to the areca growers.


Kasturirangan report : The Law Minister said that on the outset it proves that Kasturirangan report on conservation of Western Ghats is harmful to the people residing on the periphery of the forests. The report prepared by collecting satellite images is not adequete and there are differences in the reality and the report. This has been confirmed by the Green Tribunal itself. The Centre had directed the State to conduct a detailed survey in the already identified ecologically sensitive areas. However, the State government is yet to wake up. It woke up only after the Centre issued a reminder. Now, it is conducting the meeting in ahurry to finalise the report. The residents of Uttara Kannada, Udupi, Kodagu, Chikkamagaluru, Dakshina Kannada and Shivamogga will feel the heat with the implementation of Kasturirangan committee report. The state government should take up the issue seriously. The government should submit a detailed report on those who will be affected he added.

On erasing old laws : : Gowda said the process of repealing 90 old laws will be placed before the parliament in the ongoing winter session. The government will give priority to bring in reforms in election.

Traditional Kambala : Kambala Samrakshane, Nirvahane mathu Tarabethi Academy Convener K Gunapala Kadamba said that following the Supreme Court direction, even traditional Kambala could not be held. As a result, over 5,000 persons have become unemployed. Thre is a need to bring in modification in law. He said that with the ban, tradition has come to a halt. We can not withhold Kambala which is also observed as a vow, he added.

Write Comment
|

E-Mail
|
Facebook
|

Twitter
|

Print