Manipal: Cobra dies after swallowing knife at poultry farm!
Mangalore Today News Network
Manipal, May 14, 2015 : In a bizarre case, a cobra which swallowed a knife after mistaking it for food lost its life after the knife protruded from its stomach on the third day.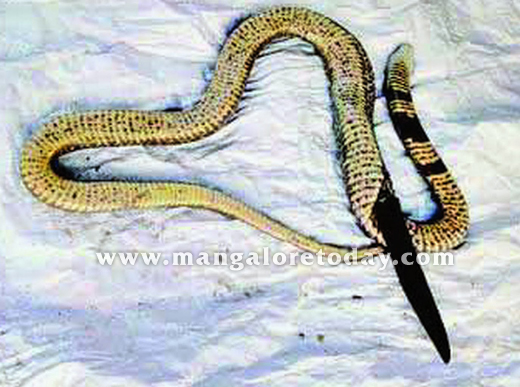 Recently, a cobra which was spotted trying to kill a hen in a poultry farm in Manipal was shooed away by the people there. However, the next day the cobra was again spotted in a corner. It looked as if it had swallowed something. When attempts to shoo it away failed this time, the locals informed herpetologist Gururaj Sanil.

Sunil who arrived at the spot, after examining the cobra concluded that it might have eaten some hard object rather than some rat or head of a hen as thought by locals. Realising that it would be difficult to save the cobra unless it vomited the swallowed object, Gururaj had taken the cobra to his house. The next day Gururaj saw a portion of a knife coming out from the stomach portion of the cobra. Though Gururaj removed the knife, the cobra died of the injuries.

Later the poultry farm owner was informed and he took the knife which was missing from the farm as well as the dead snake and later performed its last rites.

Gururaj says though snakes have the capacity to spit out any unwanted object they might have swallowed, they however cannot do so in case of hard objects like a knife.



Write Comment
|

E-Mail
|
Facebook
|

Twitter
|

Print