Manipal: Assam Governor for emotional ties with NE; denies any controversy
Mangalore Today News Network
Manipal, Nov 25, 2015: P.B. Acharya, Governor of Assam and Nagaland, delivering a lecture on 'National emotional integration, learning of tribal dialects and respecting diversity' organised by the North-East Studies Centre of Manipal University, here on Nov 24 said there should be emotional integration of the mainland with the north-eastern States of the country.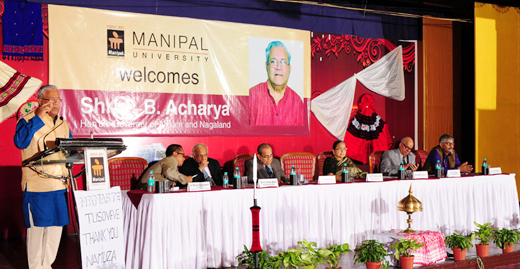 Governor Acharya said India is a diverse, secular country with many languages and dialects. Unity in diversity was a unique feature of the country. All our tribal dialects of the North-East are easy to learn and have a beautiful and limited vocabulary. He said many universities have Departments on Foreign Languages, but hardly any have one on tribal dialects of the north-east. Nagaland has a population of 20 lakh, and 16 tribes with their own dialects.

The Chair on Tribal Dialects should be named in the memory of inspiring leaders of the north-east such as U. Tirot Singh, O. Jivan Roy of Meghalaya, Rani Ma Gaidenliu of Nagaland, and Day Erring of Arunachal Pradesh. The universities could start a six-month certificate or diploma courses in tribal dialects, he suggested.

The universities should encourage exchange of teachers and doctors with the north-east. Local families should become guardians of students of north-east States studying in Udupi and Dakshina Kannada districts, Governor Acharya said.

Ramdas M. Pai, Chancellor of Manipal University, H.S. Ballal, Pro Chancellor, Arvind Kumar, Head of the Department of Geopolitics and International Relations at the University, and Monish Tourangbam, Coordinator, North East Studies Centre, were among those present.

The lecture was followed by a cultural performance by artistes from the north-east.

Denies controversy : P.B. Acharya, Governor of Assam and Nagaland, Nov 24, denied that he had stated that the country belonged only to the Hindus.

Replying to queries from media after delivering a special lecture organised by the North East Studies Centre of Manipal University here, Gov Acharya said that he was asked a question by media with regard to National Register of Citizens of Assam a couple of days ago in Guwahati. He had expressed his concern over the delay in progress in the completion of the national register process.

However, the process was expected to be completed by December-end. Elections would be held in Assam in 2016 and it was necessary to have proper electoral rolls without infiltrators getting on them. Gov Acharya had said that Bangladeshi Hindus coming to Assam were not infiltrators as they were fleeing persecution. They were refugees. The Hindus there had nowhere to go. Hence, they had to come to India.

The Union government had issued a notification that these Hindu refugees should be provided citizenship. "If members of other communities such as Christians, Jains and Buddhists came to India fleeing persecution, they too could be considered for citizenship. Gov Acharya is reported to have said.

Write Comment
|

E-Mail
|
Facebook
|

Twitter
|

Print