Mangaluru residents distressed with cash flow from ATMs
Mangalore Today News Network
Mangaluru, Nov 12, 2016: Reports have flooded in that the Aam Aadmi, common man, who was already troubled by demonetization aannounced on nov 8, Tuesday night, appeared to be frustrated on the third day, Nov 11, Friday after the government failed to make arrangements for adequate cash dispensation, particularly at ATMs, here in Mangaluru and so on.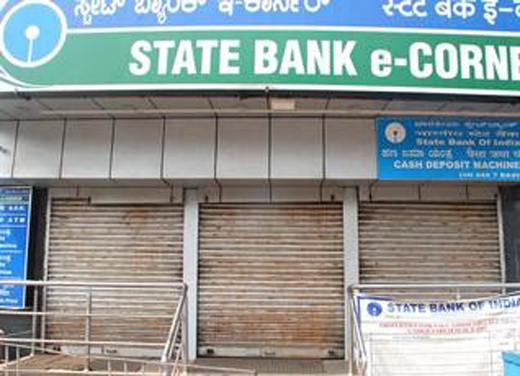 Very few ATMs across the city began to get cash by evening and long queues of anxious people were seen outside the booths. Exchange of currency in the denomination of Rs. 500 and Rs. 1,000, cash was not available even for withdrawal from one's account either in banks or at post offices at many places in this hub of economic activities in coastal Karnataka.

Most off-site ATMs across the region were non-functional till evening even as authorities started making arrangements to replenish the cash trays by Nov 11, Friday morning. Senior officials at the State Bank of India said cash was being made available in limited quantities and the distribution is being rationed. The Head Post Office at Pandeshwar witnessed long queues since morning even as it received just Rs. 5 lakh in cash by noon. Another post office at Kankanady was yet to receive any cash even at the afternoon. A retired government employee, who was waiting to exchange old currency notes at a SBI branch, said that the wait has become too long. As a middle class person, he too supported the government initiative to eliminate counterfeit notes and black money. "But, how long should I wait to utilise my legally earned money," he wondered.

A retired bank manager waiting for cash exchange at a post office, however, said that people should not lose patience. "It is a very big exercise and takes time to settle down," he said.

A senior official with a nationalised bank said that cash, in the denominations of Rs. 100 and below, was in good supply since Nov 9, Wednesday and there was no problem. With regard to non-availability of cash at ATMs, the officer said the vendors who fill the ATMs must be playing the spoilsport.


Customer rush :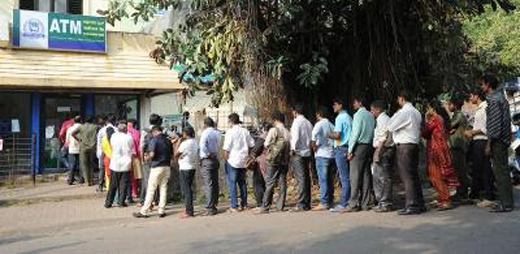 There were long queues in front of those that opened in the central business district and residential parts of the city but which started off late. While some remained out of service, others ran out of cash as people scrambled to withdraw money. Karnataka Bank chief general manager said cash loading at the bank's various ATMs started around 11am, a reason why they started functioning late. "We are loading only Rs 100 notes. New calibration is required for Rs 50 notes, which will take another 2-3 days," he said.

Bhat acknowledged the inconvenience caused to customers but said this is a "gigantic task" considering each ATM machine has only 3-4 cassettes that can hold cash to dispense.

"We are only using Rs 100 denominations, and an ATM with only Rs 100s can hold about Rs 4 lakh in cash. If everyone withdraws Rs 2,000 each, the cash will suffice for only 200 people, after which it needs to be refilled," he said. He, however, added that all ATMs of Karnataka Bank should be working by Saturday evening. Chief general manager of State Bank of India (SBI), Bengaluru Circle, said there is enough cash with the bank due to a steady supply from the RBI, and all its ATMs have been sufficiently loaded. She said she is yet to hear of any complaints of an SBI ATM not functioning in the city.

Canara Bank managing director said there is a huge crowd in banks and many customers are hesitant to accept Rs 2,000 notes. "We are replenishing our ATMs with Rs 100 notes as quickly as possible," he said, adding the bank has asked the third party that manages many of its ATMs to do so as well. Canara Bank has 10,000 ATMs across India.

DGM and zonal head, Corporation Bank, said the situation is likely to ease within a week when RBI makes available a sufficient amount of currency. The other major problem with ATMs is they have not been configured to dispense Rs 2,000 currency notes, which are slightly smaller than the demonetized Rs 1,000 currency notes."The agency dealing with the machines is working on a war footing to get the configuration right. Till now, the ATMs were configured to dispense Rs 1,000, Rs 500 ad Rs 100 denominations. With two of these out of circulation, there's a shortage of Rs 100 currency notes,'' said Vinod.

He said the shortage of cash was across all units, be it ATMs or banks. But in Mangaluru, barring SBI and Corpbank, none saw a major rush. Most bankers feel it will take another 8-10 days for the situation to return to normal. A significant easing is expected once Rs 2,000 notes become available in ATMs.

Write Comment
|

E-Mail
|
Facebook
|

Twitter
|

Print