Mangaluru : Vishwa Konkani Sahitya Samaroh on Nov 5,6
Mangalore Today News Network
Mangaluru , Nov 3, 2015 : World Konkani Centre in association with Department of Kannada and Culture, Government of Karnataka and Department of English, Goa University will organise a TWO day literary extravaganza called VISHWA KONKANI SAHITYA SAMAROH – 2015 on 5th and 6th November 2015 at World Konkani Centre, Mangaluru. Vishwa Konkani Sahitya Samaroh, which is aimed at enriching literary experiences in Konkani, will feature talks, panel discussions, research papers presentation, a memorial lecture and a Campfire Poetry session. Scholars, Literary Personalities, Research Students and enthusiasts from Maharashtra, Goa, Karnataka and Kerala will be participating in this two day festival.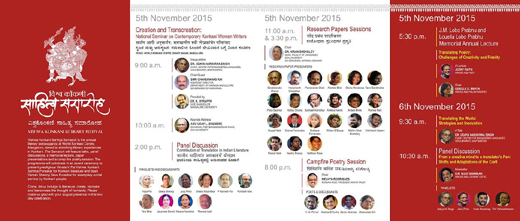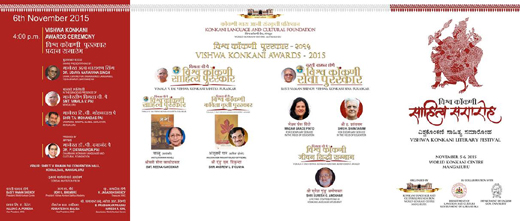 Eminent linguist and literary personality Dr. Udaya Narayana Singh, Chair, Centre for Endangered Languages, Vishwa Bharathi, Santi Niketan, West Bengal will inaugurate the Vishwa Konkani Sahitya Samaroh at 9.00 a.m. on 5th November 2015. Dr. K. Byrappa, hon'ble Vice Chancellor, Mangalore University will preside over the inaugural ceremony and Shri Chandrahas Rai, Assistant Director, Department of Kannada and Culture, Government of Karnataka will be the chief guest.

"Creation and Transcreation – A National Seminar on Contemporary Konkani Women Writers" which has been attracting research scholars from literary field will be part of the Samaroh begin with a Keynote speech on the theme by Adv. Uday L. Bhembre, Chairman, Poet Bakibab Borkar Chair, Goa University.

A panel discussion will also held on the theme focussing on the Translation aspects and the contribution of the Translation studies in Indian Literature featuring eminent writers and translators such as Vidya Pai, Dr. Geeta Shenoy, Dr. Judy Pinto, Sheela Kolambkar, Tara Bhat, Jaimala Danait, Meena Kakodkar, P. Ramesh Pai, Pundalik Naik, Ramesh lad as panellists and discussants. About 26 research papers will be presented during the sessions, by Research Scholars from various universities on the theme. Dr. Kiran Budkuley, Dean, Faculty of Languages, Goa University and Co-Convener of the Vishwa Konkani Sahitya Samaroh will Chair the research paper presentation sessions and a peer panel will review the panels for publication.

At 5.30 p.m. on 5th November 2015, A lecture in memory of Shri J.M. Lobo Prabhu and Smt. Louella Lobo Prabhu will be presented by eminent writer and poet Shri Jerry Pinto, Mumbai followed by interactive session. The Session will be chaired by Mrs. Giselle D. Mehta, Writer and Philanthropist. The topic of the Lecture is"Translating Poetry – Challenges of Creativity and Fidelity".
As a special attraction a unique Campfire Poetry session has been organised as part of the samaroh, amidst the serene campus of World Konkani Centre, Chaired by Poet Melvyn Rodrigues and eminent poets such as H.M. Pernal, Andrew L. D'cunha, Sanjiv Verenkar and Shakuntala Kini will take part in this session as poets and discussants.
On 6th November 2015 at 9.00 a.m. A talk on "Translating the World – Strategies and Innovation" will be delivered by Dr. Udaya Narayana Singh followed by a very vibrant Panel discussion on " From Creative mind to a Translator's Pen: Shifts and Adaptations of the Craft". The Panel will be moderated by eminent critic and writer S.R.Vijay Shankar and eminent writers such as Vivek Shanbhag, Dr. Uday Narayana Singh, Jerry Pinto and T.N. Vishwambaran will be the panellists.
Dr. Kiran Budkuley, Co-convener of the Samaroh will deliver the valedictory address. The Valedictory session will be presided by Shri Basti Vaman Shenoy, Founder and President of World Konkani Centre.
The Vishwa Konkani Sahitya Samaroh 2015 will culminate with a public function at 4.00 p.m. at T.V.Raman Pai Convention Hall, Kodial Bail, Mangaluru for bestowing the awardees with Vimala V. Pai Vishwa Konkani Sahitya Puraskar – 2015 and Basti Vaman Shenoy Vishwa Konakni Seva Puraskar 2015. The jury has selected Konkani Novel "Vastu" by eminent writer Meena Kakodkar for this year's Vimala V. Pai Vishwa Konkani Sahitya Puraskar, An anthology of Konkani Poems, "Anjurachem Paan" by eminent Poet Andrew D'Cunha for Vimala V. Pai Vishwa Konkani Kavita Kruti Puraskar and doyen of Konkani movement Shri Suresh Gundu Amonkar for Vimala V. Pai Vishwa Konkani Jeevan Siddhi Samman. A separate jury has also selected Madam Grace Pinto, founder of Ryan Group of Institutions and Shri H. Shantaram, Bhandarkar's Institutions Kundapur for Basti Vaman Shenoy Vishwa Konkani Seva Puraskar considering their exemplary service in the field of education.
Dr. Udaya Narayana Singh, Chair, Centre for Endangered Languages, Vishwa Bharathi, Santiniketan who is also former director of Central Institute of Indian languages will honour the awardees and present the awards in the august presence of Smt. Vimala V. Pai, the eminent donor of all the five awards Shri T.V. Mohandas Pai. Dr. P. Dayananda Pai, Chairman of Konkani Language and Cultural Foundation will preside over the award ceremony.


Write Comment
|

E-Mail
|
Facebook
|

Twitter
|

Print