Mangaluru : Urwa parish celebrates 150 year Jubilee with grandeur
Mangalore Today News Network
Mangaluru, May 02 2015: The catholics of Urwa parish marked the 150 years of establishing their parish on May 1, Friday. The Bishop of Mangalore Rev Dr Aloysius P D'Souza along with Rev.Dr.Francis Serrao. Bishop of Shivamogga, Rev Dr. Robert Miranda Bishop of Gulbarga, Rev Dr Pius Thomas D'Souza Bishop of Ajmer, arrived at the entrance of the church and were ceremoniously received by the Parish Priest Fr.Victor D'Mello, priest of the parish and council members.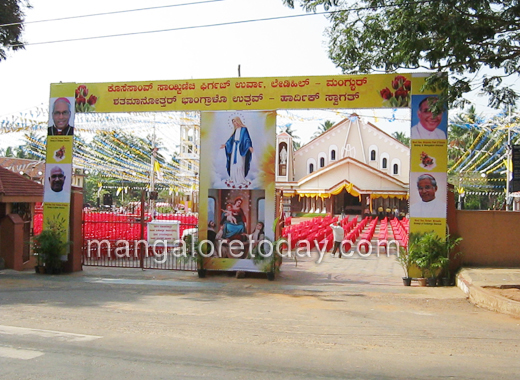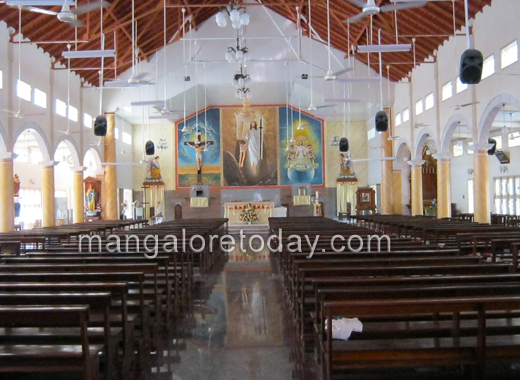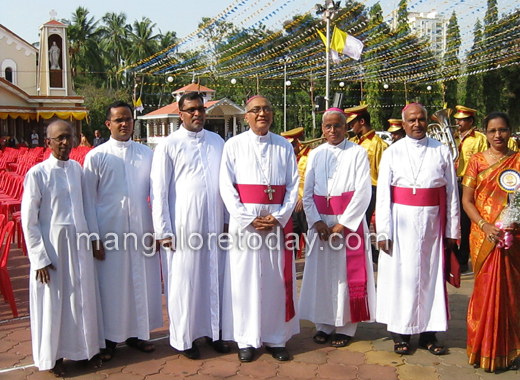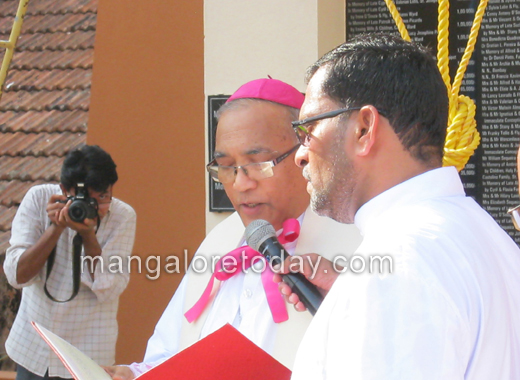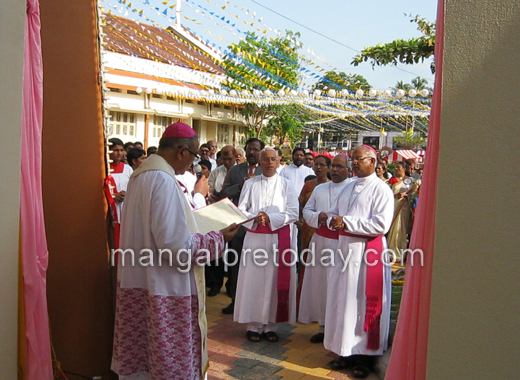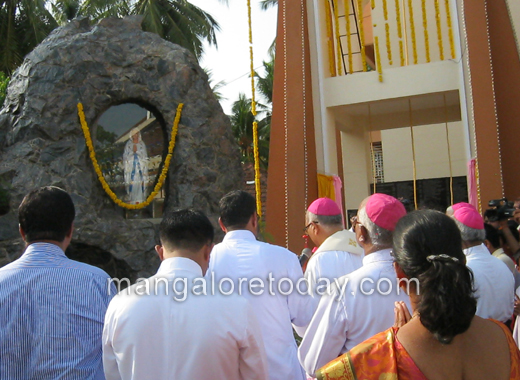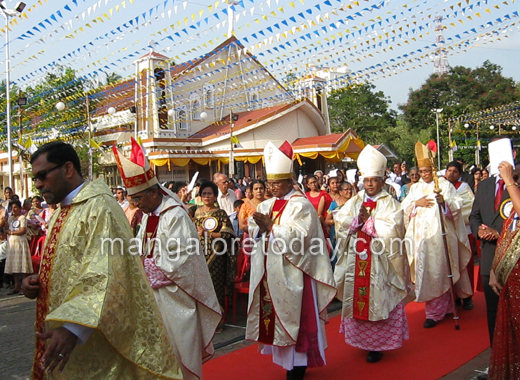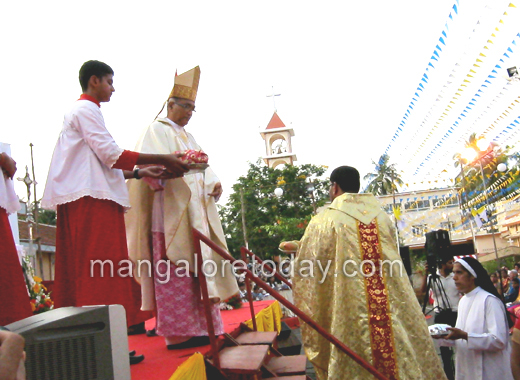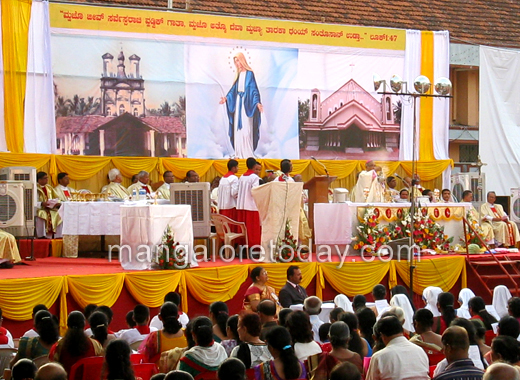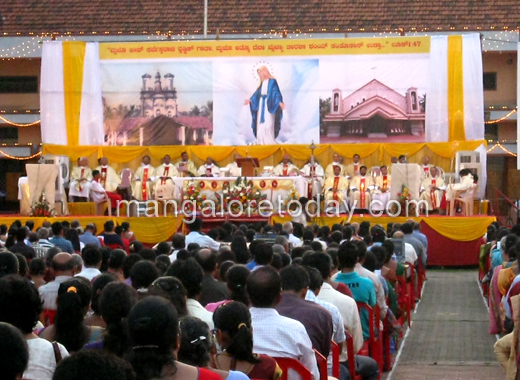 A large number of devotees were present and all proceeded with the band to the new belfry and grotto erected to mark the Jubilee. After the opening ceremony the special blessings were bestowed by the Bishop of Mangalore and other Bishops present. Soon after this ceremony and joyous ringing of the new bells from Germany, the solemn mass commenced. The main celebrant was the Bishop of Mangalore, along with other bishops and about a hundred priests present. The special choir of more than a 150 strong was at it's best all along. The homily was stirringly delivered by Rev.Dr.Francis Serrao . Bishop of Shivamogga. His theme was "Because of the Mother we are all here", he likened the Urwa churches Mother Mary of the Immaculate a mother and due to her how all the Urwa parish came into existence and grew into a huge and well knit family.


Immediately after the mass and light refreshments, the stage programme took place and the Bishops, parish priest and team were joined by V Rev Sr Linette AC Provincial Apostolic Carmel Mangaluru Province. Shri J R Lobo MLA Mangaluru, Shri Ivan D'Souza MLC Govt of Karnataka, V Rev Fr. J B Crasta Vicar Forane, Episcopal City Deanery, Mrs. Jacintha Alfred. Mayor City Corporation Mangalore and many well wishers and donors and many priest, nuns and laity

Bishop, Dr Aloysius Paul D'Souza addressing the huge gathering, said that this momentous occasion of completing 150 years is a point in time to congratulate parish priests, sisters, people of this church and people who have been rendering services to the Church. It is a good thing that the parish priest was felicitated today - it shows value to his sevices for the parish priest. Recognition of services is important. The parish priest (Fr Victor D'Mello) for putting in his efforts to celebrate the event is valued greatly.

You (Urwa Church) have raised education fund for poor students and health funds, and now you are planning to build houses for the poor. The very best and prayers to the Lord for the betterment of the church. The Lord for his endless blessings be on you all. The spiritual ritual all throught the year will shower blessings in the years to come till another jubilee.

Bishop of Ajmer Dr Pius Thomas D'Souza congratulating the parish on completing 150 years said that priests and people have kept belief in God for centuries in Mangalore. Attacks on the community these days and things like Ghar Wapsi are an external effort. What is Ghar Wapsi? This (Christianity) is our house for always. We have to keep our belief in Mother Mary and Jesus Christ always wishes and prayers for this Urwa church.

MLA J R Lobo in his address called upon the people to be more service-minded and said, "I am really gald on this occaison of the celebrtaion of 150 years jubillee of Urwa Church and I wish all the best to the Church. Many people hailing from this Church have attained special positions and are rendering service to society. Let this continue. Our community is not only confined to church but it has a concern for the society, so we have a great responsibility. Christians in Mangaluru are in a to serve the society - it may be politically, in official or by rendering social service to the people. Our younger generation too appreciate thier roots. After 50 years where will Mangaluru be? The religious teachings by our elders which has benefitted all sections in this region, should be passed on to the younger generations every where. Money is not everything - we need to have our say in the society. I request Mangalureans to spend less on marriages and other functions and use that money to help people who are suffering unimaginably. do not forget your roots, your ancestors and your great language Konkani".

The vice-president, former president, secretary and former secretary of Govlik Parishad, donors for Urwa Church, parish priest Fr Victor D'Mello, assistant parish priest Fr Jeevan Sequeira, contractors, architect and donors of belfry and the grotto, former parish priests and former assistant parish priests were felicitated on the occasion.


Jubilee year 2014-15 scenario:
Presently, the Urwa parish is estimated to consists of around 635 families, with a total of not less than 2,300 parishioners. This parish blessed with devout, service-minded, benevolent parishioners is at the finale of celebrating 'Post-Centenary Golden Jubilee Year, 2014-15'. The present dynamic and devoted Parish Priest, Rev Fr. Victor D'Mello has rightly pointed out that it should first and foremost be a spiritual renewal for one and all, the Jubilee year began with an open air retreat on March 30 2014. Rev. Fr. Anil Dev, founder of "Matridham Ashram" in Varanasi, who is now well known here, gave a very fruitful retreat. Bishop of Mangalore,Rev. Dr. A.P. D'Souza inaugurated the Jubilee year by blessing the foundation stone for the new belfry which is now the Jubilee Memorial , (the bell has been imported from Germany), unveiling the Jubilee logo, releasing the Jubilee calendar and Jubilee Year Prayer he declared that the parish was a great blessing for the diocese. The preceding 54 days saw special prayers to thank The LORD and His Divine Mother Mary for the numerous blessings He has showered on this parish for the last 150 years, and to pray for continued blessings. Adoration of the Blessed Sacrament was became the hallmark for glory to the Lord.

As a part of the year long jubilee celebrations and to strengthen the bonds of good neighbourly relations a variety of cultural programs, competitions, sports events and more have been held. A mega fancy fete was held for two consecutive days in January 2015. Each of the last 12 months has been ear marked for a particular section of the parish and lifted up with special prayers and programs. In order to mark each day of the jubilee year in an exclusive manner, a ready-reckoner, the 'Jubilee Calendar' was brought out from April 2014 to April 2015, detailing each month's events, and distributed to every family in the parish. Each and everyone in the parish family believe that with the blessings of the Almighty, patroness Mother Mary, Our Lady of Pompei, the celebrations of the Post-Centenary Golden Jubilee year have culminated in a logical end with resounding success.


Brief History of Urwa Parish :
After fifteen years of captivity (1784-99) in Sri Rangapatna ended, Konkani Catholics started returning to their non existent home in Mangalore. In the first half of 1800s Rosario Church was the mother parish and extended over the major part of West Mangalore, it was declared a Cathedral in 1850. Chapels served far flung areas like Urwa, Derabail, Codialbail, Bijey, Kulur and so on. In 1866 AD the vast parish of Rosario was for the first time canonically divided to form Urwa parish, though actually it was set up in September 1865. In 1971 the northern area called "Ashoknagar" became independent from it as St.Dominic parish under the Dominican order.

The three chief founders so to say of Urwa parish generally named are, Fr.Manuel Salvador (M S) Vas of Falnir, who became the first Vicar. Two lay persons get the credit of founding Urwa parish and are named Joseph Michael D'Souza and Peter Rego. It must be said that Fr.M S Vas' successor Fr.Balthazar Rebello of Kallianpur in 1874 consolidated the Urwa parish to a great extent. In his long tenure of more than 2 decades he acquired the present site of Urwa church and raised funds for it's building. Visits to Bombay using his family resources helped a great deal. The strain of his work told on his health and he died in 1896 and is buried in the church as a tribute.


Urwa parish is dedicated to " Mary Immaculate Conception", the revered Shrine of Our Lady of Pompeii is a special feature of Urwa parish. A traditional feast is celebrated every year on December 8. Fr John D'Souza constructed the present Church edifice it's architect being T J Lobo (of Bendur) and it was inaugurated on May 1, 1991. It has now been been refurbished tastefully and a new belfry and grotto has come up.


Our Lady of Pompei :
Rev. Fr. A. J. D'Souza who served as the Vicar of this parish from 1915 to 1930 was instrumental in introducing the devotion to Our Lady of Pompeii. He brought the pictures of Pompei from Rome and it was enshrined on a side altar. Thus Urwa became a place of pilgrimage for a large number of devotees from every nook and corner of Mangalore. Fr. D'Souza also started a monthly magazine, "The Trumpet Call" which won him appreciation from the Vatican it self. It must be mentioned here that even though this church is dedicated to Our Lady of Immaculate Conception, quite often, people refer to it as "Pompei Church". The annual feast of Our Lady of Pompei is celebrated with due pomp and solemnity on December 8, and throngs of devotees, from far and near, irrespective of caste and creed, come with great devotion to participate in the celebration. Recently, the present parish priest, Rev. Fr. Victor D'Mello, along with a group of parishioners, visited Pompei in Italy and returned with a picture of Our Lady of Pompeii which has been encased in a carved wooden frame and set up on one side of the main altar of the Church. "Unless the LORD builds the house, those who build it labor in vain. Unless the LORD watches over the city, the watchman stays awake in vain". (Ps.127:1). Look back and thank God; look forward and trust God; look around and serve God; look within and find God. Urwa parish now 150 years old is all set to move into the new millennium and Glorify the Lord Jesus and His Mother Mary.

A history scholar and senior writer of Urwa, "Jossy D'Souza Urwa" told this correspondent that the history back drop of Urwa was unique. Urwa is an old historic name. Uruwa in Tulu stands for 'bamboo gate' common in rural households. It also stands for a barrier or check-post. An administrative check-post near the Bukkapatna port to verify materials and documents and to collect taxes existed. Nearby Uruwa is Kottara extension. Kottara is a 'storehouse, stockyard or granary'.

On the southern side of Bukkapatna is Kudroli, where the presently famous artful temple of Gokarnanatheswara has been built. The name 'Kudroli' has been interpreted as Kudure+Oli or 'horse-yard' by some, implying that the location was named after the ground where horses were kept. But it seems to me that it was Kuduru+ Oli originally. 'Kuduru' means island within the river. 'Oli' means village, a word derived or influenced by Marati language. The reference name 'island village'

Tippu Sultan ruling from Sriranagpatna, constructed at Mangalore a battery for storing armaments and explosives, known as Sultan battery during circa. 1775 AD for warfare against enemies entering from the Arabian Sea. The location of Sultan battery is close by and within this parish. Plans to develop it into a great tourist resort with Thannirbavi indeed augurs well for the region and is seen as a blessing of the Gods!


Write Comment
|

E-Mail
|
Facebook
|

Twitter
|

Print