Mangaluru - Udupi: Twin District Rajyotsava Awards 2015 - One rejects award
Mangalore Today News Network
Mangaluru/Udupi, Nov 01, 2015: In a special official announcement Dakshina Kannada and Udupi districts late on October 31 announced the lists of winners of this year's district Rajyotsava Awards. The awards are to be presented on Sunday November 1 during the Kannada Rajyotsava celebrations at Mangaluru and Udupi.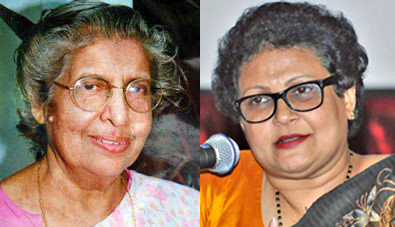 Dakshina Kannada : Agriculture - S D Sampath Samrajya; Education - Haji N Sulaiman Narsha, U H Khaled Ujire; Social service - Judith Mascarenhas, Corrine Rasquinha, C H Kochanna Rai, Narayana P M, Urban Pinto; Journalism - Balakrishna Puttige, Lokesh Suratkal; Sports - D M Aslam

Sports (international athlete) - Purandara P J (javelin throw); Medicine - Dr Vishwanath Nayak P; Theatre - Sharada Barkur; Institute - Sanidhya (for children with special needs); Art - Gopadkar, Diwakar Das, Santhosh Aithal; Folk art - Sheena Parava; Photography - Keshava Vitla; Yakshagana - Manya Thimmayya

Judith Mascarenhas - critically ill octogenarian social worker gets award.

The news that Ms Judith has made it to the list of this years' District Rajyothsava Award, finally, as she lies in bed seriously ill and unable to move; she will not be able to personally receive the award at Nehru Maidan on Nov 1, morning.

Ms Judith Mascarenhas (born-1931) is a well known social worker and activist. An exemplary teacher/lecturer all her life who sacrificed everything for women empowerment and uplifting of the marginalised without thought to religion and caste. Known as the 'Mother Teresa of M'lore' her faith in the human was extraordinary. Her work for the leprosy sufferers of the district is exemplary. A former corporator and deputy Mayor of Mangalore. Hon director of MCC bank, a scholar of Konkani, Writer she has received several awards like -1994 Karavali Lekhkiyara Sangha award....

She has been often called the 'a woman of valor' and 'Judith the valiant' by her peers. All people of Mangalore who admire her service and qualities will come forward and do all that is possible to make her last days, as she lies helpless as comfortable and secure as possible. Prayers that Ms.Judith is blessed in the best way possible through her remaining days are also desired.

Udupi : Agriculture - K Shambhushankar Rao; Farmer - Krishna Kulal; Social service - Ibrahim Saheb, Anand C Kunder, Sr Donalda Pais (Arunodaya Special School, Karkala), Leeladhar G Shetty, Gowri, Sanjeeva Vandse, Sunil John (Vishwasada Mane), Mahabala Kundapur, Suresh D Shetty (alias Soori Shetty)

Folk art - A Krishnayya; Yakshagana - Naradi Bhojraj Shetty, Bhaskar K Padubidri; Sculpting - K G Ramachandra Acharya; Music - H S Gopal Devadiga (instrumental), Jeevan Prakash (folk); Art/sculpting - Purushotham Adve; Tulu drama - Prasanna Shetty

Matpady Kumaraswamy reject award

In Udupi, the journalists were unhappy with the fact that no award was announced in the field of journalism, although in other districts including Dakshina Kannada, it was done. A memorandum was submitted to district incharge minister in this regard, and hours after the first official list was out, in which award for journalism was not mentioned, Sorake announced that senior journalist Matpady Kumaraswamy had been selected for the award.

However, it is learnt that Kumaraswamy has rejected the award in protest over the way journalists had been ignored by the district administration.

Earlier, it was also said that Gopadkar, founder of Swaroopa Adhyayana Kendra, who has contributed a lot to the field of education among children, had turned down the award, reportedly miffed with the fact that the district administration and the government had not recognised him for long and that now his contribution to the field of education had been ignored. However, Gopadkar clarified that he has not rejected the award, but is only unable to receive it as he is in Bengaluru.

Write Comment
|

E-Mail
|
Facebook
|

Twitter
|

Print