Mangaluru: Nrityaangan to present 'Manthana 2015' from today
www.mangaloretoday.com
Mangaluru, Oct 29, 2015: "Nrityaangan" Mangaluru to present "Manthana 2015" a three day event at Don Bosco hall in Mangaluru from October 30, 2015 Friday at 5.30 pm.

Day 1 showcases dance performances by young upcoming artistes followed by 2 days of workshop by renowned artistes in the field, the release said.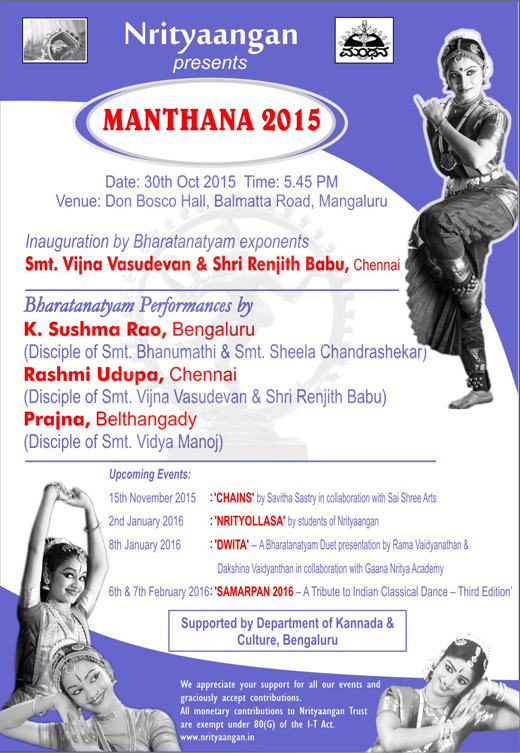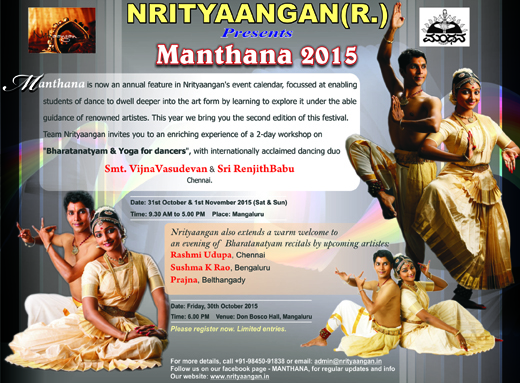 Manthana 2015 - The Performers: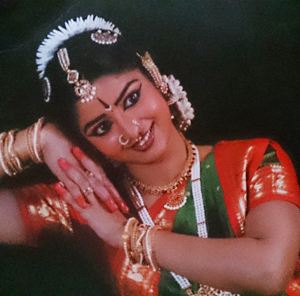 1.Sushma K. Rao: Initiated into dance at the tender age of four by late Guru Sri.S.V. Srinivas. She pursued her interests in dance under the able guidance of Guru Smt. Shubha Dhananjay and Guru Smt. Vyjayanthi Kashi. At present she is undergoing advanced training in "Nrithyakalamandiram" under Guru B. Bhanumathi and Smt. Sheela Chandrashekar in Bengaluru. She has successfully completed the Junior and Senior level examinations in dance by the Karnataka State Education Examination Board. She is a double graduate having completed her Bachelor of Science in 'Computer Science' from Bangalore University and Bachelor of 'Arts' in Hindi from Dakshin Bharath Hindi Prachar Sabha.

Apart from her passion in dance, Sushma has made a career in acting. She has donned different roles in several Kannada Television Serials. > In Bhageerathi as Veena. > In Swathi muttu as Pallavi. > In Bidige chandrama as Shashikala. > In Yava Janmada Maitri as Ananya. > In Guptagamini as Bhavana. > In Sose as Keerthi. > She was given the Best Actress award for her role in Guptagamini by Karnataka Television Association, Essel Karnataka's Best (among all channels) and 'Viewer's choice Best Actress' award by the Essel group and Zee Kannada Television. Best Actress for her role in 'Sose' from Zee Kannada. Best Anchor for the show 'Genes' from Big fm 92.7. > She has won the 'Aryabhata' award for both dance(1997) and acting(2005). In all her dreams and varied journeys, Sushma has enjoyed the unwavering support and understanding of her parents Krishnamurthy & Bharathi.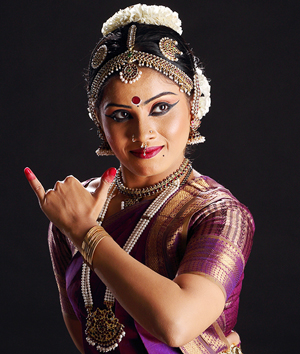 2.Rashmi Udupa: Rashmi spent her growing years in Mangalore learning Bharatnatyam from Vidushi Smt. Kamala Bhat, where her dancing soul was nourished. Destiny brought her to Chennai, the capital of Bharatnatyam where she is currently being trained professionally by Shri. Renjith Babu and Smt. Vijna Vasudevan in the Kalakshetra Technique. She is also undergoing training in Abhinaya under the tutelage of Smt. Indira Kadambi. Rashmi is a central part of the Dhwani Performing Ensemble and assists in teaching at Dhwani. Currently pursuing M.A. Degree in Bharathanatyam (private study) from Madras University, Chennai for the year 2014-16. For Rashmi, Dance is the only way through which she identifies herself. Her only desire is to be able to continue learning and fill her space with energy through dance!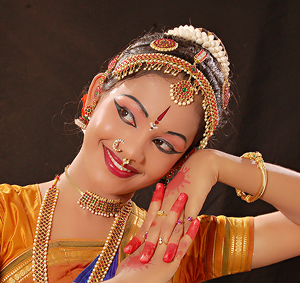 3.Prajna: Daughter of Major (Rtd) Chandra Gowda (Armoured Corps) and Smt. Pushpa. She was initiated into the fine art of Bharathanatyam at the age of seven and her interest was nurtured by the able guidance of Guru Smt.Vidya Manoj, Dance guru of Kalanikethana dance school, Belthangady.
She has completed her Bharathanatyam Junior Grade, Senior Grade as well as Carnatic Music Junior Grade with distinction. She topped the Bharathanatyam Senior Grade examination for Dakshina Kannada in the year 2009. Prajna successfully complted her Rangapravesha at "Asha saliyan Kalyan Mantap,Belthangady in the year 2009. Prajna was honoured with "Sadhana Shri" award by JCI, Belthangady in the year 2009. She is a Recipient of dance Scholarship given by Karnataka State Government.She had the priviledge of performing at various prestigious stages such as Guvayur Temple-Kerala, Karavali Utsav-Mangalore, Karnataka Sanskrithi Ilakhe-Manglore, Lakshadeepotsav at Dharmastala, Mahalingeshwara Temple-puttur,in places like Madikeri, Honnavar and also during festivals at subrahmanya, Aladangady ,ujire and many other places with her guru's dance troupe on various occasions. She currently pursues 4th year B.E in Computer Science at NMAMIT college, Nitte.

Oct 31 & Nov 1 - Dance Workshop:
Manthana Resource persons Smt. Vijna Vasudevan & Shri. Renjith Babu – will conduct a workshop on the 31st of October & 1st November 2015 at Corporation Bank Golden Jubilee Hall, Near Sharada Vidyalaya. Renjith and Vijna, partners in dance as well as life, are an upcoming couple par excellence in the discipline of Bharatanatyam.

Their aim is to extend the boundaries of Indian traditional dance and create a new benchmark in the aesthetics of presentation by using innovative dance techniques. They strive to inculcate a higher quality in their performances that will inspire, entertain and educate a diverse audience. The couple work together as creative partners in molding complete individuals through their brainchild: Dhwani – Temple of Arts. They are undoubtedly a perfect couple in the younger generation of prominent 'Dance Duos' in India representing the élan that signifies the principle of Shakti and Shiva in spiritual parlance.


About 'Nrityaangan': Mangalore based dance school is a registered charitable trust, aiming to propagate the Indian classical dances in and around coastal Karnataka by organizing workshops, dance festivals and lecture demonstrations that will nurture the next generation of artistes and provide them with opportunities. Radhika Shetty who has created an institution to spread the fragrance and great Indian epic art form that is Bharatanatyam in this transforming atmosphere of globalisation.

This talented lady rooted in Mangalore is without doubt making the local flavour global. Radhika Shetty of Bijai Mangalore, is an acclaimed Bharatanatyam performing artist, she mentioned she was introduced to this art form by Mangalore based Vidushi Smt. Sharadamani Shekar of Sanathana Natyalaya. In January 2012, Radhika was honoured with a national award of 'Nritya Shiromani' by the Utkal Yuva Sanskrutik Sangh, Cuttack, Orissa. Radhika's accomplished endowment in Bharatanatyam has spread it's sheen in the land of the Big Apple too -USA. Apart from her family life as a home maker to her IT professional husband Harish Shetty and son Vishesh (of course her parents and other elders too play a big role in her day to day life) she is an Engineering professional with a high level of excellence. The organization aspires to organize various workshops, seminars, National Level Dance festivals by local, upcoming and established artistes in the country.

Write Comment
|

E-Mail
|
Facebook
|

Twitter
|

Print