Mangaluru Mayoral candidates, Congress party has no consensus yet
Mangalore Today News Network
Mangaluru, Mar 08, 2017: With the Mayoral election scheduled to be held on March 9, Thursday, no consensus is visible within the ruling Congress, that enjoys a majority, on who should be the next Mayor. According to reports, P.M. Narendra Swamy, MLA, Malavalli, arrived in the city on March 7, Tuesday as the party observer for the election. The one-year term of present Mayor Harinath will end on March 10, Friday.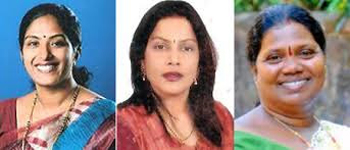 The office of the Mayor for the next one-year has been reserved for a woman councillor from the general category and the office of Deputy Mayor has been allotted to a councillor from Scheduled Caste.

There are three front runners for the office of Mayor from the ruling party. A junior councillor, Prathiba Kulai, from Hosabettu ward, is vying for the office with two senior councillors, Kavita Sanil from Pachchanady ward, and S. Appi from Jeppu ward, both chairpersons of standing committees now. Ms. Sanil, a two-time councillor, headed the Standing Committee for Public Health, Education and Social Justice. Ms. Appi, a three-time councillor, is the chairperson of the Standing Committee for Taxation, Finance and Appeals.

Sources said that some councillors were also pushing the candidature of Latha Saliyan from Boloor ward. It is by linking a political event of 2006-07 in which her husband Kamalaksha Saliyan, who was the Congress councillor then, had lost the chairmanship of the Standing Committee for Town Planning and Improvement as Ms. Sanil contested against him as a rebel Congress candidate. Ms. Sanil headed the committee then with the support of two councillors of the Opposition BJP and her own party councillor James D'Souza who voted in her favour. Of the total seven votes in the committee, Ms. Sanil secured four votes leaving three votes to Saliyan.

Sources said that citing this event many councillors are now opposing the candidature of Ms. Sanil to the office of Mayor. But considering the fact that the Congress fielded Ms. Sanil for the council election four years ago even after the particular development the party is unlikely to give any importance to what took place a decade ago.

A group of councillors have already met senior Congress leaders Oscar Fernandes and M. Veerappa Moily to urge them to impress upon the party to select an able candidate as the State would go to Assembly polls next year.

Sources said that as the post of Deputy Mayor has been reserved for a Scheduled Caste candidate and Ms. Appi represented the Scheduled Caste, the party was unlikely to select her for the office of Mayor as then both the offices would go to Scheduled Caste councillors. Hence, the choice is likely between Ms. Sanil and Ms. Kulai.

They said that the party is likely to field Rajaneesh from Derebail South ward as the candidate for the office of Deputy Mayor.

Write Comment
|

E-Mail
|
Facebook
|

Twitter
|

Print