Mangaluru: Load shedding casts shadow over fishing Industry
Mangalore Today News Network
Mangaluru: September 11, 2015: About 60 purse-seine vessels that had ventured out of Mangaluru Port a couple of days ago returned with a bumper catch, each at least getting 5 tonnes of fish, on Wednesday.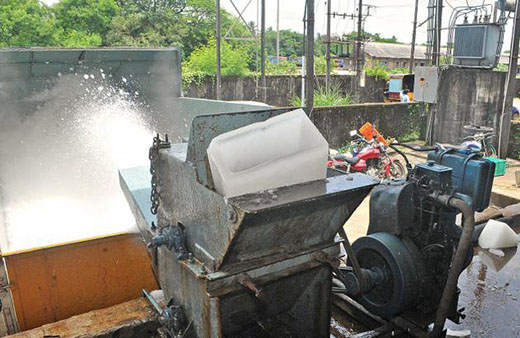 A majority of the catch comprised Bangude (Mackerel), which was sold for at least Rs. 100 a kg by wholesalers the previous day. However, the fishermen were aghast on Wednesday as traders offered just Rs. 40 a kg.

The reason cited by traders — non-availability of ice to store and transport the catch to various other markets.

Ever since electricity supply companies resorted to unscheduled load-shedding to cope with the non-availability of power since a fortnight, ice and cold storage plants — the backbone of the fishing industry — have been hit hard. The direct impact has been on the fishing industry, which is witnessing dwindling fortunes.

Direct link

Naveen Bangera, president of the Karnataka Purse-Seine Meenugarara Sangha, told sources that unlike other industries, the fishing industry's fortune hinges directly on the smooth functioning of ice plants. If ice plants fail, the industry too would, he said.

In fact, September and October are the ones where fishermen get abundant catch as marine life is abuzz soon after the monsoon. Though monsoon has been bleak this year, fish catch has been good. Exports too have been severely affected, Mr. Bangera said.

On the other hand, trawl boats, which stay on high seas for days together, too are facing the brunt of non-availability of ice. Boat operators fill about 18 tonnes of ice blocks before venturing into the sea to keep the catch fresh. Non-availability of sufficient ice has made such boats to wait for days at the port, said Nithin Kumar, president of Mangalore Trawl Boat Meenugarara Sangha.

Even if ice is available, it melts down quickly due to inferior quality, he said. The association also runs a cooperative society that has an ice plant. The situation has been pathetic, Mr. Kumar said.

Futile exercise

Yogesh Karkera, treasurer of Karnataka Ice Plant and Cold Storage Owners Association, said that ice plants require uninterrupted power supply for at least 20 hours for ice formation. Due to erratic load-shedding every few hours, whatever ice forms melts down and the process has to commence from the beginning after resumption of power supply. All the 260 plants in the coastal districts have been severely affected, Mr. Karkera said.

Write Comment
|

E-Mail
|
Facebook
|

Twitter
|

Print