Mangaluru: Golden oldies pay tribute to their 90-year old teacher!
Mangalore Today News Network
By Mahesh Nayak
Mangaluru, 21 May 2016: It's a love that took half a century to bloom. But when these 30-odd 66-year olds met, the emotional quotient in the air was palpable. They were the Class of '66, the guys who passed their SSLC in 1966, exactly 50 years ago. Now after seeing all of life and much of the world, they had come full circle to relive the good old days again.

A year long effort by some of the classmates had enabled them track as many as 30 alumni out of the 42 in their class. Seven were no more. And five couldn't be traced for various reasons. But the prize catch for the group had been a surprise indeed. The discovery that there was still a lone surviving teacher was a delightful godsend and called for a formal celebration of sorts.

Hence the Class of 66 got in touch with their Alma Mater – the Canara High School Main at Dongerkery in the city – and a formal function was put up to mark the homecoming.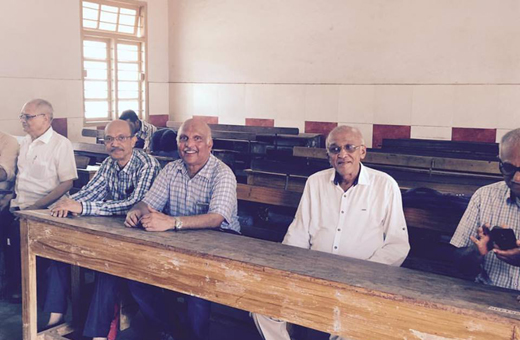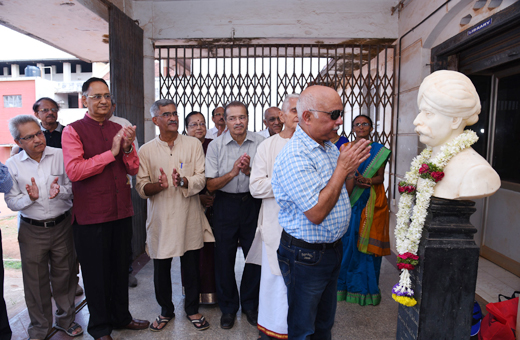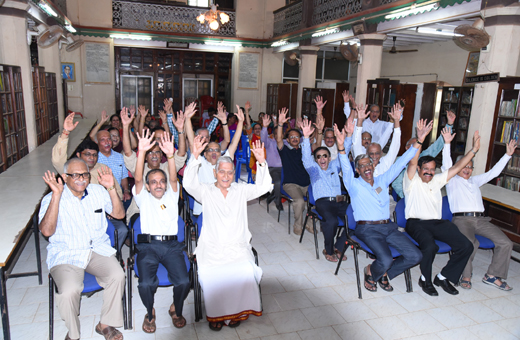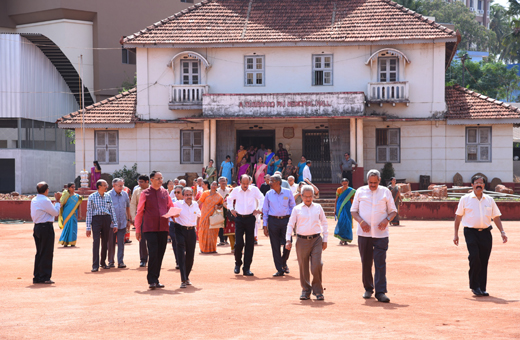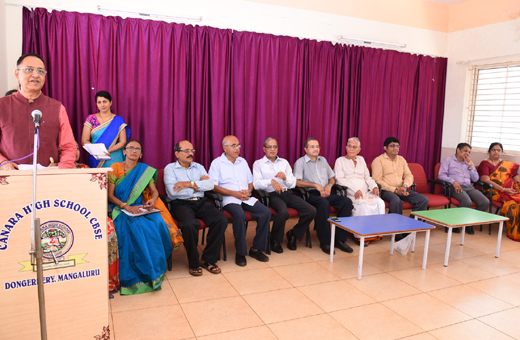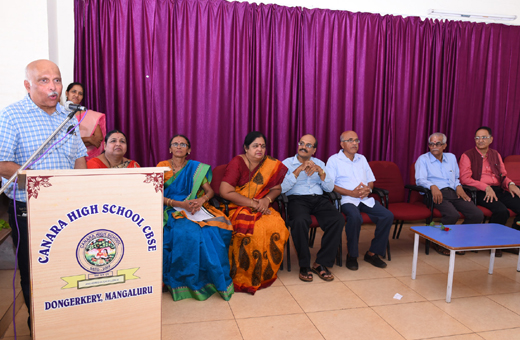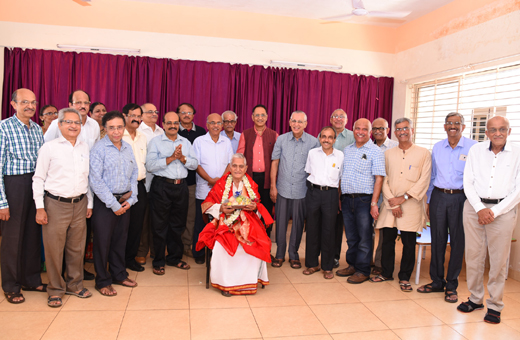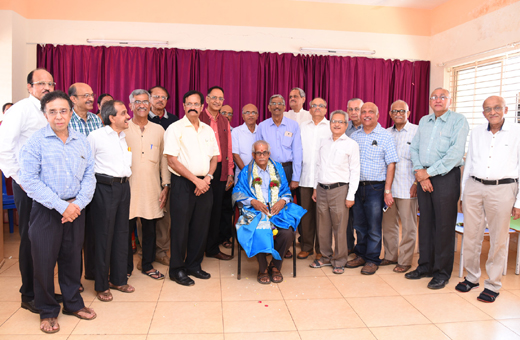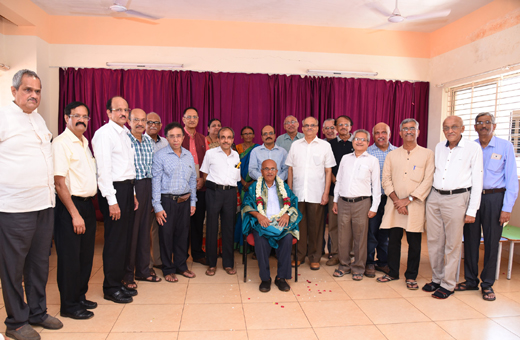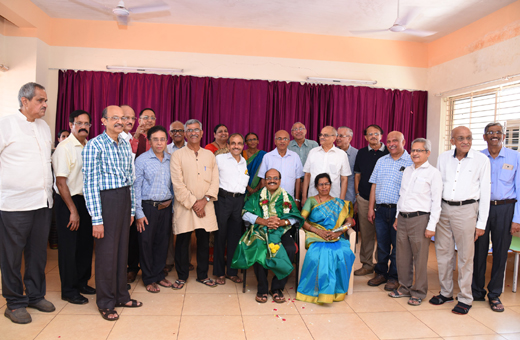 The third weekend of the month - 21st & 22nd May - proved opportune and one by one the classmates descended on the city. While many spent contented lives within Mangalore or close by, others had found fame and fortune in far off lands. One of them, Dr. Surathkal Vasudev Kamath flew all the way from UK just to spend quality time with his old buddies.

"We all started our lives here fifty years back and have now come a full circle. This kind of occasion doesn't come often in life," said Jayawanth Kamath, the man who had taken the lead in organizing the reunion. "Those were the days when our teachers worked for small salaries, but that did not deter their enthusiasm for us. They took a personal interest in us and inspired us in a big way."

The two-day gala began with a solemn ceremony to pay homage to the bust of Ammembal Subbarao Pai, the founder of the school, who also founded the Canara Bank. Then a few happy moments spent warming their old school bench, a walk about the campus and finally a stage programme. Afterwards, a quick lunch and a long trip to a holiday resort for a full 24-hours of merry making.

But that's their private haven and we are not part of the club. All we are privy to is a peek into the formal function. It's a power packed event graced by many members of the school management and a string of present day teachers and retired headmasters.

A few quiet moments spent to grieve the dead and departed – both teachers and classmates – sets the tone for nostalgic banter. One by one each classmate walks up to the mike and gives a two-minute personal update on the 50 missing years. Most of them are grandpas now and almost all have retired. As wives were also invited, quite a good number were accompanied by the lady. May be that was as per doctor's advice. We'll never know anyway.

Krishna Kudva, Kasturi Prabhakar Pai, Panchmal Pandurang Shenoy, Suresh Pai, Ramakrishna Paigi, Dinker Kamath, Sudhakar Nayak, Nagar Shenoy, Dr. Yeshwanth Nayak, Dr. Jayaprakash Rao, Narendra Kamath… the names flow nonstop.

Some self-intros however stand out for obvious seasons. Like Dr. Ramakrishna Pai who happily bragged that he was the only one who failed in their class!! And Vittal Shenoy who zapped everyone present by accurately remembering the definition of various technical terms that he had learnt so many long years ago. Though these words made no difference to his life, he had managed to remember them anyway.

The soul of the show was the much awaited felicitation of Shridhar Bhat, their lone surviving teacher. He taught them Hindi and settled in Mangalore. He's running 90 and going strong.

When the time came they all gathered about him with visible affection and showered him with tributes galore. Responding to the honour, the teacher said, "After seeing all phases of life, you've remembered your roots and come back. That's very important. My best wishes and blessings shall always be with you."

K. Ramesh Rao, yet another person who taught at the school briefly during those days before switching careers too was felicitated. So were retired headmasters Venkatesh Kamath and H. Raghavendra Rao.

As their gesture of 'giving back', the alumni also distributed Rs. 50,000/- as scholarship among 10 school kids.

President of the school management SS Kamath greeted the alumni and said it was commendable that they should honour their old teachers.

The school correspondent Gopalkrishna Shenoy said, "This year marks 125 years of the school. The school has sustained for so many years mainly because of the support extended by the alumni. The old students of the school have always been giving back to the institution and that has enabled it to innovate and grow continuously."

Management vice president Annappa Pai, correspondent Basty Purushotham Shenoy, Canara CBSE school headmistress Joy Rai and incumbent school headmistress Latha were among those present.

High school teacher Vidya Shetty was the master of ceremonies.

Write Comment
|

E-Mail
|
Facebook
|

Twitter
|

Print