Mangaluru: Fish poisoining incident, worries scientists, 'Ciguatera'
Mangalore Today News Network
Mangaluru, Oct 04, 2016: Reports confirm that in the after math of the fish poisoning incident in Ullal near Mangaluru, scientists working on algal toxins and their impact on fish and shellfish have warned fish eaters to be wary when consuming reef fishes following the first outbreak of ciguater poisoning in the Indian sub-continent. Over 50,000 cases occur globally every year.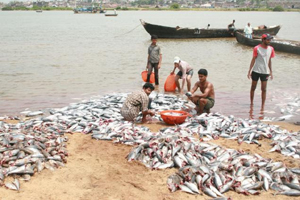 Over 100 people, including workers of a fish exporting company, took ill on Saturday after eating fish heads that were supplied from the export firm in Ullal here.
Dr Indrani Karunasagar, director (R&D), also dean, faculty of biological sciences, Nitte University, says with international trade on the rise it's not surprising that fish from coral reef areas are sold in Mangalore and its suburbs. "This toxin is harmless to fish but dangerous to humans as neither cooking not frying destroys it,'' she points out adding educating the public on risks and the parts of a fish that have to be avoided is necessary.

She says the risk of new outbreaks stems from a number of factors such as climate change, ocean acidification resulting in coral reef deterioration, nutrient run-off resulting in toxic algal blooms. She and her team at Nitte University have been actively collaborating with Dr Anna Godhe and team at the University of Gothenburg, Sweden, over the last two decades on this subject.

Explaining how fish accumulate this poison, Dr Indrani says some unicellular algae called dinoflagellates can be toxic and when these are accumulated by marine and estuarine fish (red snapper, grouper, perches) or molluscan shellfish (clams, oysters, mussels), they can cause severe illnesses. One of the common forms of food poisoning due to consumption of marine fish (such as the one in this outbreak) is ciguatera food poisoning. The toxic fish have no alteration in odour, colour or taste thus making it very difficult to identify the potential risk associated with contamination.

This non-bacterial fish poisoning is generally not fatal but the symptoms can last from weeks to years sometimes resulting in long term disabilities. Individuals who have been victims of ciguatera poisoning have been found to be extremely sensitive to further exposure of the toxin. Hence, care must be taken while eating any reef fish.

Dr Indrani will address clinicians at KS Hedge Hospital to explain the management of such cases. "Since it is an endemic condition, physicians in India are not aware of all these kind of toxicities. It is therefore important to reach out to the public as well as the medical fraternity on how to manage when there is such a problem,'' she added.

WHAT IS CIGUATERA: It is a foodborne illness (food poisoning) caused by eating fish that is contaminated by ciguatera toxin. Ciguatera toxin is a heat-stable lipid soluble compound, produced by dinoflagellates and concentrated in fish organs that can cause nausea, pain, cardiac, and neurological symptoms in humans when ingested.

WHERE IT OCCURS: The coral reef fish, marine and estuarine fish (red snapper, grouper, perches) or molluscan shellfish (clams, oysters, mussels), are generally found in areas around the world and thus these areas have been of concern. With movement of fish, several countries have been reporting ciguatera fish poisoning.

SYMPTOMS: The illness is characterized by gastrointestinal, cardiac, neurological and neuropsychiatric symptoms. The toxin from the Indian Ocean region is very potent and results in severe illness such as vomiting, diarrhea, numbness near the mouth and in the limbs together with many complications such as myalgia, vertigo, dizziness, psychological disorder such as memory loss. Symptoms usually appear two hours after eating but may also show up 24 hours later.

WHY DANGEROUS? The toxin is heat stable and is not destroyed by any cooking procedure including frying. It is also lipid soluble.

WHAT TO AVIOD: The heat stable toxin and lipid soluble compound is concentrated in fish organs and regions such as head, liver, viscera, gonads (sex organs) in large quantities. Large predator fish generally carry more toxin and therefore fishes larger than 1.5 kg should be avoided.

DETECTION: Detection of ciguatoxin is done using specialized analytical methods and in particular using mouse bioassay. New rapid test are still being evaluated. The ciguatoxin are of three types depending on whether they are isolated from the Pacific, the Caribbean or the Indian Ocean.

TREATMENT: There is no single effective antidote or treatment for ciguatera poisoning. It is important the patient presenting the symptoms and the fish consumed be carefully recorded.

BE AWARE: Consumers must be cautious with new species found in the markets and must obtain information on location from where the fish is caught species involved and seasonal variation. Targeted information about period of the year when the problem is most likely to occur is required to inform target populations about the risks.

Write Comment
|

E-Mail
|
Facebook
|

Twitter
|

Print