Mangaluru: DK does a 74 % turn out in GP polls
Mangalore Today News Network
Mangaluru, May 30, 2015: At least a 74 per cent voters went to the booths out of 10,16, 024, in the peaceful Gram Panchayat elections held for 3,288 seats of 229 Gram Panchayats of Dakshina Kannada district on May 29, Friday. The highest voter turn out in earlier years was 73.51 in 2010 Gram Panchayat elections.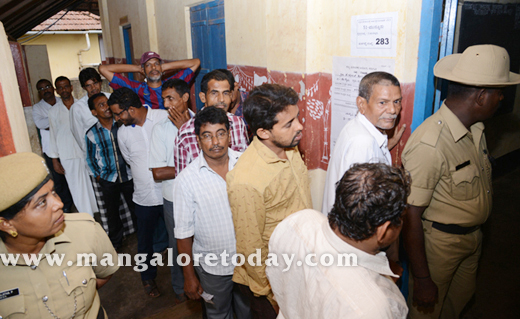 The taluk-wise turn out : Sullia topped with 77.94% voters, , followed by Puttur with 75.43%, Bantwal -73.40% Belthangady - 72.89 % and Mangaluru finished with least 68.73%. As 109 members were selected unanimously 7,619 candidates were in the race for the remaining seats. Though polling was quite dull till 11 am, it accelerated later on and finished with a high percentage.

In two villages elections were postponed to May 31 as per the direction of DK DC Adoor B Ibrahim, due to some reasond. In Paduperar Gram Panchayat of Mangaluru taluk, the symbol of a candidate was not printed in the ballot paper.

In polling centre 196 of ward number one, the symbol of BJP supported candidate Nalinakshi, was not printed. The error came to light when a senior citizen asked about the symbol with the election returning officer. In Bandaru village of Belthangady taluk, election was postponed because of confusion in symbols.

In spite of light rains, brisk voting was witnessed in Naravi Gram Panchayat of Belthangady taluk. In ward three, four candidates were in race for two seats. By noon, around 55 per cent voting was registered in the centre, which has 684 voters. The returning officer said that in second ward six candidates have been contested for three seats. Senior citizens and women had to face problems by heavy rains.

People were enthusiastic to cast their vote even in Nellikkaru Gram Panchayat of Moodbidri taluk. In the GP, four candidates were in race to four seats. By noon itself, around 500 voters out of 1188 had exercised their franchise. A village resident said that villagers always stayed together in facing problems. BJP may get upper hand in the region he felt.


District-in-Charge Minister B Ramanath Rai was happy about peaceful polling in the district with only minor complaints. He said people will support Congress for its pro-people governance, with various schemes for poor.

In Badaga Ulippadi ward of Ganjimutt gram panchayat, Abdul Majeed said that he has been selected for six times and contesting for the seventh time with the support of Congress. Meanwhile, few blamed there is no permanent Panchayat Development Officer (PDO) for the village, In-charge has been given to Bajpe PDO. Brisk voting was witnessed in Gurupura. The people of Ballaka and Sevaje of Devachalla villages who had threatened of boycotting election, participated in the polling.

Vittal Malekudiya who is facing charges of being naxal sympathiser, has strong hopes of winning from Kutlur second ward of Naravi Gram Panchayat (GP) of Belthangady taluk, in the election which was held on May 29, Friday.

Speaking after exercising his franchise at Kutlur first ward, a post graduation degree holder in Mass Communication and Journalism from Mangalore University, Vittal said that he was overwhelmed by the response of the people. If he wins the election, he plans to encourage Malekudiyas suitably. There should not be any harassment by police. The authorities should not evict Malekudiyas from Kudremukh National Park. he would do his best for the development of the villages. Not only Vittal Malekudiya, but two women from the community- Sunanda Malekudiya of Kotyandadka and Dejamma of Kutlur also are in Naravi GP race this time. They believed that people will definitely support them.

A person called Sudhakar Malekudiya had contested GP election with the support of JD(S) in past, but he could not win. This time CPM has completely supported Malekudiya candidates and senior leaders like B M Bhat had participated in the campaign. There are around 145 votes within the Kudremukh National Park limits, said Sujatha Hegde Moodadi. By the end of the polling, in ward one, out of 911 voters 72 per cent of voters had exercised their franchise. They had to select two members out of five candidates.

In the second ward five candidates were in the race for two seats. The ward registered 79 per cent of polling (606 voters). According to sources, around 90 per cent of Malekudiyas have exercised their franchise. As it is a naxal area, Anti-Naxal Force (ANF) squad, DySP and Sub-Inspector visited to over see peaceful polling.

Udupi records 71.65 % - GP polls

Udupi: It is announced that Udupi district recorded 70.57 % polling in the elections held for the 2,126 seats in 155 gram panchayats here on May 29, Friday. Karkala taluk recorded the highest with 74.9 per cent, followed by Kundapur taluk which recorded 71.19 per cent and Udupi taluk which recorded 70.55 per cent. There were 837 polling stations in the district, including 131 sensitive polling booths and 59 hyper sensitive polling booths. The district recorded 16.16 per cent polling at 9 am, 35.65 per cent at 11 am, 50 per cent at 1 pm and 59.66 per cent at 3 pm respectively.

In Atradi, Government Higher Primary School, the polling percentage was 23.55 percent at 9.30 am, wherein 285 voters out of total 1210 casted their vote. In Heeriyadka Board High School polling booth, 97 voters out of 530 had cast their vote by 9.30. In Someshwara polling station in Karkala, which is situated in Maoist prone area, as many as 328 voters out of 609 had cast their vote by 11.25 am. The voting was taking place in the midst of tight police security.

Six polling stations come under Hebri jurisdiction (four in Nadpalu and two in Kabbinale), wherein 19 armed policemen from Kerala were posted for patrolling. Government Lower Primary School in Kasadi in Haladi gram panchayat in Kundapur recorded 51.99 percent of polling at 12.15 noon.

Meanwhile, the Government Higher Primary School in Uppur in Brahmavar recorded 63.81 per cent at 2.30 pm. As many as 432 voters out of 677 had voted. The other booth at the same venue recorded 58.14 per cent of polling.

Petty clashes due to misunderstandings in the names printed in the voters slip and change of names in polling stations in Kaup and Tenkanidiyur respectively. While in Ambalpadi gram panchayat, the candidate Usha was bewildered to see envelop as her symbol in place of earthen pot which was sanctioned by the election commission. She had campaigned for earthen pot symbol.

In 80-Badagabettu, the ward number and the candidates name were replaced into ward number one and ward number eight following the confusions in the delimitation of the constituency.

Superintendent of Police Annamalai said the polling was peaceful without any untoward incidents taking place anywhere in the district. Except for the minor issues, everything was peaceful, he added.

No holds barred : Old age and ill health were not barriers for enthusiasts who came in with the help of others to cast their precious right here at various polling stations across Udupi. The 92-year-old Radhamma from Goraje in Haladi said she has never missed any election. She casted her vote at Government Lower Primary School in Kasadi in Haladi gram panchayat. She was accompanied by her grandson.

A 84 years old Mohammed Beary in Atradi said that he would prefer voting till his last breath as it is the right bestowed upon him through the Constitutional statutes. A blind voter voted in Heeriyadka Board High School.

The 72 years old Yamuna who is undergoing treatment in Manipal came with her son to cast her vote in Heeriyadka, she had voted in all elections till date.

The 85-years-old Subbaraya Salonkar from Papuje said voting is his right. Every vote is precious, he added. The 70 year old Thambdi Bai from Kudubi community from Mudvari village in Haldi said that everyone should vote and should not miss the unique opportunity.

The first time voter Harshitha Nayak in Heeriyadka said she wants a change in the functioning of the system. She decided to vote as she feels her one vote can also prove instrumental in bringing in the change she aspires. Her mother Saroja Nayak is in the fray.


Write Comment
|

E-Mail
|
Facebook
|

Twitter
|

Print