Mangaluru : Citizens hold discussions on 'New Land Acquisition Bill'
Mangalore Today News Network
Mangaluru, June 09, 2015: Citizens Forum for Mangalore Development, conducted a lively and useful session of discussions on the "Land Acquisition Bill" at SDM MBA conference hall in the afternoon on June 8. In spite of the heavy rain and traffic snarls the hall was packed with a wide cross section of citizens which included distinguished minds and socialites of the city, many land activists came even from distant places.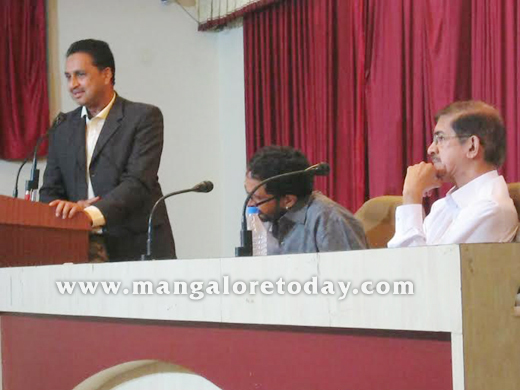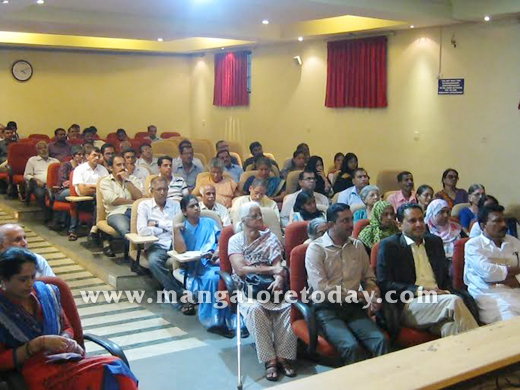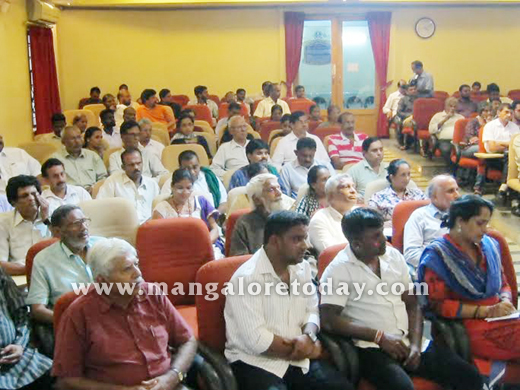 The discussions which not only provided light with some heat was ably introduced and MC'd by activist Vidya Dinkar, supported by Capt.Hugh Vaz key people of the Forum since it's inception in 2005. The speaker a very knowledgeable and practicing advocate and activist from Bangalore Clifton D'Rozario who was part of Medha Patkar's Narmadha bachao adolan team and an avid trade unionist. He ably outlined the provisions and back ground of this controversial act. He said that the Land Acquisition Act 1894 was designed by the British to grab land of all kinds of 'natives'. After suicides of farmers and protests, Land Acquisition, Rehabilitation & Resettlement Act 2013 was passed in Parliament. The Act dealt about acquisition of land, compensation, possession and even about rehabilitation of people. The government agreed to return land to the owner if it is not utilised for five years, 'social impact' was a vital consideration he said. He added that government can not use money power to take away land from the citizen. People want respect and want to be a part of the process consistently and indefinately. People can not be cheated forever, it is they who have empowered the law makers. Judiciary won't do much in this case, the court of people is paramount in democracy. The session was co-ordinated by Magaluru's well known Lawyer Ranjan Rao, who had a difficult time to regulate the lengthy question answer session.

It added a lot of luster to see DK DC Adoor B Ibrahim who interacted freely and even decided to speak, not as an official but in the role of a citizen whose talk enthused every one. He said that basically all land belonged to Govt. and even from the British times and legally from 1894 the Govt. had full right to call for land; only in 2013 after 120 years the modern legislation has come about and civil norms have come with generous compensations. it is the duty of land holders to be familiar with rules and regulations and demand the best terms for surrender of lands. The proviso that after a specified number of years if the land is not used for the project it was acquired for the land needs to be returned to the owner.

SP Dr.Sharanappa was also present and contributed to the meet. Assistant commissioner Dr.Ashok, who is also Land acquisition Officer gave an enlightening talk on the modalities of the present act. a local citizen a retired ENT surgeon from Gujarat Dr.Manohar Balige made some very pertinent suggestions from his personal experience. Many activists present aired their views which helped enlighten all. The session went on well after the specified time and was lauded by one and all present.

Write Comment
|

E-Mail
|
Facebook
|

Twitter
|

Print