Mangaluru:Black flag protest at union ministerís visit to MRPL
Mangalore Today News Network
Mangaluru, April 5, 2015: Democratic Youth Federation of India (DYFI) District President Muneer Katipalla has accused the Mangalore Refinery and Petrochemicals Limited (MRPL) of gross failure to put in place safety measures at its coke and sulphur unit even after several warnings by Karnataka State Pollution Control Board (KSPCB).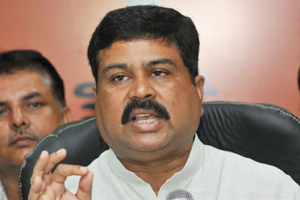 The DYFI has planned a black flag protest, along with Nagarikara Horata Samiti Jokatte against MRPL during Union Petroleum Minister Dharmendra Pradhan's visit on April 5. Briefing media, he said Minister Abhaychandra Jain had responded to the problem with a letter to the company about problems caused by the coke and sulphur unit. Later KSPCB had written three letters to MRPL.

In its observations, Karnataka State Pollution Control Board (KSPCB) had clearly mentioned that the open wells in the nearby residences are contaminated due to dust fall out from Mangalore Refinery and Petrochemicals Limited (MRPL) - III Phase plant operation. The officials had also visited the schools, anganwadis and collected water samples from nearby wells. It stated that MRPL was negligent regarding selection of suitable site for the establishment, operation, and handling petrochemicals products.

Safety norms : Initially the MRPL defended it self that no pollution is seen in the area. Later, it submitted the list of precautionary measures it is following to stop pollution. This is strange. KSPCB too was not satisfied as the action plans were not adequate.

The KSPCB environment officer asked why the Board should not issue closure order for operation of pet coke Silos and storage yard and also to initiate further course of action as per the provisions of Air (Prevention and Control of Pollution) Act, 1981 for not following suitable pollution control measures, he said. "Though it is around 20 days after the 3rd letter, the company is yet to reply to the KSPCB. The Board should take stringent action against the company and not let MRPL to run coke and sulphur unit. We oppose opening of any new units when there are so many allegations against the MRPL,"

MRPL Rejoinder : The show cause notice dated March 4, regarding Non compliance under provisions under Air act 1981, the MRPL has replied on March 7. The MRPL explains that the pollution control measures / systems are already in place and being implemented. The following major aspects of pollution control measures are in place: Closed conveyor system for transfer of Petcoke; Dry Fog type suppression system; plain water Automatic dust suppression system; Dust screens ; Maximum Loading from silos for both Petcoke and Sulphur and Commitment to install 30 Ft Wind breaker. However, the results are not in order.

Write Comment
|

E-Mail
|
Facebook
|

Twitter
|

Print