Mangaluru Bishop Rev. Aloysius Paul D'Souza marks 75th Birthday with a solemn celebrations
Mangalore Today News Network
Mangaluru, June 21, 2016: Bishop of Mangalore Rev. Aloysius Paul D'Souza, today, June 21, 2016 Tuesday, celebrated 75 years of generous life, which will be marked in a very beautiful manner with a special Eucharistic celebration in the fore noon at Rosario Cathedral, his officla seat of office. He also just completed 20 years as the Shepherd of this major and ancient diocese, having officially taken charge on December 27,1996. On December 3, 1666, he was ordained so is set to mark his golden jubilee - 2016, is a special year in his blessed life. This after noon a 'Civic Reception' is set at Mangaluru Town Hall. He will also be honoured at several places in the region in the next few days. There were several dignitaries from the civil and church communities. Nine bishops were present most from Karnataka and two from Agra and Barrielly. Two former CSI Bishops of Mangaluru were also present. Some of the family members of the Bishop were seen in the frount seats of the church.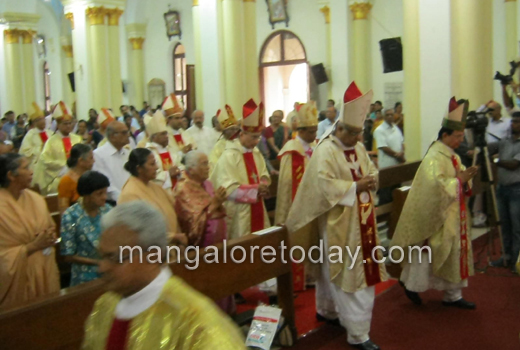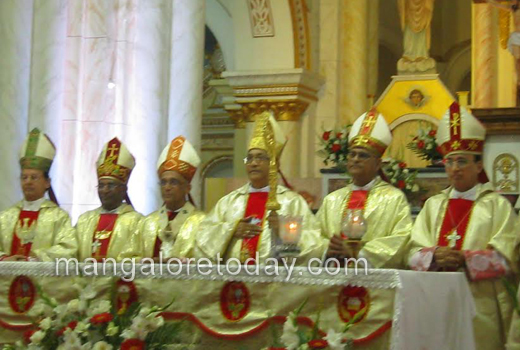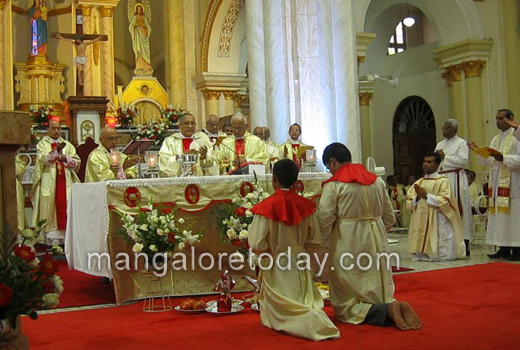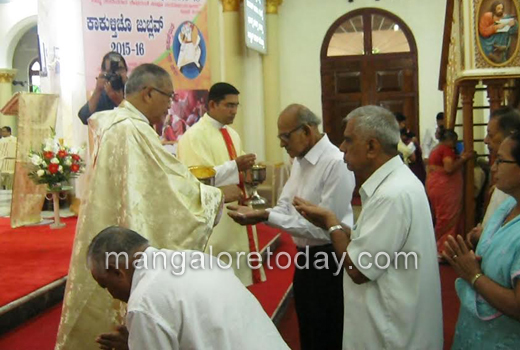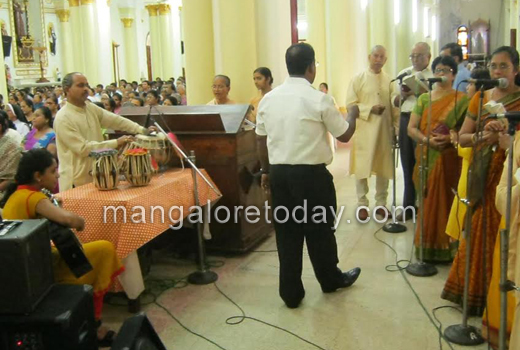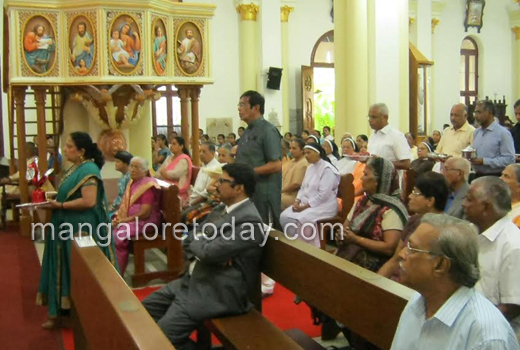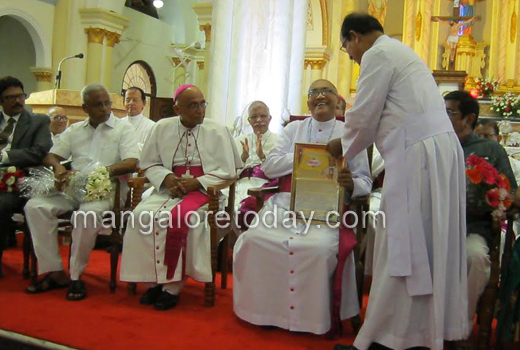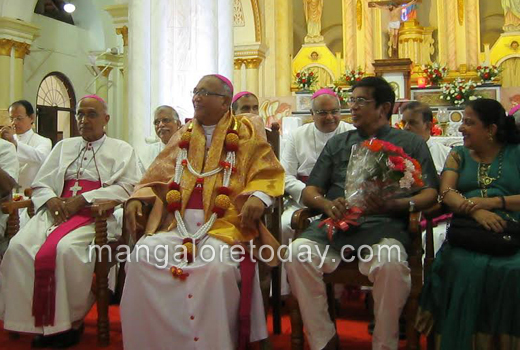 The lead was given by the Archbishop of Bangalore Most Rev Bernard Moras, the arrangements were overseen by the Vicar General Mgr. Denis Moras Prabhu. There was an unusually large number of celebrant priests form Mangaluru, Udupi and other diocese too. Nuns and laity were a plenty. The Mass was followed by a felicitaion programme with several groups, institutions and people honouring the Bishop who is seen as a 'People's Bishop' here.


In his erudite homily at the Solemn mass, Archbishop Moras, who is a classmate of the Bishop D'Souza in the seminary said, "Today, all over Mangalore Diocese, and surrounding places a palpable joy and shine is in the air due to his Lordship Bishop Aloysius' special day. We are all here to recall and appreciate and thank our dear Bishop Aloysius for his services, his life, his faults and all things he has offered to the church of Mangalore and India." Archbishop Moras highlighted the many great things achieved by the Celebrant Bishop Aloysius and Thanked him without reservation. He also glorified God for his goodness in giving the Bishop to this historic diocese. He added, "As a Shepherd he has taken much pain to care, secure and develop his flock."


Mangalore diocese is a large multi faceted important and difficult Catholic diocese in general. Until July 2012, when it was bifurcated and Udupi Diocese took shape, M'lore diocese had 159 parishes with 3, 82, 000 Catholics. With a total of 260 educational institutions, of which 90 or 35% were started under Bishop Aloysius. Fr.Muller's Homeopathic Medical College, Fr.Muller's Medical college, St.Joseph's Engineering College. One singular project he took up was to adopt a mission in the 'Same Diocese' in Tanzania on the African continent in 2013 which now has taken roots. His special concern are the youth.


We pray that the Blessings and compassion of God ever provide Bishop Aloysius, who has gained the title of "Bishop of the People - the masses" with good health, peace and happiness in all his days to come which we hope will be long and fruitful too.


Bishop Aloysius Paul D'Souza was born on June 21, 1941 in Hekkottu, Agrar parish, near Bantwal to Mathias and Isabella, he was the sixth child of seven and several served the church. He did his early education in SVS School, and higher studies in Rome from 1971 to 76; He had done his doctoral thesis on Canon Law and had served as the Advocate of Rota in Rome. On his return he served in several capacities. He was the first rector of the St. Joseph's seminary, Jeppu, after it was handed over to the diocese by the Jesuits, he studied here for the priesthood too. Due to his efforts and initiatives as the head of the diocese, many educational institutions have come up. He brought out the first Konkani Bible, and nurtured vocations through faith formation programs in parishes. The Konkani speakers (Konkani is the official language of the diocese) along the west coast.


Write Comment
|

E-Mail
|
Facebook
|

Twitter
|

Print