Mangaluru: Beware of dubious marketing salesmen
Mangalore Today News Network
Mangaluru, Nov 14, 2015: Instances of gullible public being cheated by some called salespersons who pose themselves as students of some prestigious college and persuade the former to buy some cheap gadgets, which they however claim to be of superior quality have been on the rise. Here is one such latest instance.

One such salesman had landed at the residence of Nivedita Hegde at Manasa Apartments on November 4 evening and managed to persuade her to buy a device helpful in frying papad on the gas stove. To get rid of him she agreed to purchase but he had prepared a bill for Rs 499 for one piece and told Nivedita that she had to buy a pair.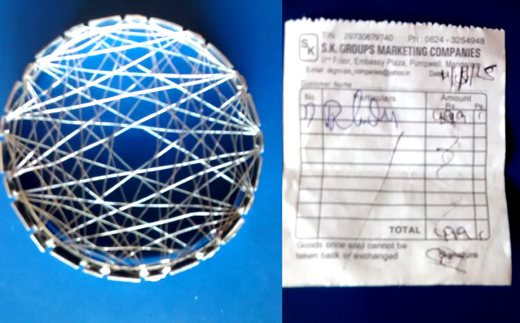 He also issued her a bill with no serial number but having a tin number of an agency called as S. K. Groups Marketing Companies, IInd floor, Embassy plaza, Pumpwell, Mangalore with TIN 29730879740 and a telephone number 08243254948 asking her to call them if she had any problem. But, when she called the number within a few hours after purchasing the gadget, she found it to be switched off. After trying to get in touch with them many times and unable to move out of her flat since she has problems, she had brought the incident to the notice of the Consumers Education Trust. The numerous attempts by the Trust office bearers to call the number failed as the number was switched off.

Later, when Nivedita enquired some of her some of her friends they told her that one of them too had been taken for a ride not only with the papad frying gadget but one more electrical item which was supposedly invented by the prestigious college whose name was mentioned and had properties of purifying the atmosphere, driving out pests and a host of other wonderful properties. However, after purchasing the same and connecting it to the power socket, the fuse blew and she then realized that she had been taken for a ride by the 'college student' whose 'education' was being supported by selling these worthless gadgets!

The Consumers Education Trust Convenor and eminent rationalist Prof. Narendra Nayak has requested consumers to be beware of such dubious marketing salesmen and report to the police if they find such salespersons.

Write Comment
|

E-Mail
|
Facebook
|

Twitter
|

Print