Mangalore origin author's book presented to President of India in Capital
Mangalore Today News Network
New Delhi, Dec 08, 2018: Former diplomat PA Nazareth, of Mangalore roots, now residing in Bangalore, speaking at the launch of his new book "Gandhi: The Soul Force Warrior" at the India International Centre here, stated that Mahatma Gandhi, is one of the "greatest revolutionaries" the world has ever seen, "revolutionised revolution" to convert its ethos from one triggered by "hatred and violence" to one based on "love".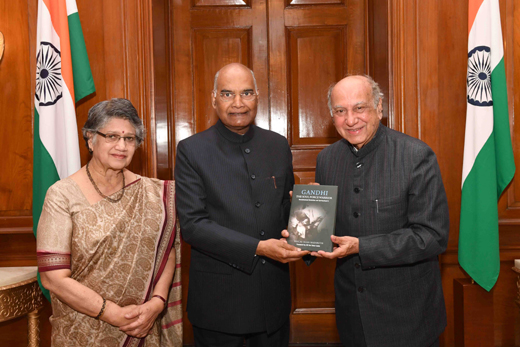 The former Director General of Indian Council for Cultural Relations (ICCR) said that Gandhi changed the notion that hatred and violence were necessary ingredients to start a revolution.

"In this very moment, came a man who wanted to revolutionise revolution. Gandhi made revolution something that could endure and put humanity on a higher level in the ascent of man. That is the greatness of Gandhi," the author said.

Former Jammu and Kashmir Governor NN Vohra, who was present at the book launch, congratulated the author for writing the book and help spread Gandhi's message, something he said he was afraid was getting "lost" in the present times.

"Gandhiji's teachings, his message of compassion, brotherhood, non-violence, in my perception, from where I have been in last 10 years, are sadly all lost."They have been vitiated, disintegrated and you can see much of the disorder and turmoil in the world all over, particularly in several parts of our own country," he said.

Vohra also helped in the translation of Nazareth's earlier book 'Gandhi's Outstanding Leadership', both in Dogri and Kashmiri. The book has been published in 12 Indian languages, along with 23 foreign languages since its release in 2006.

Sarod maestro Ustad Amjad Ali Khan, Mahatama Gandhi's grand-daughter Tara Gandhi Bhattacharjee, former Attorney-General Soli Sorabjee, jurist Fali S Nariman were among other eminent personalities who attended the event.

On December 5 , the renowned author, Alan Nazareth presented the book to the President of India, in this connection he stated, "I, and my wife Isobel, were received by the President of India H.E. Mr. Ram Nath Kovind at Rashtrapathi Bhavan. He spent twenty minutes graciously conversing

with us. I respectfully presented my newly published / released book to him and he had a photograph taken of this presentation with Isobel also in it. This photo can be seen".


"When I told President Kovind how honoured and privileged we were to be received by him he immediately responded that he also was privileged to meet an author whose very first book had been published in 35 languages".


About senior author Pascal Alan Nazareth IFS : Retired from Indian Foreign Service (IFS) in 1994. He served as a Ambassador in Egypt,Mexico,Liberia, Ghana; held other key diplomatic postings at Tokyo,Rangoon, New York, Lima, Chicago, and London, too. In 2007, author P A Nazareth became a recipient of the prestigious 'U THANT PEACE AWARD' for his "life time of dedication and world service in promoting Gandhian ideals" - the previous recipients of this award are Mother Teresa, Pope John Paul-II, The Dalai Lama, Nelson Mandela and many other greats. He is a well known writer and one of his books is translated into 35 languages. This distinguished figure is often referred to as 'Alan Nazareth' spends his retirement following in the footsteps of the Mahatma - literally.

Write Comment
|

E-Mail
|
Facebook
|

Twitter
|

Print