Mangalore diocese marks 20th anniversary of 'Prison Ministry' at Rosario Cathedral
Mangalore Today News Network
Mangaluru, Aug 19, 2019: Addressing a gathering at Rosario Cathedral Hall on August 18, Sunday, the Bishop of Mangalore Rev.Dr.Peter Paul Saldanha, expressed appreciation to the present and past members of "Prison Ministry India" (PMI) and supporting generous people from all walks of life over the past 20 years in the city, for the active positive care and concern they have extended to the prison inmates irrespective of their cases.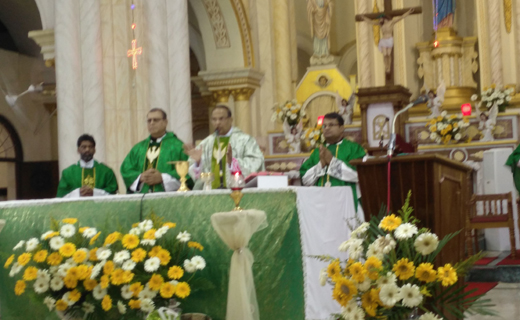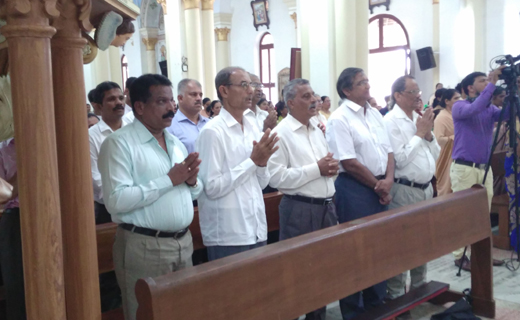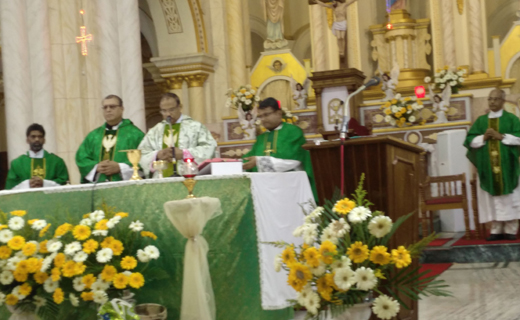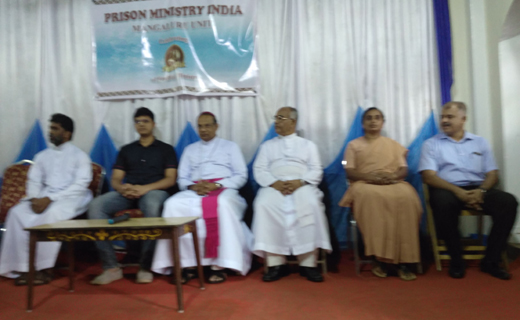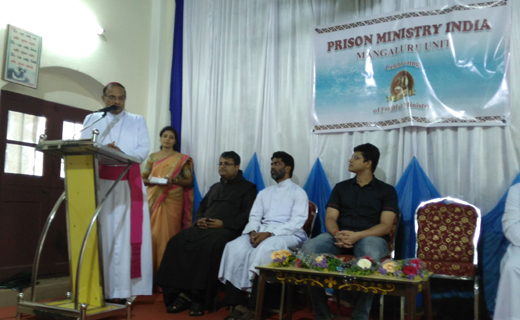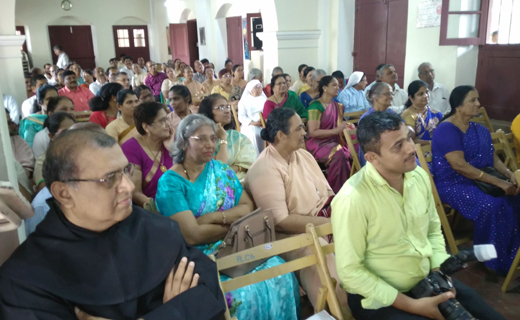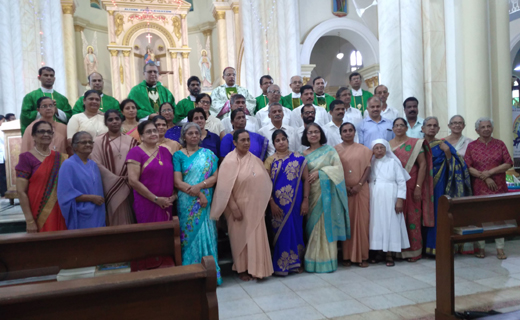 The Bishop said, "On this occasion I specially commend the officers and staff of the Jails for the very constructive attitude they adopt, whatever the external causes. These service minded people work under severe pressure without recognition for years together and yet generally want to do their best. It has been my deep admiration for our Jail Superintendent Chandan Patil and his staff who are indeed very sincere and affable in the light of difficult situations. I have been impressed with the running of this institution, the Jail, where I visted for some time in this past week. The PMI members who dedicate themselves to serving the unfortunate, I can only say good about their work within the regulations of Govt., it is the 'good people' who have to be voice to voiceless; the Bishop quoted several lines to highlight the principles of PMI which were thought provoking."

He then pointed out the services of the PMI and their philosophy and principles which made those present see the good of this movement that extends support in many aspects those behind bars and the do all that is desired for the dependants at home who have to bear the brunt of ignominy. The Bishop desired that more people join in this effort for behind the scenes service to all in different kinds of prisons.

The words of the Chief guest, Mangaluru Jail superintendent Chandan Patil, a young official whose presence instilled confidence and grace to the occasion and gave a sense of joy. He stated that Mangaluru jail is peculiar one which is very demanding and delicate. He said there are many needs and all can not be met by Govt and officials on time, it is NGOs like PMI and others who are providing needed timely care that matters, and make the prison and those incarcerated develop the right mind set and support the needed correction and betterment. He said he observed the PMI principle to not count the inconveniences they face on weekly visits, but to find good ways to improve matters in consultation with jail officials. He expressed his appreciation and thanked all concerned for the 20 years yeoman service to the suffering.

The PMI Co-ordinator Mangaluru Rev Prakash OCD appreciated the opportunity to serve the Jail inmates and officials and those who provided the services and thanked all concerned. He said being a part of the all India movement of PMI was a privilege.

Earlier in the morning, there was a solemn Mass to grace the anniversary and PMI Sunday, which is observed all over India, August 18. Several priests concelebrated the special Mass with the Bishop Rev.Dr Peter Paul. In his homily he stressed that Prayer is the main thing to do for the prison inmates and staff....No one is born a criminal, it's the society which makes them take to crime. The Mass was attended by a large number of people who are presently involved or were involved earlier with PMI. Many prominent parish members of Rosario, priests and nuns with others attended too.

Among the notables present were : Rev Prakash OCD, The Director of PMI unit Mangaluru, Rev. Pius D'Souza OCD, Rev. Benny Pachanal, Karnataka State PMI Coordinator, Prison Ministry Karnataka Secretary Sr Therese; Representatives of PMI Mysuru, Udupi, and PMI officials and Rev J B Crasta Rector Rozario Cathedral . Dr Ronald Fernandes who was a past leading member and now an honorary member and well wisher. Dr Tressie Menezes conducted the proceedings and Jerome Lobo proposed vote of thanks. All guests received a ceremonial welcome and due gratitude was conveyed generously.

Special Programmes held in DK Dist Jail :

As a major part of PMIs 20th anniversary celebrations by the Mangaluru PMI Unit, special programmes were held on August 12, 13, 14, & 16, 2019, 9 am to 12 noon, as recommended by the Jail superintendent ,

A de addiction camp for 30 inmates, Aug 12 to 14, was a very successful event as expressed by participants and resource persons. There were 15 resource persons who covered the 3 day camp, with valuable inputs and workshops for the participants.

On August 16, Friday the finale was for all concerned, refreshment and fruits was distributed in the morning. Bishop of Mangalore Rev Dr Peter Paul Saldanha addressed the concluding session, he was received by jail superintendent and was escorted and shown the 2 new jail blocks led to the old jail block where the inmates were assembled and he interacted with them. Five carrom boards, trash containers and a volley ball and net were presented to the inmates through the bishop. The bishop appreciated that a waiting kiosk with benches donated by the PMI members, provided a valuable convenience to visitors. The Jail Superintendent expressed thanks to the bishop and the PMI members and teams for organizing the camp and for the regular services rendered.

Brief Recap :
In Mangaluru : PMI was launched in 1997 at the Carmelite Monastery in Bikarnakatte, and went live in 1999; it has developed in many ways in spite of many hurdles, the Bishops of the diocese too have been very supportive. PMI unit is run by the Carmelites from Infant Jesus Shrine, Bikarnakatte; the volunteers visit the Jail at Kodialbail and undertake several activities to help the inmates have a better life and work to correct their past mistakes and prepare for a better life. The PMI unit also follows up cases of undertrials for speedy disposal of case and seek release in minor cases, through mediation. Rosario Cathedral parish, on the occasion of it's 450 years of foundation, end 2018, is set for a special contribution for the welfare of deserving prisoners. On August 18, 2019 Sunday- a land mark celebration at Rosario Cathedral, with Bishop Rev Dr. Peter Paul Saldanha present was held and detailed already above.

About Prison Ministry : PMI ministers to the needy in prisons - the least, last and lost. St. Maximilian Kolbe, is the patron saint of PMI. There are many 'prisons' that humans are trapped in now a days - Jails, destitute homes, orphanages, half way home, addiction centers, hospitals, Homes for aged and many such care institutions and homes. Loneliness is a serious dis-ease too.

PMI is deeply involved in over a thousand prisons big and small all over India now; it started in Kerala and has grown tremendously since 1986. At this point in time it's National Director is based in Bangalore, it is part of the CBCI's commission of Justice, Peace and Development. There are many principles that need be adopted for better identity and effect in this rare mission, there is a need to have proper co-ordination, guidance and follow certain regulations when interacting with prison inmates and officials.

The PMI 3R's : Release, Renew, Rehabilitate : Rehabilitate prisoners and reform prisons, facilitate social reintegration, ensure congruent function of government systems and structures for the amelioration of victims, offenders, society, government authorities, families of victims. This ministry/service can gain by having committed volunteers.

Referring figures : It is projected average are - Central Jails : 137 with 165,750, inmates ; District Jails: 394 with 147,000,inmates ; Sub Jails: 732, with 45,569, inmates; Women Jails :20, with 5,197, inmates; Borstal Schools : 20, with 1,630. inmates; Open Jails; 64, with 5,412 inmates; Special Jails :42, with 10,145 persons; Other Jails ;3, with 170 persons....Total jails ;1,412. with 380,876, inmates.....present figures will vary.



Write Comment
|

E-Mail
|
Facebook
|

Twitter
|

Print