Mangalore: Workshop on Wildlife held for Journalists
Mangalore Today News Network
Mangalore, August 20, 2015: Wildlife Conservation Society India Program today conducted a workshop on 'Dealing with leopards and elephants in human use landscapes' and the role of media in assisting in resolving these issues. The workshop, which was meant for journalists, was hosted at Mangalore Press Club.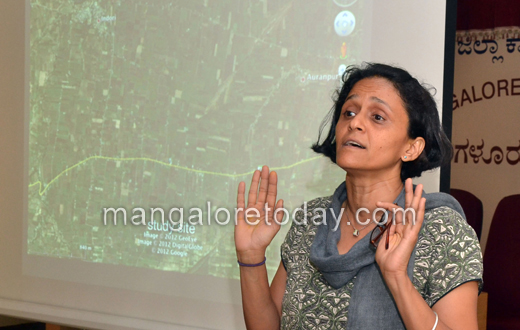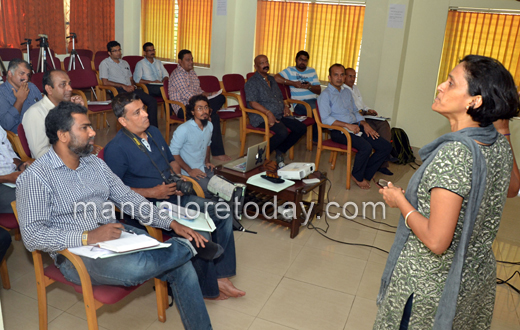 Vidya Athreya and Virat Singh were the chief resource persons for the programme.
In her presentation, Vidya Athreya, a Pune based conservationist who has experience in working with leopards, explained that in India more leopards are found in human use landscapes than in protected habitats.

"Leopards are smaller than tigers and are highly adaptable. They stay quiet during the day and hunt at night. They have taken a liking for dogs and this is what attracts them to human habitats," she said. She also explained that leopards are very shy and general stay away from people. Any attacks happen only when they are provoked and cornered.

"The best way to deal with leopards is to learn to live with them. If we take measures to protect ourselves and our belongings, then leopards won't harm us in any way. Capturing and relocating them does not really help in any way. It actually worsens the situation as the relocated animal gets disoriented and becomes potentially harmful," she said.

She concluded her talk by emphasizing that in rural India, humans have always had ways to live in harmony with wild animals. We should do research and uncover the traditional wisdom, she said.
In his talk Virat Singh, who is a journalist by profession, spoke about how media can help in molding public perception of wildlife. He said instead to feeding sensational negative perception of wild animals, media should interact with forest department and wildlife experts and try to balance the news with truth, human concerns and wildlife concerns. Media can also pick on problems and bottlenecks in wildlife management and highlight them. This will put pressure on decision makers and help the public, he said.

Prabhakar Sharma, Executive Director of Pilikula Nisarga Dhama inaugurated the programme. He said that Pilikula Nisarga Dhama was the main rescue and rehabilitation centre for wild animals in the region. "Every year we deal with 8-10 leopard rescues. Though we release most of them into the wild, in some cases it is not possible as the animal could be permanently injured or it might have been brought in when it was too young and would not know how to live on its own," he said, "Hence there is a need to have a full fledged rescue and rehabilitation unit with all facilities for caring for such animals."

In his welcome address, Dr. Ronald Fernandes, President of Mangalore Press Club observed that the workshop was timely in view of the fact that the media is faced with the challenge of reporting on the increasing incidences of wild animals being found in human habitats.

Niren Jain, Co-ordinator of Kudremukh Wildlife Foundation, introduced the programme and concluded it with vote of thanks.


Write Comment
|

E-Mail
|
Facebook
|

Twitter
|

Print