Mangalore: Manohar Shines at 'Manobhinandana'
Mangalore Today News Network
Mangalore, 27 April, 2015: 'Manobhinandana', the much awaited ceremonial felicitation of senior journalist Manohar Prasad tookoff to a spectacular start with a galaxy of dignitaries comprising the who is who of the city. The senior scribe, who is the chief of Mangalore news bureau of Udayavani Kannada daily, was felicitated to mark his completion of thirty years of service to the field of journalism.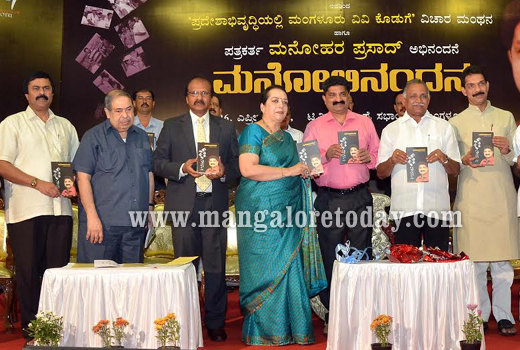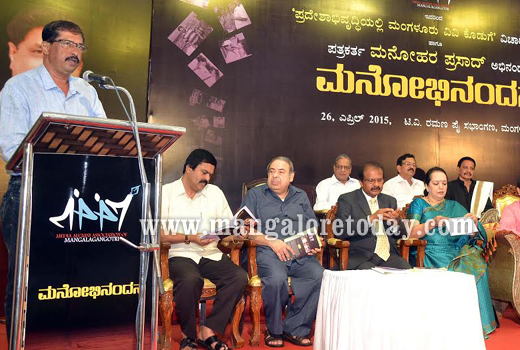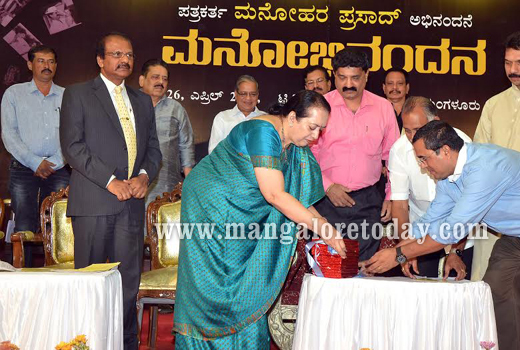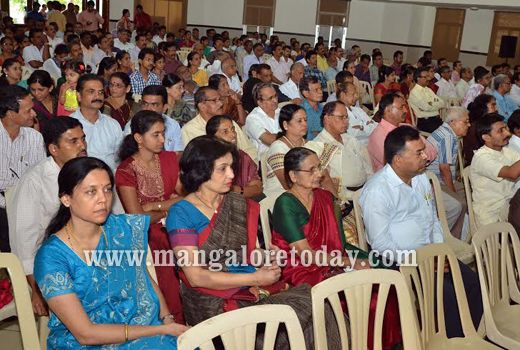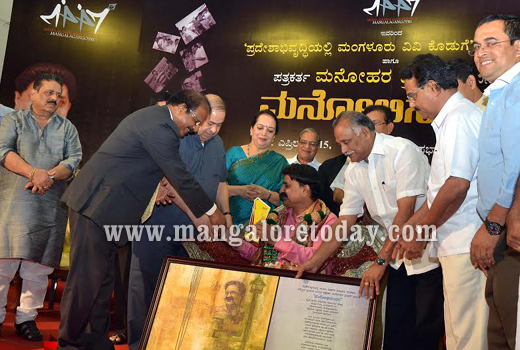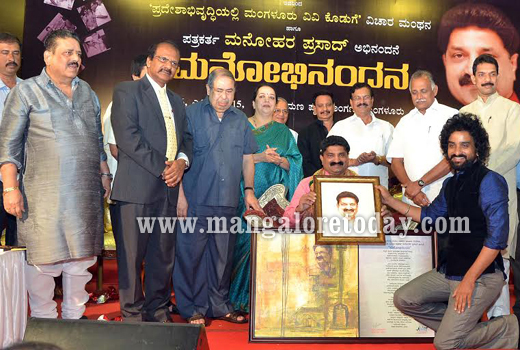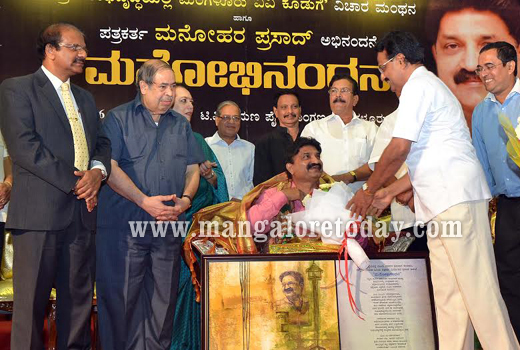 The felicitation programme was organized by Media Alumni Association of Mangalagangothri (MAAM) at T. V. Raman Pai Convention Centre, Kodialbail, Mangalore this morning.

Those who spoke on the occasion included the district in-charge minister B. Ramanath Rai; state health minister U. T. Khadar; state fisheries minister Abhayachandra; the local MP Nalin Kumar Kateel; Mangalore University Vice Chancellor Prof. K. Bairappa; social worker Sudhakar Pejavar ; A. Sadananda Shetty, Chairmen of Shree Devi Education Trust, Mangalore; Jagannath Shetty Bala, president of D.K. Working Journalist's Union; Ajit Rai Malady, president of Buntara Yane Nadavara Mathru Sangha; S. Pradeep Kumar Kalkura, president of DK Zilla Kannad Sahitya Parishat and Pramila Rao, lecturer, Canara First Grade College, Mangalore.

Dr. Sandhya Pai, the Managing Editor of 'Taranga' Kannada weekly released the commemorative souvenir during the function.

Other prominent personalities who attended the function were former minister J. Krishna Palemar, MLA Moideen Bawa, litterateur Airya Laxminarayan Alva, Managing Director of Manipal Media Network T. Sathish U. Pai and Associate Vice President Anand K., Ganesh S. Rao, Chairman of Karavali Group of Colleges, Shrinath Hebbar, proprietor of Land Trades Builders & Developers and Narendra Nayak, Chairman of Expert Education Trust.

As part of the felicitation, MAAM presented Manohar Prasad with a cash award of Rs 1,00,001. Responding to the felicitation, Manohar Prasad thanked everyone for their warm wishes and in a grand gesture returned the cash award after accepting a token amount of only one rupee. He insisted that the balance amount of Rs. One Lakh would be his contribution to MAAM which should be utilized for the benefit of journalism students. In recognition of Manohar Prasad's glowing professional achievements, Mangalore University Vice chancellor Prof.Bhairappa also announced a honorary post for him as Adjunct Professor of Mangalore University.

Venu Sharma, the president of MAAM welcomed the gathering. Dr. Na Damodar Shetty, theatre director and Smitha Shenoy compered the programme.


Symposium on "Contribution of Mangalore University to the Development of the Region"

The felicitation function was followed by a symposium on the topic "Contribution of Mangalore University to the Development of the Region". MAAM being an old student's body of former journalism students of Mangalore University, this symposium was organized to commemorate the Silver Jubilee of the Department of Journalism of Mangalore.

During the symposium, Prof. P. S. Yedapadithaya, Registrar, Mangalore University observed that Mangalore University had instilled self confidence among the students which is more valuable than the degrees it conferred.

Prof. K. Chinnappa Gowda, Head of the Department of Kannada, Mangalore University pointed out that in these times when knowledge is being openly sold, Mangalore University had facilitated sharing of knowledge. By establishing Tulu Peeta, Kodava Peeta, it has elevated awareness of local culture of this region to the global level, he said.

Striking a discordant note, Dr. Norbert Lobo, President of Association of Mangalore University Teachers' Association, said Mangalore University's achievements are actually based on the advantages it enjoyed because of the over 100 years of academic exposure it has enjoyed under Madras University and Mysore University, prior to its formation in 1980. Listing out eight parameters for evaluating a university's performance, he said Mangalore University has a long way to go before we can truly appreciate its contributions.

The last speaker was Prof. Shripathy Tantri, Founder Member, Mangalore University. He recalled the history of how Mangalore University came into being and how it has been functioning. He regretted that the university has not made any contribution recognizable on global level or national level and said the university should undertake introspection and self-evaluation to improve its performance.

In his presidential address, Prof. B. M. Hegde, former Vice Chancellor, Manipal University said the bane of Indian universities was the lack of autonomy and their growth and functioning is stifled with government control. "Universities should not just impart knowledge, but should produce good human beings," he said.

Delivering the concluding remarks Mangalore University Vice Chancellor Prof. K. Bairappa answered questions from the audience and admitted that though the university suffered from many drawbacks, a vision document was presently being drafted which would set the course of the organization for the future. Called Vision 2030, this is being prepared by a committee of experts, he said.

Ronald Anil Fernandes and Florine Roche compered the symposium.


Write Comment
|

E-Mail
|
Facebook
|

Twitter
|

Print