Mangalore Customs seizes 1KG Gold, Saffron and Cigerettes worth Rs.30 lakhs
mangaloretoday.com
Mangaluru, Oct 21: Mangalore Customs seizes 1 KG Gold powder mixed in Milk powder, Saffron and Cigerettes valued over Rs.30 lakhs

The officers of Airport Customs, Mangalore, have effected the seizures of various contraband goods like, silver coated gold powder concealed in milk powder, saffron and foreign brand cigarettes in commercial quantity, in the last three days. All the said goods were attempted to be smuggled through Mangalore International Airport by passengers who had arrived from Dubai and failed to declare the same to Customs, with an intention to evade payment of appropriate Customs duties.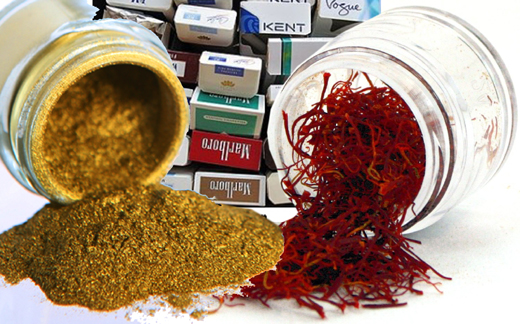 The officers seized about 1000 grams of silver coated gold powder which was cleverly concealed in milk powder to avoid detection, valued over Rs.26 lakhs, from a passenger who arrived from Dubai. On a reasonable suspicion, the officers questioned the passenger as to whether he possessed any dutiable items to be declared to Customs. However, the passenger was incoherent while responding to the officers. Therefore his baggage was subjected to a detailed examination. The detailed and thorough examination of the baggage coupled with the expertise and experience of the officers, enabled detection of such ingenious concealment of coarse silver coated gold granules in milk powder.

As the passenger was not an eligible passenger to import gold and since he attempted to smuggle contraband into India in contravention of the provisions of the Customs Act, 1962 read with the Baggage Rules, 1998, the gold was seized. The passenger was arrested yesterday and produced before the Principal Civil Judge (Senior Division) and Chief Judicial Magistrate, Mangalore, who remanded him to judicial custody for 14 days.

In another case, the officers of Customs, Mangalore International Airport, effected the seizure of two Kilograms of RAYEHE brand saffron filaments of Grade '2', valued over Rs.2.50 lakhs, which attempted to be smuggled by way of concealment among diapers of Pampers Brand in the checked in baggage brought by the passenger.

Further, in three separate cases, the officers effected the seizure of 90 cartons of cigarettes, devoid of the statutory pictorial warnings printed on the cartons, valued at over Rs.1.20 lakhs, which were brought in commercial quantity by the passengers.

The contraband of diverse nature valued about Rs.30 lakhs were seized in the last three days.


Write Comment
|

E-Mail
|
Facebook
|

Twitter
|

Print