MITE signs MOU with Binghamton University
Mangalore Today News Network
Mangaluru, May 17, 2016: The Mangalore Institute of Technology and Engineering (MITE) has signed an important Memorandum of Understanding (MOU) with Binghamton University, the state university of New York on Wednesday, 4th May, 2016.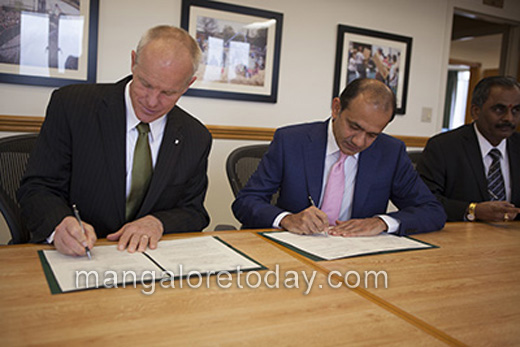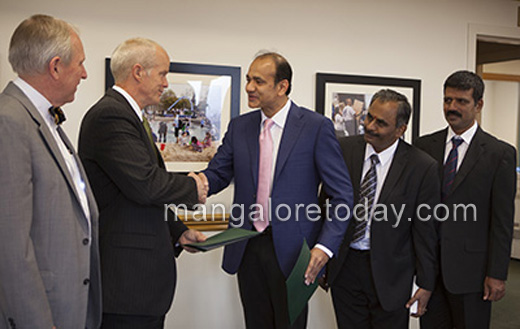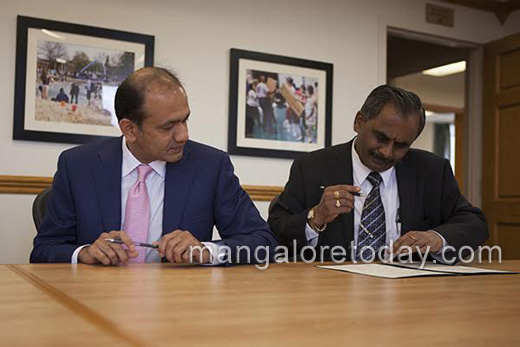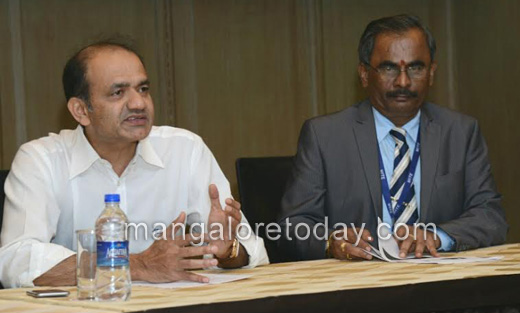 Announcing this at a press conference held at Gateway Hotel this morning, MITE Chairman Rajesh Chouta said his institution is the only Indian institution apart from Vellore Institute of Technology to enter into collaboration with Binghamton University, which is a premier university of USA.

According to the media release issued by MITE, the two institutions have agreed to "foster advancement in teaching, research, academic collaboration and cultural understanding and to create avenues for enhancing learner experience at both entities, as well as strengthen both entities by finding ways of combining their complementary resources and strengths."
The signatories of the MoU included Binghamton President Harvey Stenger, Executive Vice President for Academic Affairs and Provost Donald Nieman, MITE Chairman Rajesh Chouta and MITE Principal Easwara Prasad.

Dean of the Thomas J. Watson School of Engineering and Applied Science Krishnaswami "Hari" Srihari and head of the MITE Department of Information Science and Engineering Manjunath Hebbs were also part of the ceremony, the press release said.

Binghamton University is ranked at 15th place among top 25 in the latest Forbes listing of 'America's Best Value Colleges' announced this week, Chauta said. "This new collaboration will open new avenues for MITE to further its academic and research profile and also for MITE students to explore higher educational opportunities in USA," he added.
The connection between the two institutions started in May 2015 when MITE Chairman Rajesh Chouta contacted Dean Srihari about a partnership.

This was followed by an elaborate process of formulating a long term relationship, which included campus visits to both institutions and many rounds of discussions. Moving forward there will be more visits between administrators and talk about specific areas of collaboration.
"This agreement with Binghamton University is an important milestone for MITE. I am delighted that the Binghamton University's rigorous approval process has recognized MITE as centre of excellence and our painstaking efforts over the years have been validated by this collaboration," said MITE Chairman Rajesh Chouta.

Making a power point presentation on the institution, MITE Principal Easwara Prasad said Binghamton University is a state funded public university coming under The State University of New York.
"This new collaboration will initially result in three to four joint projects annually, by which renowned scholars and academicians from Binghamton University will visit MITE and interact with our students. The co-operation will later be further extended to include more activities," he said.

MITE was established in 2007 by the Rajalaxmi Education Trust to fulfill the growing needs of the industry and aspirations of young students of this region and other parts of the country, which requires outstanding professionals who can be an asset to any organization.
MITE offers Bachelor's degrees in Electronics & Communications Engineering, Computer Science & Engineering, Information Science & Engineering, Mechanical Engineering, Aeronautical Engineering, Telecommunications Engineering, and Civil Engineering.

With a spacious 74 acre lush green campus situated Mijar, MITE prides on its many achievements which include a World Class Research Centre from Bosch and a Centre for Excellence from Siemens at cost of US $ 79 million. MITE has been recognized by INFOSYS for outstanding contribution to Soft Skills Program.

'All Terrain Vehicle' designed by MITE students won all India 10th place in SAE India competition and 'Most Popular Car' by JK Tyres Motorsport and another students' project 'Triplet Li-fi' was awarded All India 3rd place at UNISYS Project 20/20.


Write Comment
|

E-Mail
|
Facebook
|

Twitter
|

Print