MIA enhances navigation services for aircraft
Mangalore Today News Network
Mangaluru, Oct 20, 2016: A media release from the MIA Mangaluru International Airport director J T Radhakrishna said the ACC, Area Control Centre of the AAI, Airports Authority of India has begun its trial run from the new building located on the MIA, Mangaluru International Airport premises at Kenjar from October 17.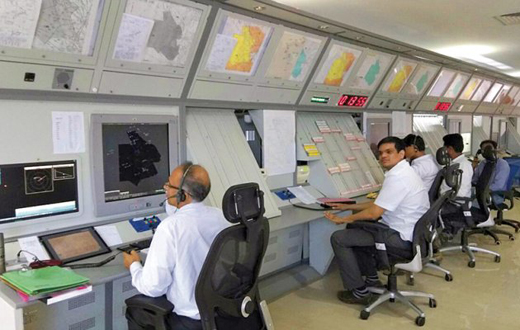 The new technical building - which was constructed at a cost of Rs 20 crore for installation of Air Traffic Control services along with the control tower - and the new control tower were commissioned and put into operation on January 10, 2015.

that the air navigation services (ANS) equipment required for the Area Control Centre and all other equipment at the old terminal building at Bajpe were shifted to the new technical building stage by stage. The new ATC provides a 360-degree view of the old and new runways, the approaches to the runways and the parking bays.

The airport director said that the Area Control Centre helps in monitoring of flights in Mangaluru airspace and also the flights arriving at and departing from Mangaluru Airport. The Area Control Centre works 24X7 and the controls are monitored under Air Traffic Control officers and communication navigation surveillance (CNS) officers of the Airports Authority of India. Noting that this is a vital installation, including the radar display which will increase the safe aircraft operations for the Mangaluru International Airport, he said that the facility will help monitor the flights from Mangaluru Airport within 250 nautical miles approximately.

Radhakrishna said that all works relating to the installation works were taken up and completed in-house by the AAI CNS engineer. It took almost six months to shift the equipment due to maintaining the similar parallel operations from old building. Stating that it was a tough task to keep operations on and shift the equipment stage by stage, the airport director said that the work has been completed smoothly and successfully and the same is put into operations by the Airports Authority of India. The modern equipment installed at the airport will provide enhanced safe navigation services to the flights.

At present, the Mangaluru International Airport handles flights to Dubai, Sharjah, Doha, Bahrain, Muscat, Abu Dhabi, Bengaluru, Mumbai, Hyderabad, Goa and Kozhikode by Jet Airways, Spicejet and Air India Express.

Write Comment
|

E-Mail
|
Facebook
|

Twitter
|

Print