MCC spells out norms for bulk waste generators
Mangalore Today News Network
Mangaluru, Dec 31, 2018: Mangaluru City Corporation (MCC) has mulled norms for direct bulk generators of solid waste, including restaurants and apartments generating more than 100 kg of solid waste a day and gated communities and campuses with more than 5,000 sq m area, to process waste on their own. Alternatevely, the corporation will do it for them at a fee ranging between Rs. 2,500 and Rs. 63,000 a year.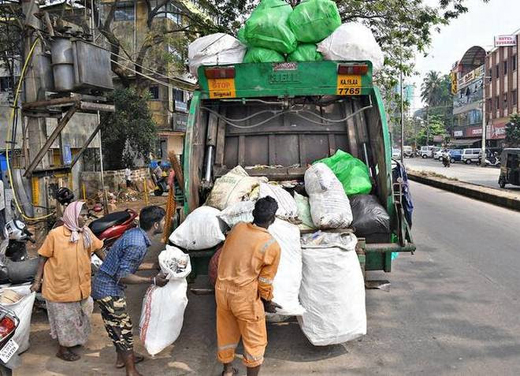 The 'Solid Waste Management and Sanitation Bye-law 2019' that the corporation has proposed to enact is set to prescribe such norms. An official said that the bylaw is being prepared to decentralise collection, processing and disposal of solid waste and thus, reduce the cost incurred by the corporation. At present, the civic body is spending around Rs. 40 crore per annum. A draft of the bylaw was placed during the meeting of the Mangaluru City Corporation Council last week. As per the draft, the corporation will carry out a survey to notify those generating 100 kg solid waste per day and campuses with more than 5,000 sq m area as bulk waste generators. These establishments should segregate waste and have their own system in place to process biodegradable and non-biodegradable waste.

While barring dumping of construction waste and garden waste in public places, the bylaw states that the waste generator should inform the corporation and pay the necessary charges for transportation of such waste to the processing areas. Organisers of private and public conventions where more than 100 people gather are tasked to give prior information to the corporation for disposal of waste that is generated.

Emphasising on the need for composting and other ways of processing kitchen waste in houses, the bylaw necessitates weekly collection of non-biodegradable waste, domestic hazardous waste such as medicines, paints and pesticides and e-waste.

Schedule 7 of the bylaw gives an elaborate list of fine, including littering (Rs. 1,500), failure of bulk waste generator to segregate waste (Rs. 15,000), failure to store or deliver construction waste (Rs. 25,000) and failure to deliver fish, poultry and slaughterhouse waste in a segregated manner (Rs. 10,000).

It speaks of creation of nuisance detectors who will be empowered to levy fine on those violating the norms. It also speaks of the role for ward communities and Suchi Mitras in collection, processing and disposal of solid waste. There is a schedule on pourakarmika welfare too.

Write Comment
|

E-Mail
|
Facebook
|

Twitter
|

Print