MCC presents Rs 1,605.67 lakh deficit budget for 2018-19
Mangalore Today News Network
Mangaluru, Feb 27, 2018: Mangaluru City Corporation Chairperson (MCC), Standing Committee on Taxation, Finance and Appeals, Pratibha Kulai, presented the budget for the year 2018-19 in the city corporation council meeting on Monday.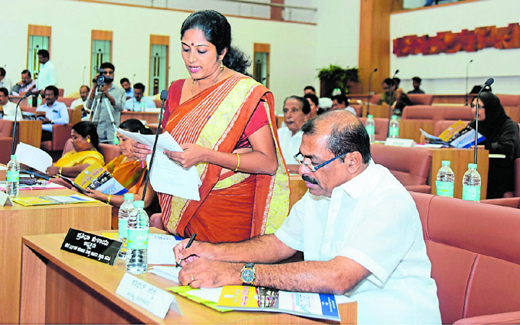 An amount of Rs 69,840.38 lakh is the total estimated income for the year while the estimated expense will be Rs 71,446.05 lakh, with a deficit of Rs 1,605.67 lakh.

The corresponding total income generation target and the expenses during the previous fiscal year were Rs 86,709.30 lakh and Rs 95,253.14 lakh respectively.

Estimated Incomes : Pratibha stated that a state government grant of Rs 3,500 lakh is expected under SFC funds.

Similarly, Rs 4,700 lakh is expected towards electricity grants, Rs 400 lakh from stamp revenue, Rs 2,500 lakh under SFC open fund, Rs 200 lakh through SFC subsidy, Rs 225 lakh through SFC drinking water grants, Rs 224 lakh towards the housing scheme of civic workers, Rs 7,500 lakh through Amrit project, Rs 1,776 lakh through 14th Financial Plan common basic grants, Rs 500 lakh through 14th finance commission working grant, Rs 494.80 lakh through Swacch Bharat Mission grant, Rs 135 lakh through MLA grant, Rs 1,500 lakh grant towards the procurement of land in Thumbe, Rs 80 lakh through NULM and Rs 1,400 lakh through Housing For All scheme.

Out of the capital investments, 16,970.90 lakh is released directly to KUIDFC towards the grants of ADB Second Phase works. Also, the grants towards second and third stage of Nagarotthana project have been released and is deposited in the account of the deputy commissioner. However, the grants are not released to MCC and therefore, there is a deficit in terms of income through capital investments. However, an additional Rs 202.78 lakh revenue generation is expected in the year 2018-19, she added.

Revenue collections : Measures will be implemented to collect water tax, property tax under self-assessment scheme and other tax dues from the defaulters, in order to achieve revenue targets. A special recovery cell will be constituted towards the same.

A software will be developed to conduct a survey of all properties in MCC limits. UGD tax will be clubbed with water tax and will be imposed upon every household, as per the tarriff prescribed vide government circular.

Cess will be imposed on Mescom, telephone companies and cable operators. The advertisement fee and commercial shop rent will be revised, the taxation, finance and appeals standing committee Chairperson said.
New initiatives

In order to make the tax collection more tech-savvy and make the tax payment more convenient for people, the MCC will set up special counters with the assistance of banks. The details of tax payment will be digitalised. GPS will be installed in all UGD maintenance vehicles to ensure that the service is restricted to MCC limits and not diverted for non-MCC purposes. More e-toilets will be built in crowded places.

Opposition unhappy : Opposition leaders Sudhir Kumar Kannur, Premananda Shetty and Roopa Bangera said that the budget was disappointing as its size is significantly smaller compared to the earlier year. Also, there is a loan burden of about Rs 500 crore.

Along with the Opposition members, former mayor Mahabala Marla raised an objection on several factual errors printed in the budget copy and on the wrong figures being read out. The officers have been totally irresponsible in providing the statistics, the members said.


Write Comment
|

E-Mail
|
Facebook
|

Twitter
|

Print