MCC polls: Landslide victory for BJP with win in 44 wards, Congress gets 14, SDPI-2
Mangalore Today News Network
Mangaluru, Nov 14, 2019: The Bharatiya Janata Party has registered a landslide victory in the Mangaluru City Corporation election by winning 44 out of the 60 wards for which elections were held. The Congress had to settle for a victory in just 14 wards, while the SDPI has won in two wards.

This would be the second time in the history of Mangaluru that the BJP is set to take over the administration of MCC. The party had won the MCC election for the first time in 2007.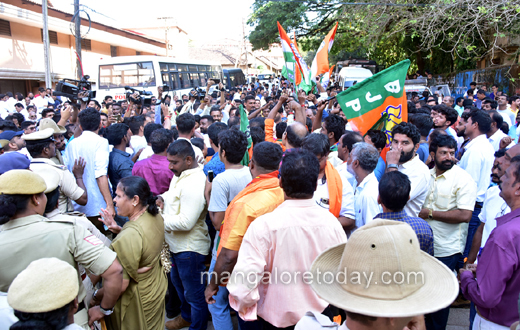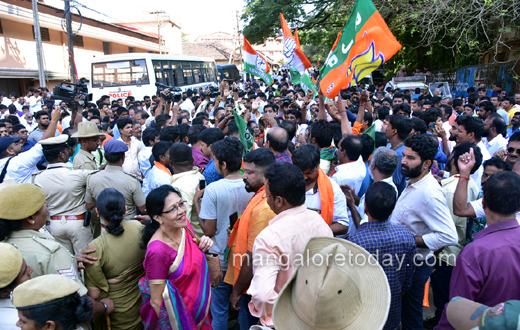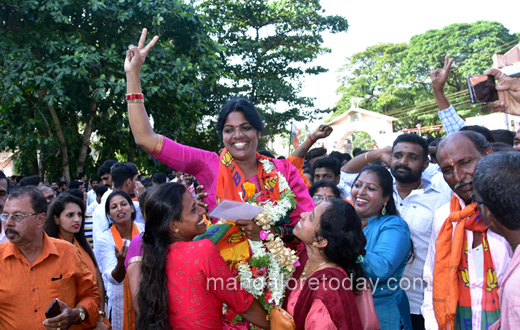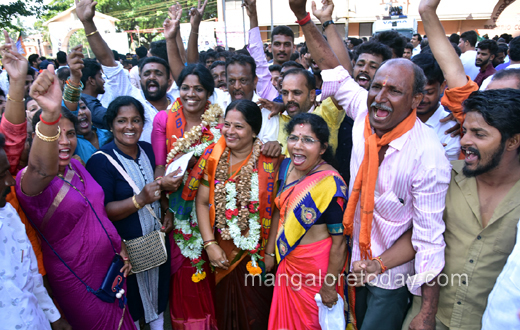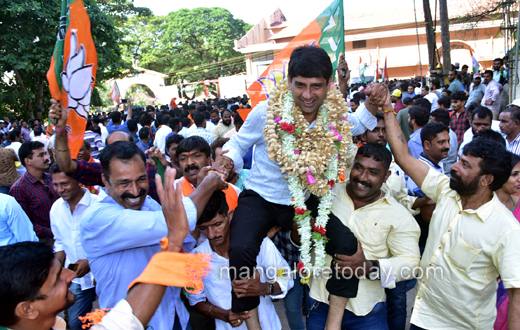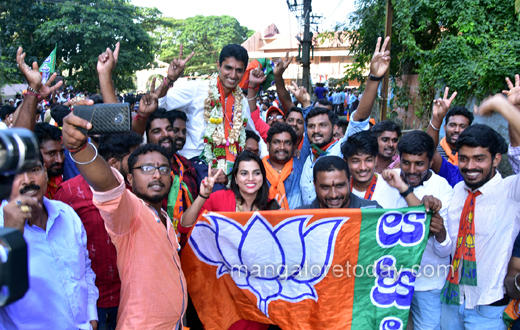 In Ward No. 22 Kadri Padavu BJP's Jayananda Anchan has registered a win, while in Ward No. 12 Panjimogaru Anil Kumar of Congress has won.

From Ward 18, Kavoor, BJP's Gayatri A has registered a win by securing 3296 votes.

In Ward No. 39, Jacintha Vijay Alfred of Congress has won by securing 1092 votes. In Ward No. 44 Bunder, Zeenath Samshuddin has won.

In Ward No. 53 Bajal, Ashraf Bajal of Congress has registered a win by securing 1,660 votes. In Kudroli, Samshuddin of Congress has secured 743 votes to win the election. Here former corporator Azeez Kudroli has been defeated.

In Katipalla North, SDPI candidate Samshad Aboobakker has won by securing 2766 votes. Here former mayor Gulzar Banu and Congress candidate Fathima B have been defeated.
Counting of votes began on Tuesday morning at Rosario school in Pandeshwar from 9 am onwards.In the previous past seven terms of the council, Congress had won with a majority as many as four times in 1983, 1990, 2002 and 2013. It had formed coalition with support of JD(S) in 1997.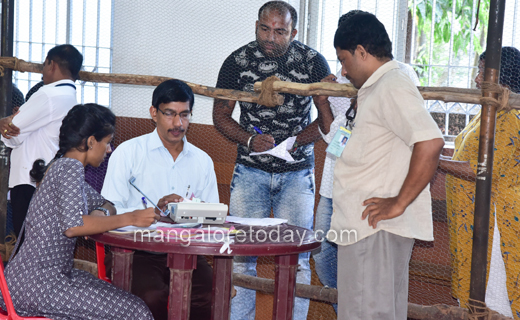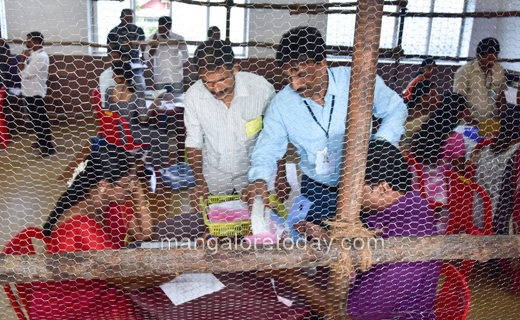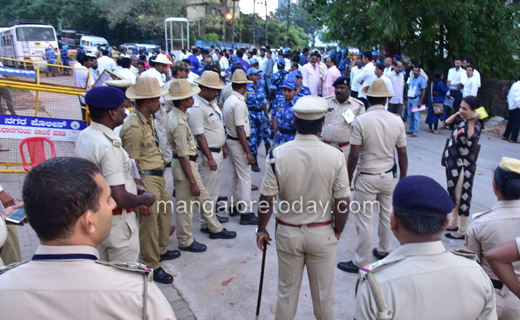 Prohibitory orders

City Police Commissioner and Additional District Magistrate P.S. Harsha on Wednesday promulgated prohibitory orders around Rosario School on Thursday when the counting of votes for the elections to the Council of Mangaluru City Corporation will be taken up.

Deputy Commissioner Sindhu B. Rupesh visited the counting centre on Wednesday to oversee the preparations. While the city police have provided enhanced security around the centre, Deputy Commissioner of Police (Law and Order) Arunangshu Giri conducted a security rehearsal on Wednesday.
Ward-wise list of winners:

1: Surathkal West
BJP: Shobha Rajesh 985
Cong: Shantha S Rao 548
Ind: Revathi Puthran 760

2: Surathkal East
BJP: Shwetha A 2496
Cong: Indira 1133

3: Katipalla East
BJP: Lokesh Bollaje 2486
Cong: Basheer Ahmed 1680
JD(S): Nawaz Katipalla 484

4: Katipalla Krishnapura
BJP: Lakshmi Shekar Devadiga 2675
Cong: Savitha Shetty 2127

5: Katipalla North
SDPI: Shamshad Abubakkar 2766
BJP: Suraiyya 648
Cong: Fathima B 881

6: Idya East
BJP: Saritha 2233
Cong: Vineetha Rao 1759

7: Idya West
BJP: Nayana Kotian 2282
Cong: Prathibha Kulai 1710

8: Hosabettu
BJP: Varun Chowta 3030
Cong: Ashok Shetty 1765

9: Kulai
BJP: Vedavathi 3140
Cong: Gayathri 768

10: Baikampady (Final)
BJP: Sumithra Kariya 2002
Cong: Sudhakara 877

11: Panambur Bengre
Cong: Chandrika 1081
BJP: Sunitha 1236

12: Panjimogaru
BJP: Naveen Chandra B Poojary 1690
Cong: Anil Kumar 1359

13: Kunjathbail North
BJP: Sharath Kumar 2950
Cong: K Mohammed 1709

14: Marakada
BJP: Lohith Amin 2055
Cong: Harinath 1704

15: Kunjathbail South
BJP: Sumangala 3780
Cong: Shalini M N 1684

16: Bengre Kulur
BJP: Kiran Kumar 2308
Cong: Panduranga Kukkyan 976
Ind: Chandrashekar 543

17: Derebail North
BJP: Manoj Kumar 2142
Cong: Mallikarjuna 1369

18: Kavoor
BJP: Gayathri A 3296
Cong: Bhavya 1725

19: Pacchanady
BJP: Sangeetha R Nayak 2700
Cong: Vishalakshi 1544

20: Tiruvail
BJP: Hemalatha Raghu Salian 3028
Cong: Prathibha R Shetty 1903

21: Padavu West
BJP: Vanitha Prasad 3071
Cong: Ashalatha 1499

22: Kadri Padav
BJP: Jayananda Anchan 2484
Cong: Umesh 1963

23: Derebail East
BJP: Rajani L Kotian 2849
Cong: Jyothi L Devadiga 1583

24: Derebail South
Cong: M Shashidhar Hegde 2235
BJP: Charith Kumar 1908

25: Derebail West
BJP: Jayalakshmi V Shetty 2233
Cong: Roopa Chethan 1331

26 : Derebail Central
BJP: Ganesh Kulal 3052
Cong: B Padmanabha Amin 1275

27: Boloor
BJP: Jagadish Shetty 2360
Cong: Kamalaksha Salian 988

28: Mannagudda
BJP: Sandhya 3019
Cong: Meghanadas 698

29: Kambla
BJP: Leelavathi Prakash 1884
Cong: Rekha Surekha 518

30: Kodialbail
BJP: Sudeer Shetty Kannur 1846
Cong: Prakash B Salian 1661

31: Bejai
Cong: Lancelot Pinto 1939
BJP: Prashanth Alva 1527

32: Kadri North
BJP: Shakeela Kava 1813
Cong: Mamatha Shetty 791

33: Kadri South
BJP: Manohar Shetty 1526
Cong: D K Ashok 1277

34: Shivbagh
BJP: Kavya Natraj 1731
Cong: Kiran James Peter 1690

35 : Padavu Central
BJP: Kishore Kottari 2200
Cong: Abdul Azeez 610

36: Padav East
Cong: Bhaskar K 2492
BJP: Sujan Das 1921

37: Maroli
Cong: Keshava 2037
BJP: Kiran Devadiga 2011

38: Bendoor
Cong: Naveen R D Souza 1578
BJP: Jessel D Souza 469

39: Falnir
Cong: Jacintha Alfred 1762
BJP: Asha D Silva 1423

40: Court
Cong: Vinayaraj A C 1137
BJP: Ranganath Kini 899

41: Central Market
BJP: Poornima 2037
Cong: Mamatha Shenoy 428

42: Donkarakery
BJP: M Jayashree Kudva 2140
Cong: Manjula Y Nayak 694

43: Kudroli
Cong: Shamshudin 1256
SDPI: Murzain Kudroli 1121

44: Bunder
Cong: Zeenath 1308
BJP: Priyanka 1281
JD(S): Rameeza Nasir 1150

45: Port
Cong: Abdul Lateef 2043
BJP: Anil Kumar 1493

46: Contonment
BJP: Diwakar 1793
Cong: K Bhaskar Rao 307

47: Milagres
Cong: Abdul Rauf 1702
BJP: Ghanshyam 957

48: Kankanady Valencia
BJP: Sandeep Garodi 1425
Cong: Ashith Gregory 1271

49: Kankanady
Cong: Praveen Chandra Alva 2653
BJP: Vijay Kumar Shetty 1634

50: Alape South
BJP: Shobha Poojary 2269
Cong: Sesamma 1576

51: Alape North
BJP: Roopashree Poojary 2073
Cong: Shobha K 2007

52: Kannur
BJP: Chandravathi Vishwanath 1862
Cong: Raziya 1591

53: Bajal
Cong: Ashraf 1660
BJP: Chandrashekara 1476

54: Jeppinamogaru
BJP: Veena Mangala 2102
Cong: Madhushree 1101
CPI: Jayanthi Shetty 1447

55: Attavara
BJP: Shailesh Shetty 1854
Cong: Keerthi Raj 1660

56: Mangaladevi
BJP: Premananda Shetty 2187
Cong: Dinesh V Rao 874
JD(S): N Mahesh Rao 60
NOTA: 17

57: Hoigebazar
BJP: Revathi 2116
Cong: Sharmila 1258

58: Bolara
BJP: Bhanumathi P S 1541
Cong: Rathikala 1348

59: Jeppu
BJP: Bharath Kumar 2479
Cong: T Honnaya 1575

60: Bengre
SDPI: Muneeb Bengre 1701
BJP: Gangadhar Salian 1498



Write Comment
|

E-Mail
|
Facebook
|

Twitter
|

Print