Lone tigress in local dance party thrills people
Mangalore Today News Network
Udupi, Sep 15,2017: The surprise call 'Sushma mattu Preethi stage mele barbekaagi vinanti,' shall remain forever etched in my mind," recalls Sushma Raj, who is more popular as the sole female tiger dancer in Karavali. She still remembers the excitement her sister and she felt when they heard their names being announced on the loudspeaker in the precincts of the Udupi Sri Krishna Temple. The girls were aged four and six at the time.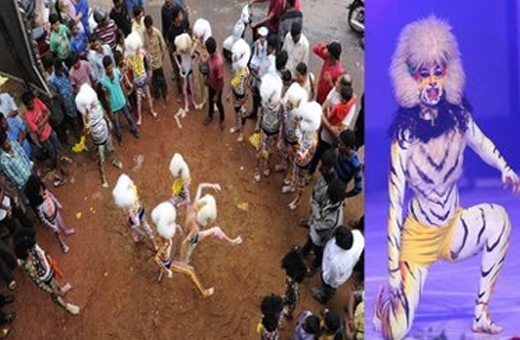 "It was Krishnashtami, my father's troupe was performing. His team called us on stage and I remember it was also the first time my sister and I danced in public. Until then, we had only danced within the confines of our home as we looked out of the window to match in tandem with the dancers outside our home. The exhilaration of hearing loud applause and the whistles still rings loud in my mind," adds Sushma.

The euphoria didn't last too long. As the girls progressed to teenage, their dancing didn't go down well with the orthodox relatives. 'How can you allow girls into a male bastion? And also dance on the streets. We don't appreciate this' — these were often the jibes they made at my parents. But my folks never gave up on us. My father, Ashok, who has been engaged in this profession for three decades, taught me all the tough moves which even male tigers find tough to replicate. Being a judo and karate expert, it was he who first introduced acrobatics and stunts into tiger dance. Unfortunately my sister was affected by all the remarks and she withdrew into her shell," she says.

Sushma's moment of glory came when a video of her performing with her father's dancer's during a festival went viral on WhatsApp. "I had just wrapped 2nd PUC then. Within days, the video had over 50 lakh views. I began to be deluged with congratulatory calls from friends abroad and show organizers who wanted me to perform at their events," avers Sushma. She has come a long way since then. The relatives have gone mum and the supporters have increased by the day. "Unlike popular perception, I'm treated with much dignity by the male dancers. They give me space and never get close for comfort. A woman can truly hold her own in any arena and I'm proof of it," states Sushma. Her dream now is to form an all-girls tiger group. "In fact, my father has been mentoring a group of married women in the art of tiger dance. One day, we will all dance together," she wraps in style.

Tiger dance involves intense painting on a bare body. "But as a girl, I'll have to do things differently so I wear a cropped lycra top and shorts over which the painting is done. My father is the only one who paints me and I prefer it that way," Sushma signs off. .

Write Comment
|

E-Mail
|
Facebook
|

Twitter
|

Print