Lives on roads NHs endangered with "Driving against traffic"
Mangalore Today News Network
Mangaluru, Nov 30, 2017: National Highway Authority of India's apathy in providing either service roads or median openings, road users' reluctance to drive that extra mile and police inaction against traffic violations have resulted in increased instances of vehicles being driven against traffic on four-lane busy National Highways around Mangaluru and also on city roads.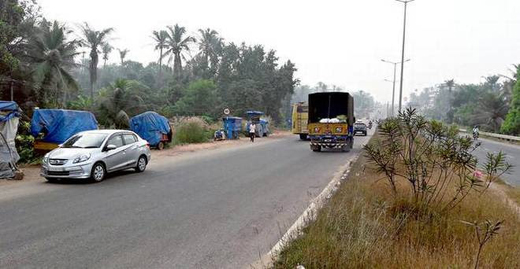 While almost the entire Mangaluru taluk has become an urban agglomeration, the NHAI, which has upgraded the two NHs passing through the taluk — NH 66 (Panvel-Edapally) and NH 75 (Mangaluru-Bengaluru) — has not bothered to provide service roads throughout. Neither the authority has provided median openings at some of the major intersections through which heavy traffic is generated. It has stuck to the rulebook of providing median openings for specified distances.

Consequently, road users, who wish to reach the carriageway on the opposite side, drive against traffic to reach the nearest median opening. Besides putting their life at risk, such motorists pose threat to the oncoming traffic too, particularly smaller vehicles, bicycles and pedestrians too. The situation would be worse during nights as drivers of oncoming vehicles cannot exactly judge the position of the vehicle being driven against traffic.

If one travels from Mangaluru to Talapady in the morning peak hours, one can see all kinds of vehicles being driven against traffic from Ambika Road to Thokkottu Junction.

The Mangaluru City Traffic Police appear to be indifferent to the violation, as the violators try to gain sympathy by claiming that they have to drive at least two kilometres more to reach the city through the nearest median at Kumpala Cross.

A similar situation prevailed between Someshwara Cross and Beeri Cross a few months ago when road users going towards Talapady drove against traffic regularly.

However, with NHAI building a service road on the stretch, the menace has stopped now.

In contrast, traffic police have to physically be present at Yekkur Junction to prevent motorists from driving against traffic till Gorigudde cross to reach the city. The nearest median opening for Yekkur motorists is about 300 m away at Jeppinamogaru Junction.

The violations have affected the cycling community of Mangaluru too, riding on the extreme left of the highway they are often threatened by such vehicles and drivers. Repeated plea by office-bearers of Mangalore Cycling Club and Mangalore Bicycle Club to authorities concerned to make their ride safe have gone in vain.

Spending more than earnings : Rickshaw driver charges Rs. 30 from Thokkottu to Ambika Road to drop a passenger. If he has to follow traffic rules to return Thokkottu, he has to drive all the way till Kumpala Cross (about 1 km), where a median opening is provided, to join the carriageway towards Mangaluru. "Do you expect me to incur more expenditure than what I earn by dropping a passenger," asked an autorickshaw driver.

"All of you, NHAI, police and general public, talk about rules; what about the reality," he retorted when asked about violating the one-way rule. "If I charge the passenger more for the drop, as I have to take a detour, then too I'd be hauled up by the police and Transport Department officials," he said.

Write Comment
|

E-Mail
|
Facebook
|

Twitter
|

Print