Light Candles, Diya on Sunday, 9 pm in Solidarity amid lockdown, asks PM Modi
Mangalore Today News Network
New Delhi, April 3, 2020: PM Narendra Modi addressed the nation via short video message and requested the 130 crore Indians to switch off their lights on Sunday (April 5) and light a lamp, candle or show flashlight for 9 minutes at 9 pm, to show the power of light in fight against coronavirus.

"Don't go out into the streets. Do it only from the doors or balconies. Keep social-distancing, don't break it any cost," urges PM Narendra Modi. "On April 5 (Sunday) we will challenge coronavirus & show it the power of light. On April 5 at 9 pm for 9 minutes, we will stand in balconies with candles," says PM Modi.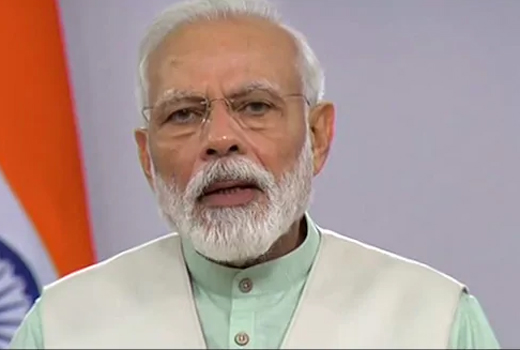 "On April 5, Sunday, at 9 pm, please switch off all the lights in your house and each person should stand with a candle, lamp or mobile flashlights in your hands, on your balconies for 9 minutes," PM Modi said, asserting that it was necessary to ensure no one felt alone.

"We are not alone during the lockdown, the collective strength of 130 crore Indians is with every citizen," PM Modi added. "There is no other force greater than the spirit of our enthusiasm," says PM Modi.

He asserted that no one must gather on roads. "The most important thing in all this is to do so within the confines of our homes and balconies. No one should come out on the streets... At no point of time in this exercise should we come out on the streets... maintaining social distancing is the most important thing to do. The only way to break the chain of coronavirus is to maintain social distancing," he said.

In his previous call for a Janata Curfew on the Sunday of March 22, the gesture of applauding coronavirus warriors defeated the purpose of social distancing when people started gathering on roads and even taking out processions.

"We must all go through this darkness together... those who are most affected by this are the poor and the marginalised. To overcome this darkness, we must all unite to spread the light... make this darkness of coronavirus meet the light we all spread," said the Prime Minister.

This is the third time the PM has addressed the nation since the coronavirus pandemic became a cause for serious concern in India.

In his first address, he called for a one-day Janata Curfew and in the second address on March 24, he announced a national lockdown to contain the spread of COVID-19.

He has also kept up a steady stream of tweets urging citizens to follow social distancing and strictly follow lockdown rules.

In the past couple of days, PM Modi has also shared videos on yoga for people to try during their stay-at-home period.

India has more than 2,000 coronavirus cases, including 53 deaths.

At a meeting on Thursday afternoon with Chief Ministers, PM Modi asked for a common plan to ensure staggered movement of people after the national lockdown ends. "It is important to formulate a common exit strategy to ensure staggered re-emergence of the population once the lockdown ends," he emphasised, urging states to come up with suggestions.

Write Comment
|

E-Mail
|
Facebook
|

Twitter
|

Print