Last will surfaces, submitted to court, Bhaskar Shetty murder
Mangalore Today News Network
Udupi, Aug 24,2017: Speaking to media on August 23, Wednesday, advocate Chidananda Kedilaya, who has been handling the civil disputes related to Rajeshwari said Gulabi Shetty, the mother of Bhaskar Shetty, has submitted a copy of the will to the court of the third additional civil judge on August 9 (under OS number 684/16), after moving an additional application (through her counsel) in this regard. However, the objection will be filed, as there is no question of a person who is still presumed to be dead (as the dead body is yet to be recovered), leaving behind any will.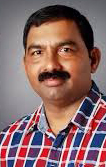 Kedilaya, who vouched on many things happening behind the scene, said the property is also ushurped. The will purportedly left behind by Bhaskar Shetty, NRI businessman from Udupi, has suddenly surfaced, with the murder case entwined with huge assets belonging to Shetty taking yet another turn. Shetty was allegedly done to death by his wife Rajeshwari, son Navaneeth and priest Niranjan Bhat. The case hit headlines as the plot threw up turns and twists like a potboiler a year ago.

Shetty is believed to have been smothered to death at home after being attacked, before his body was disposed of in a 'homa kund' and the bones dumped in a water body.

Death certificate : Further, Kedilaya said, while the case is yet to be solved in the court of law, the police have filed a preliminary charge sheet along with a death certificate. While the police are yet to recover any mortal remains, the place of death is mentioned as Karkala in the preliminary charge sheet. It is mentioned as Nandalike in the additional charge sheet submitted to the court. Kedilaya said, he had served a notice on both Udupi Municipality Commissioner and also tahsildar for granting the right of audience. However, the death certificate was issued based on the charge sheet prepared by the police. Following the court order, status quo is being maintained with regard to hotel and other business concerns of Shetty, with Rajeshwari being a partner of the umbrella firm, Kedilaya added answering to a query.

Write Comment
|

E-Mail
|
Facebook
|

Twitter
|

Print