Languages Census figures shocks Konkani activists, meet on July 8
Mangalore Today News Network
Mangaluru, July 1, 2018: Data on languages and mother tongues of India pertaining to Census 2011 released by Census of India, has 'statistically' reinforced the minority language status of Konkani. Against an enumerated Konkani-speaking population of 24,89,015 in the 2001 Census, the number has come down by 2,32,513 in 2011, and is pegged at 22,56,502. It was 17,60,607 as per the 1991 Census, 15,70,108 in the 1981 Census and 15,08,432, when the population was enumerated in 1971.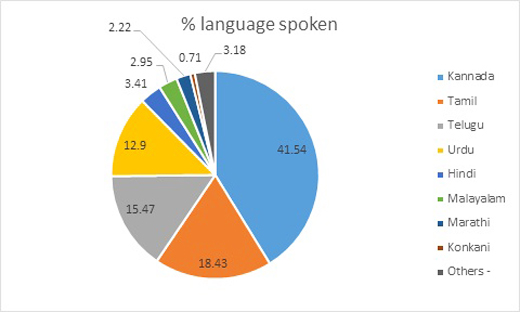 A quick look at the numbers (see box) indicates that they have fallen drastically in the states of Gujarat and Maharashtra, and union territory of Dadra and Nagar Haveli in Census 2011 vis-à-vis Census 2001. Karnataka, Goa, Kerala, the other major states that house Konkani speaking populations, has seen a healthy growth, with Goa registering the highest growth. There is also an appreciable growth in the other states where the Konkani speaking population is spread.

Averring that the data per se is a case of under-reporting, Konkani activist Eric Ozario said the number is at least two times of what is reflected in the census, if not more. Attributing this to vast swathes of Konkani speakers in Ratnagiri and Sindhudurg along the Konkan coast, possibly mentioning their mother tongue as Malvani, a dialect, rather than Konkani per se. Eric told media that the case is the same in Bhatkal, where the Navayaths' have listed their dialect Navayathi, rather than Konkani as their language.

The numbers of those speaking Malvani and Navayathi is sizable. Likewise, in Kerala, where the estimated Konkani speakers are a sizable 7 lakh in Kochi alone, Eric said these numbers are touted only in community events and not officially. "It is certain that the Konkani community in Kerala who use Malayalam for the daily activities, would have been included as Malayalam rather than Konkani speakers," Eric said, adding reasons for this choice is not hard to fathom.

"While Konkani speakers in Maharashtra choose to indicate Marathi as their language there, in Kerala they will go with Malayalam, in that if gives them an edge with employment opportunities," he said. "Lack of attachment for the language, and tendency to fence sit in this regard, especially in the border areas, only adds to the numbers looking dismal," Eric said, adding that for long, he has been advocating that the numbers presented in the 2001 Census itself was underreported.

Concurring with this view, U Ramdas Kamath, chairman, Vishwa Konkani Student Scholarship Fund, said most Konkani youths from traditional Konkani-speaking areas have migrated elsewhere, seeking better career opportunities. This would have certainly resulted in skewed capture of data, giving a cause for concern. "Lack of awareness on the need to assert their spoken language with the Census enumerators too would have played its part in this apparent drop," he said.

Note: I have gone through the data. The Gujarat and Maharashtra numbers for the 2001 Census apparently does not add up compared to the numbers in 1991 and what has been recorded in 2011, and this needs to be investigated. There can't be such major change in decadal percentage increase/decrease for a language—9.34% in 2001-11 as against 4.09% (1971-81), 12.13% (1981-91) and 41.37% in 1991-2001 and is due to misclassification, says T V Mohandas Pai, chairman, Manipal Global Education.

Emergency Meeting Called to day July 8 : To seek answers to the census figures projected, an emergency meeting has been called on July 8, 2018 Sunday, at Kalangaan and all Konkani speakers are cordially invited.

Write Comment
|

E-Mail
|
Facebook
|

Twitter
|

Print