Lack of sand policy one reason for flooding in DK
Mangalore Today News Network
Mangaluru, May 21, 2019: Speaking to media in the city May 20, Monday, Puttur MLA Sanjeeva Matandoor said that accumulation of sand in the form of silt in rivers and rivulets in the district could very well cause artificial floods during monsoon, expected soon.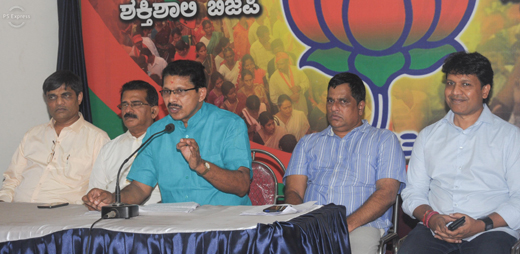 Matandoor, who is BJP Dakshina Kannada president, said that the DK district administration and DK District In-charge Minister U T Khader should be held responsible for neglecting to the remove silt in water bodies.

Permits in non-CRZ areas : "Without no sand policy in sight, DK is facing the threat of artificial floods. Although permits have been issued for extraction of sand in nine blocks of the non-CRZ areas, in Dakshina Kannada, permit holders are asked to extract only 1,000 metric tonnes of sand," said Matandoor.

"The availability of sand at Kutrupady is 20,846 metric tonnes; Savanoor has 51,600 metric tonnes; Bellipady has 37,324 metric tonnes; Charvaka has 36,726 metric tonnes; Kadirudyavara has 34,400 and 8,600 metric tonnes; Dharmasthala has 17,983 and 9,030 metric tonnes; while Hosangady – Gundoori has 39,474 metric tonnes," the president listed out.

"In spite of convening a meeting with the chief minister, the sand woes continued in the district. As a result, a load of M-Sand is available at Rs 12,000 while the naturally available sand is sold at Rs 14,500 a load," he pointed out.

Drought in district : Matandoor accused the state government of failing to tackle the drought and water crises in the state and Dakshina Kannada. "District In-charge Minister U T Khader is missing from the district and has failed to convene a meeting of officers to tackle the situation," he alleged.

Stating that arecanut trees have dried following the water crisis, he said that yield will decline during the year. Arecanut growers who had applied for compensation for crop loss following fruit rot disease in the last monsoon have not received any amount as compensation so far, Matandoor added.

In spite of announcing construction of vented dams or check dams across rivers to mitigate the water crisis in the district under the Paschima Vahini project, not a single project has been implemented so far, the president said.

MLAs oppose Yettinahole project : To a query on Yettinahole project, BJP Dakshina Kannada unit president and Puttur MLA Sanjeeva Matandoor said that all the seven BJP MLAs in Dakshina Kannada are committed to oppose Yettinahole project.

"The project is unscientific and is an attempt to fill the pockets of a few leaders," he pointed out.

Write Comment
|

E-Mail
|
Facebook
|

Twitter
|

Print