Kundapur: Candle Light Vigil demanding Anti Rape Squad
Mangalore Today News Network
Kundapur June 18, 2016: Several people took out a silent protest demanding Anti Rape Squad across the country under this theme silent protest was carried out with Candle light vigil at Shashtri Circle in Kundapur on Friday June 17.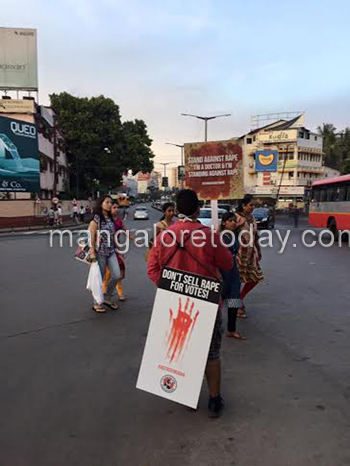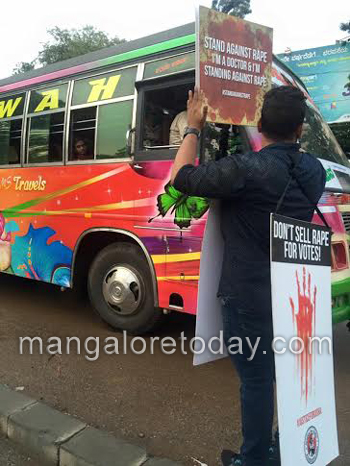 Noel Mathew who hails from Changannur in Kerala currently working as doctor in Fr Muller Medical College Hospital Mangaluru. This 25 year old doctor staged a candle light vigil at Kundapur taking forward his month long struggle to spread awareness about rape.

Silent Protest led by Dr Kalashree, doctor of the government hospital was held between 5:30 to 6:30 pm on Friday at Shastri Circle. Candle light vigil was taken out from Shastri Circle to the bus stand with the participation of local doctors, students of Ashritha Nursing College Kota and Local organisation and institutions. NGO's of France, Germany, Indonesia also participated in this candle light vigil.

Noel was disturbed by the rising rape instances in the country, he feels that many women find it difficult to visit a police station to file a complaint. The horrific murder and rape of 30-year old Jisha at her home in Perumbavoor in Kerala was the final push for Noel to pursue what he has been putting off for a while-stand up against rape.

Am talking about the issue in general, and I wish to not limit the initiative to one particular case and I want this to be a national cause and not merely restricted to one single case. However, after interacting with a few people on the feasibility of setting up an "Anti Rape Squad".

"It has been quite some time that I have been disturbed with the rising rape instances in our country. Now that I stand on my own feet after completing my studies, there couldn't have been a better time for me to kick start the cause. Jisha case was only a trigger that finally made me put my thoughts in to action", says Noel

He informed that the demand for ARS is being pursued through silent protests all over the country with the support of various local organizations doctors and social activists. Such protests are held in every state in the country, he added.

Speaking about deatining the accused of Jisha Murder, Noel said that it is good they have found the rapist but this is not over ,main aim is to fight future rapes and for legal and proper investigations to be done. Every day there is news about rape JishaNirbhaya news came only cause it was a brutal rape and murder, but the fact being there are rapes happening everyday.

Noel demonstrated candle light vigil in Kochi on May 15 and soon after that he organized it in Mangaluru on May 29th which had a positive response by the public the next demonstration was held in Manipal, Chennai and now in Kundapur respectively.

Noel stands on the streets, with a placard in hand for hours together to convey the message. While a few people walked away without a second glance, Noel says lot of people expressed interest in supporting the cause and even stood by him for a few minutes before walking away.




Write Comment
|

E-Mail
|
Facebook
|

Twitter
|

Print