Kuloor Bridge sees chronic traffic snarls, delays
Mangalore Today News Network
Mangaluru, Aug 28, 2018: Wearing surface on the old bridge across the Phalguni River has completely worn out and potholes now reveal the base of the bridge. The soil on the road has clumped together into mounds thereby making vehicular movement impassable.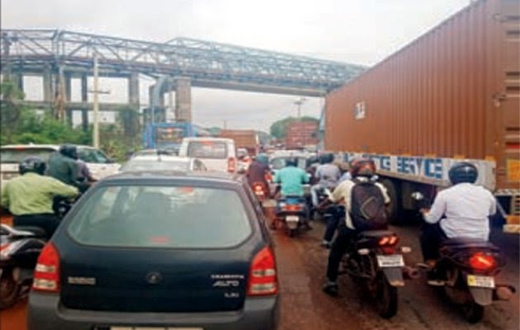 In the evening, when schools, colleges and offices left off, it takes more than 90 minutes to only to cross the bridge. A condition has come into existence in which vehicles coming from Udupi are compelled to stay in a queue in front of Panambur and MCF.

Due to stagnant water in the potholes, two wheeler riders fail to judge the depth of the holes and end up dancing up and down, for the entire length of the bridge abundant with potholes. Meanwhile, heavy vehicles traverse the bridge in challenge to the pace of a tortoise. Even though the intensity of the rain has dropped, the Department has not yet come forward to undertake any repair work.

A few months earlier to the arrival of the monsoon, the Kuloor Bridge and Panambur-Surathkal highway was in pristine condition with paver finish, but with the arrival of the first showers, the road showed its actual form. The paver finish has been replaced with potholes and at some places mounds of mud can be seen. If an emergency service like an ambulance gets stuck in this traffic jam, all it can do is wait helplessly. If airplane and train passengers do not leave at two hours earlier from their residence, missing their schedule in 100% guaranteed.

Time is required : Even though this problem on the bridge is a yearly phenomenon, it permanent solution is no less than a dream. The retaining walls of the bridge have already embraced Phalguni River some months back and not been repaired. How much more time may be required to get a permanent solution to this road is an enigma in itself.

Serious hazard : The retaining wall of the bridge across the Phalguni River has turned feeble and the situation resembles and invitation to danger. Previously, near the dangerous turning here, a car and a Cement truck had toppled and luckily, the drivers as well as the passengers escaped the danger.

In the monsoon season, there is stagnant water and the situation is such that, during the night, even if an unfortunate accident did take place, no one would be the wiser. Vehicles coming from Udupi towards Mangaluru have to manage a dangerous turn near the bridge and a few vehicles have already lost control and crashed into the retaining wall. The depth at this place is 15-20 feet deep and this steep turn is very dangerous.

Write Comment
|

E-Mail
|
Facebook
|

Twitter
|

Print