Kukke Subrahmanya flooded with devotees on holiday weekend
Mangalore Today News Network
Subrahmanya, June 27, 2017: Reports indicate that lakhs of people had the Darshan of the Kukke Subrahmanya temple's presiding deity Lord Subrahmanya in the past three days and said they had made vows. A huge crowd of devotees thronged the temple on June 26, Monday, setting a record during what is considered as off-season, despite heavy rain.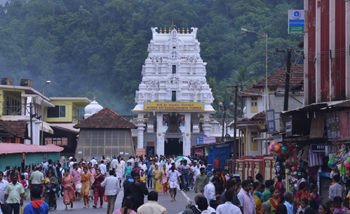 June 24, Saturday was the fourth Saturday and Monday was a holiday on account of Eid-ul-Fitr. In between, there was a Sunday, that made up a long weekend. It was expected that a good number of devotees would come today June 27, Tuesday as well, on the occasion of the auspicious Ashlesha Nakshatra.

The devotees were seen in hordes in the temple corridor and on the car street to have a glimpse of the Lord Subrahmanya. Several people performed 'Ashlesha Bali', 'Shesha Seve,' 'Nagaprathishthe,' 'Mahapuja' and 'Panchamritha Abhisheka' in fulfilment of vows. Adi Subrahmanya and Kumaradhara bathing points were also crowded.

Vehicles were lined up from Kumaradhara main entrance till the car street, on a three-km stretch, due to which there was a serious problem of parking. The dense traffic added to the woes. The police tried hard to order easy movement of vehicles.

The private and the temple lodges were full, many took shelter in Dharmasammelana Hall and Car Street choultry of the temple. The devotion to God in this aspect is admirable.

Write Comment
|

E-Mail
|
Facebook
|

Twitter
|

Print