Krishi Sangama launched at Oddur Farms
Mangalore Today News Network
Ganjimutt, February 4, 2018: Speaking after inaugurating the two-day Krishi Sangama jointly organised by Arunya Foundation and Oddoor Farms, in association with other non-government organisations at Oddur Farms here on February 3, Saturday, R K Deva Rao, popularly known as Rice Man said, '"We are in an era in which several people spend more on medicine than food".

Rao, who cultivates more than 150 varieties of paddy without using any chemical manure and sprays, told students that they may earn good money, but will not be able to get good food in future.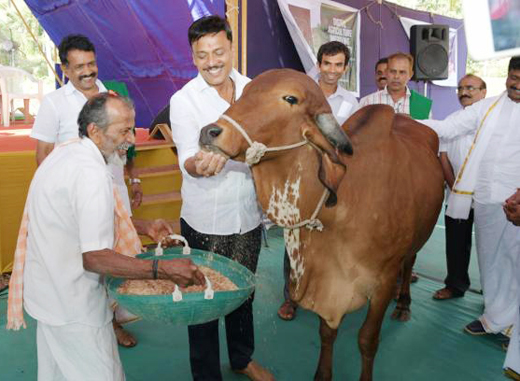 Narrating his journey of taking up farming after completing PUC in 1961, he said he started his venture in agriculture with seven pairs of bullocks and 40 cows and 40 to 45 varieties of paddy, which has crossed 150 varieties today.

"Though I started using fertiliser expecting high yield, my expectations went wrong and the yield reduced considerably," he said and added that he stopped using fertilisers in 1988 and since then, he gets a very good yield.

He advised students to continue education. The students should students have to take up farming at least in a small piece of land along with whatever work they do.

Earlier, delivering the keynote address, Agriculture Science Centre Head Dr Shivkumar Magada said that it is the first time that Krishi Mela is organised by techies who have started an app that help farmers to market their produce for better price.

App launched: As a part of the programme, Agriculture Department joint director Kempe Gowda H launched 'farmsurge,' a mobile app, that is aimed at improving the profitability of farmers through progressive farming that decreases input costs, increases production, connecting them digitally with agriculture input companies, new markets, agro researchers, financial institutes, farm service providers and takes full advantage of government assistance.

'Farmsurge' is an on-demand digital platform that allows farmers to find, connect, share, buy and sell farm needs.

Stating that the government has granted Rs 8 lakh to develop the app to Arunya Foundation, he said a sum of Rs 4 lakh has already been released. There are many provisions in the app and a separate group, such as coconut growers, paddy growers or pepper growers, can be created for easy usage.

Campco president S R Sathishchandra and Krishi Sangama honorary president U Rajesh Naik were present.

Stalls : Interactive training workshops for farmers by scientists and researchers on selected topics, such as Crop Selection Practices, Modern Harvesting Practices and Equipment Training Practices are part of the two-day event.

A number of farm-related items are on display with live demonstration on how to use particular tools and equipment at particular crop fields so that farmers will obtain knowledge on its usage.

Many school children visited the Krishi Sangama as well as Oddur Farms, an inspiring example of the efforts made by Rajesh Naik to transform 120 acres of barren land into a lush green farm through his persistent efforts. The farm with multiple organic farm and dairy is a model farm for farmers.

Write Comment
|

E-Mail
|
Facebook
|

Twitter
|

Print