Kovind takes oath as 14th President; says unity key to India's success
Mangalore Today News Network
New Delhi, July 25, 2017 (PTI): Ram Nath Kovind on Tuesday took oath at the 14th President of India, the first BJP leader to occupy the Rashtrapati Bhawan, and said India's unity in diversity was the key to its success.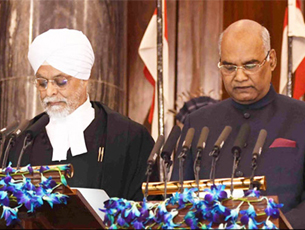 The 71-year-old Kovind was administered the oath of office by Chief Justice of India J S Khehar at an impressive ceremony in the Central Hall of Parliament that was attended by outgoing President Pranab Mukherjee, Vice President Hamid Ansari, Lok Sabha Speaker Sumitra Mahajan, Prime Minister Narendra Modi, Governors, Chief Ministers, Union Minister, judges of the Supreme Court, the three service chiefs, Parliamentarians and diplomats.


Twenty-two members from Kovind's family were also in the audience in the Central Hall to witness "the first person from Uttar Pradesh to assume office as President."

Taking oath in the name of God, Kovind pledged to "preserve, protect and defend the Constitution and the law" and devoted himself to the services and well-being of the people of India.

At the outset, the President said he was conscious that he was following in the footsteps of stalwarts such as Dr Rajendra Prasad, S Radhakrishnan, APJ Abdul Kalam and his immediate predecessor Pranab Mukherjee.

In his first address as the President, Kovind tried to dove-tail the teachings of Mahatma Gandhi and Deendayal Upadhyay as underscored India's unity in diversity as the key to its success and the need to enhance access and opportunity to the "last person, in the last house in the last village."

"We need to build an India that is an economic leader as well as moral exemplar. For us, those two touchstones can never be separate. They are and must forever be linked," Kovind said.

Reflecting a clear shift from the era of entitlement, he spoke of the government being a facilitator in nation building.

"Nations are not built by governments alone. The government can at best be a facilitator, and a trigger for society's innate entrepreneurial and creative instincts. Nation building requires national pride," Kovind said.

Referring to Mahatma Gandhi, Sardar Patel and B.R. Ambedkar, the President said these leaders did not believe that political freedom was enough. "For them, it was crucial to also achieve economic and social freedom for millions of our people," he said.

"The key to India's success is its diversity. Our diversity is the core that makes us so unique. In this land we find a mix of states and regions, religions, languages, cultures, lifestyles and much more. We are so different and yet so similar and united," the President said.

Kovind said India of the 21st century India will be in conformity with its ancient values as well as compliant with the fourth industrial revolution. "There is no dichotomy there, no question of choice. We must combine tradition and technology, the wisdom of an age-old Bharat and the science of a contemporary India." he said.

Write Comment
|

E-Mail
|
Facebook
|

Twitter
|

Print