Konkani Natak Sabha inaugurates Platimum Jubilee at Don Bosco Hall in city
Mangalore Today News Network
Mangaluru, Mar 16, 2018: Konkani Natak Sabha (KNS) based at Don bosco Hall, Hampankatta inaugurated it's Platimum Jubilee (75th year - 1943-2018) on March 15, Thursday. The KNS with it's aim "Natak Dwarin Dharmik Sadan" for decades has been holding it's dramas, plays, competitions and music programmes and Konkani people are very sentimental and emotional about these. The hall is also used by a cross section of it's citizens for weddings, meets, ceremonies and more. As part of the celebrations of it's 75th Jubilee year which will continue to March 2019, it plans to hold various programmes and projects.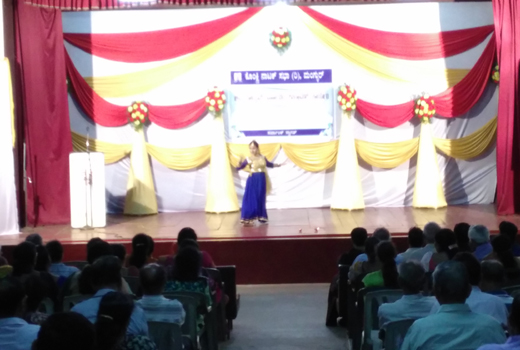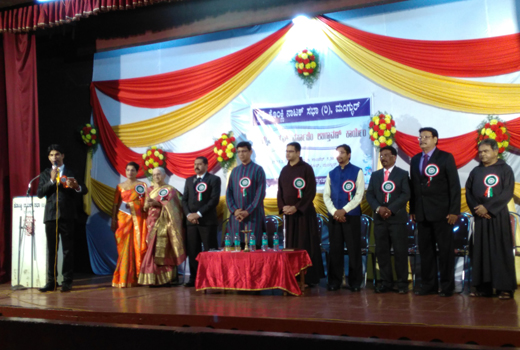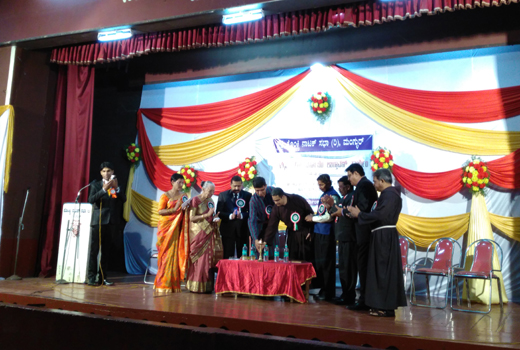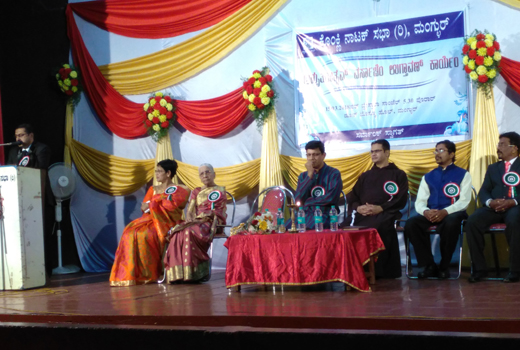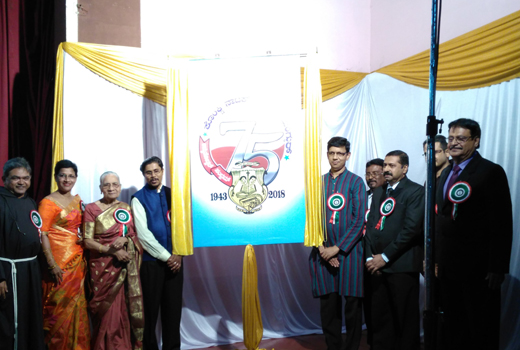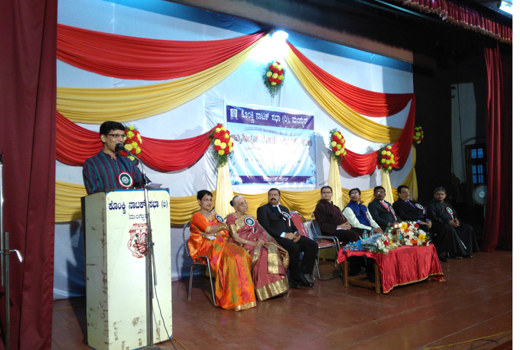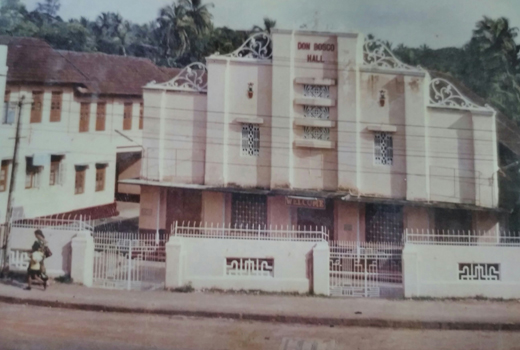 March 15, Thursday was a memorable evening with, office bearers, members, admirers and well wishers (past and present) meeting and reminiscing on the hoary past of it's 75 years. It was observed that the gathering was virtually a who- s-who of the local Konkani glitterati. The meaningful logo of the jubilee year was unveiled with Rev Alwin Serrao (Principal Padua college-Nanthur), a modern promoter of new concepts in Dramatics today, as chief guest, and senior actor Mable Kent, KNS President Rev Paul Melwyn D'Souza OfM Cap, Dolphy Saldanha, VP Sunil Menezes, Floyd D'Mello and others graced the platform and spoke in moving terms.

The chief guest, Rev Alwin Serrao, well known dramatists of the region spoke on various aspects of Konkani Drama. Rev Serrao 's enlightening talk was titled, "Konkani drama – yesterday, today and tomorrow," His talk was exhilarating and brought out the true multi colours of Drama in Canara, appreciated by one and all present.

Rev Alwin Serrao said, " Drama, is defined as 'a copy of real daily life', show cased on stage / a platform," it served to entertain and educate people, in times when no other media existed - with culture, literature, music, knowledge and all good aspects built in. Yet, to an extent it still holds people spell bound even today, and will continue to. The dilemma of the dramatist today was whether to provide a fare to satiate the apatite of the audience or should it serve to convey the mind and thinking of the author/dramatist? To keep drama alive in the local environment, perhaps the most suitable method is to introduce drama and plays at a young age to children in schools in colloquial languages, to serve all connected causes best.

The august speaker went on to point out that Konkani drama in Mangaluru is perhaps about 130 years old, it all may have started with Hindu religious teachings being depicted as an entertainment after hard work or during festivities. Mostly held at night in the open air, Tuluvas and Saraswat konkanis contributed to the first dramas here. Konkani Catholics adapted from Marathi and European plays and introduced Biblical stories. This brought about the need to have more user specific halls and venues. Thus, Don Bosco hall came about early. Rev Serrao, also traced the many plays and dramas, enacted here and the well remembered dramatists, writers, musicians and so on that have moved through this historic venue in a touching emotional journey. In deed all the speakers took the enraptured audience through an emotional and enlightening memory journey that brought joy and inspirations back to one and all. In spite of all the many advanced entertainment systems that proliferate today…..drama continues with a section of people always coming on stage to keep drama alive and developing progressively, into the modern era.

Historic Recap : 'Konkani Natak Sabah' (KNS) could be taken back to Rev George A F Pai (Albuquerque) SJ, a great Konkani mind and spirit that took the first steps for a grand success in the early 1940s; he handed over the care of this pioneer cultural organisation to the Capuchin Friars; St.Ann's Friary superiors were from earliest times the Presidents who directed this colourful 'Sabha'. The early leaders of KNS some of whom are Rev.Cyril Andrade, Rev Philip Neri, and many a historical figure of the region who are also were the architects of Don Bosco Hall and Assisi Complex, with many art loving people of Kudla in the lead. KNS was formally established Sept 19, 1943. Don Bosco Hall (DBH), was opened on Aug 19, 1951.

KNS slogan is, "Natak Dwarin Dharmik Sadan"; the word 'Dharmik' from the Sanskrit root "dharma" transmitting to virtue, righteousness, justice.....it has deep connections to good and roughly translates - 'Through drama achieve the good'. The values of Konkani indigenous communities (there are 42 of them) is a celebration that has been on going .... It is note worthy that the land mark pioneer hall that is 'Don Bosco Hall' visible today in it's pioneer shape, may not stand for long now due to age - a modern complex is on the cards it is unofficially known.

On August 16, 1947 – following the grand occasion of India's Independence on Aug 15th, the KNS led a variety entertainment at St.Aloysius campus with many prominent citizens and well wishers.....J F Saunders District Collector was the chief guest. In 1949 the KNS chose St.Don Bosco as it's heavenly patron and on Jan 31, 1949 the feast of the great saint was celebrated at St.Anne's Friary for the first time and this continues even till today. The promise of KNS sails on with silver wings.

Write Comment
|

E-Mail
|
Facebook
|

Twitter
|

Print