Konkani Manyata (recognition day) Divas celebrated with great joy - Aug 20
Mangalore Today News Network
Mangalore, Aug 21, 2014: Minister for Health and Family Welfare U TKhader speaking at the valedictory inauguration of the 22nd "Konkani recognition day " organised by Karnataka Konkani Sahitya Academy at Town Hall in Mangalore on August 20 in unique manner by sounding the traditional drum 'Gumatt'.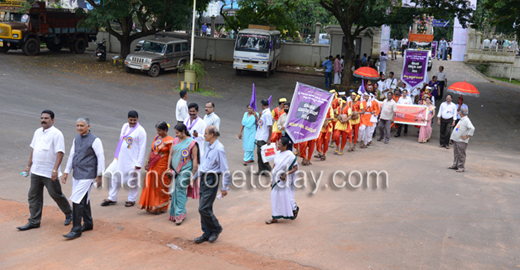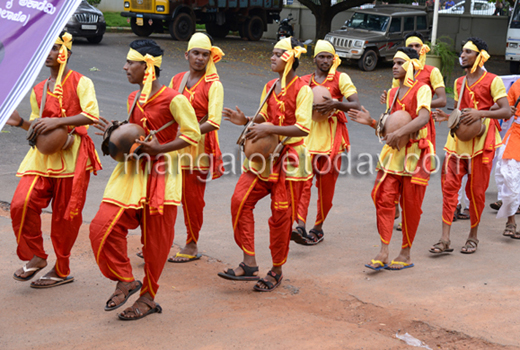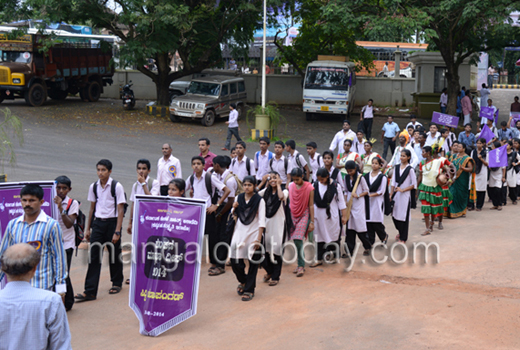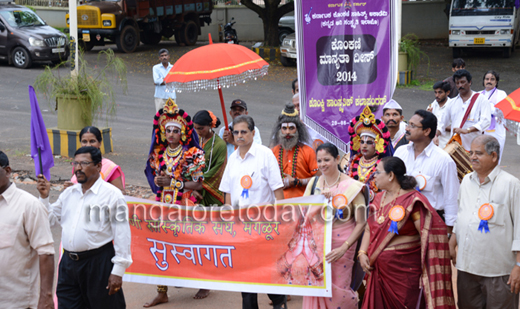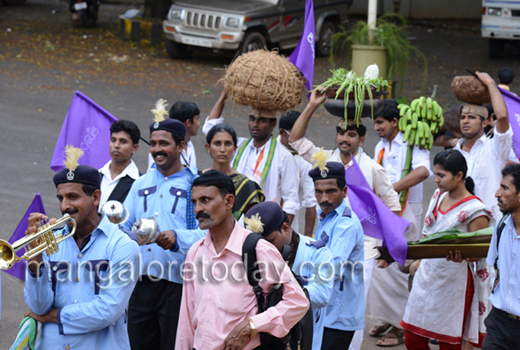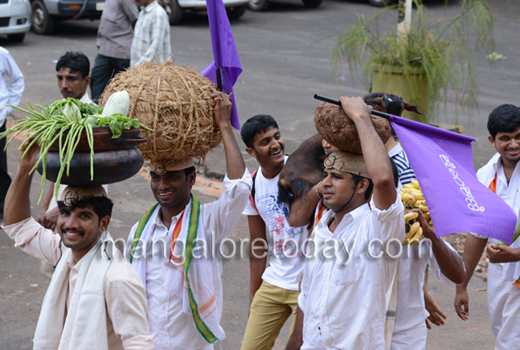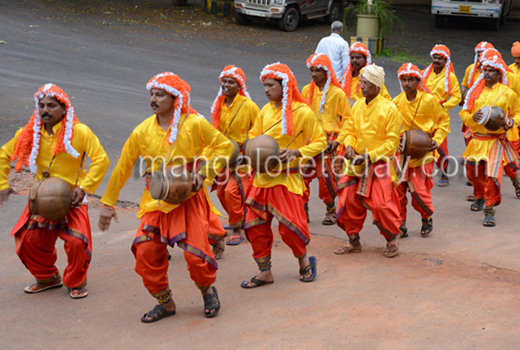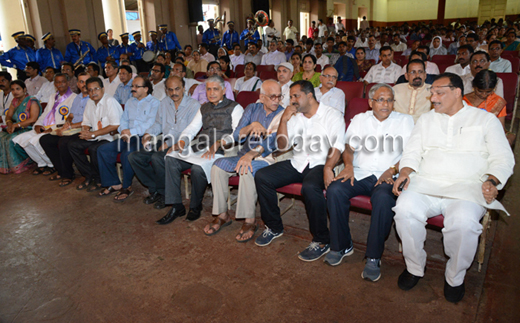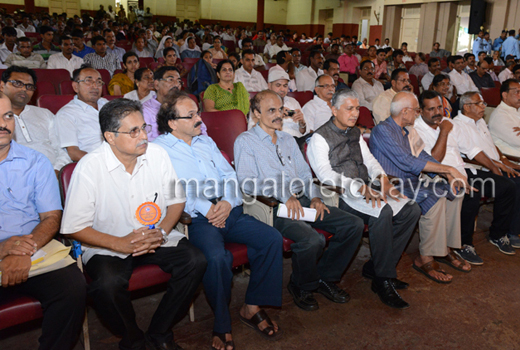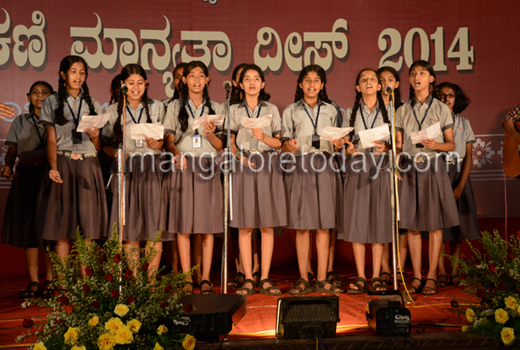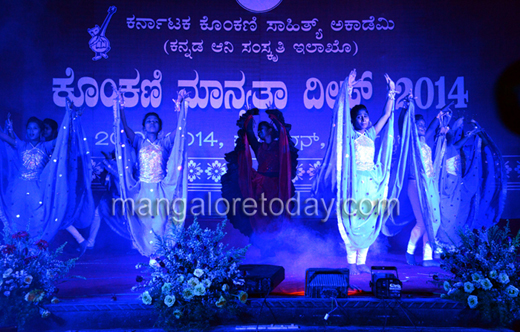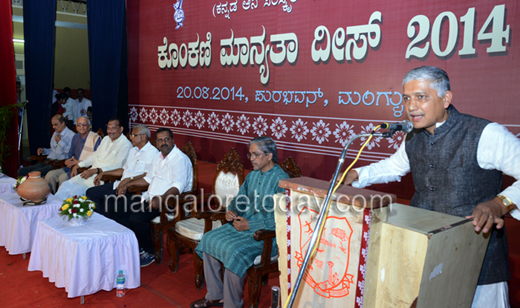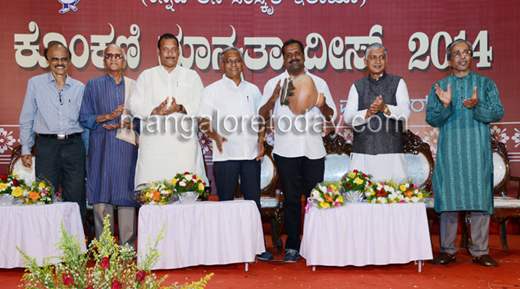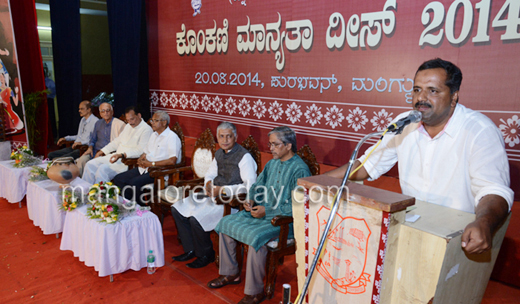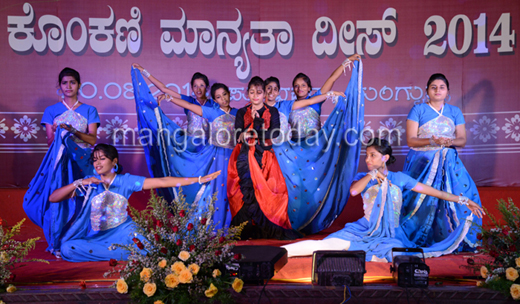 He called upon the people to rise above the barriers of caste and to learn regional languages to develop brotherhood in the society. He noted that perhaps Konkani is the only language spoken across three religions and among 41 diverse communities.

Khader opined that Konkani culture is so rich that even Portuguese influence couldn't dislodge its culture ages ago, it holds up the true substance of the language and culture. He lamented that less significance is being given to languages compared to core subjects in school curriculum and felt for a need to bring a change in the attitude.
Konkani speaking people have their own stamp in the fields of education, trade, industry and health, he said and assured that he, along with other ministers from the district will unanimously voice the demand towards increase of funds and care to Konkani Academy.
he said he was glad to hear the different versions of the dialects around the venue of which he himself understood a good bit due to his association with communities from his school days here. He appreciated the establishment of institutions like 'Mandd Sobhann".

At the valedictory at Town Hall the arrival of the 8 groups from various points of Mangalore caused a delay and the closing function could commence just after 5.30 pm. The Chief guests present were Karnataka Minister of health U T Khadar, Mangalore south MLA J R Lobo, MLC Ivan D'souza. Mandd Sobhann Gurkar Eric Ozario, Vishwa Konkani Kendra President Basti Vaman Shenoy, and Karnataka Konkani Sahitya Academy Registrar Devdas Pai among others were present. The opening song and dance by girls of Konkani Club to glorify Konkani was an eye opener .

Karnataka Konkani Sahitya Academy president Roy Castelino, welcomed the gathering and spoke on the significance of the day. He stressed, that on August 20, 1992, due to the efforts of stalwarts of the Konkani community it was that this great honour was rightly granted after long delays.
It is a matter of pride that Konkani is the only language claimed as mother tongue by Hindus, Muslims, Dalits and Christians alike. There are 41 different cultural groups that use Konkani an ancient form of Prakrit and write it in at least 5 scripts.
Konkani people can be found in every nation around the globe! He went on to state that hundreds of languages and dialects are found in India, but only 22 have found a place in the 8th schedule of the constitution to date and Konkani is one of these, giving it a status of an official language of India. Hindi only can not lay claims to be the official language of India, all 22 of the languages in 8th schedule are official languages and all languages in India are its national treasure.
The only reason that Konkani has not moved forward enough is that fewer people use it fully. And until recently it was not part of the educational medium, today the situation is better and schools and colleges are coming forward to include it in the curriculum and it finds a place in degree exams too. He exported all present to "Speak Konkani,write Konkani and save Konkani".

The opening ceremony of the celebration began at the Town hall at 9 am, with mayor Mahabala Maarla hoisting the Konkani flag. Karnataka Konkani Sahitya Academy president Roy Castelino detailed the day's events and their significance.

Addressing the gathering, mayor Mahabala Maarla said, "It is a matter of pruide for Mangalore to see people from 41 various Konkani speaking communities under one roof. We have to preserve Konkani language and pass it on to the future generations. Schools and colleges need to support the students to learn Konkani, the contribution of Konkani's here is historical."

Walter D'Mello, deputy director of public education department, DK, said, "'Konkani Manyata Divas' must be celebrated not only through dance, songs or other events; Konkani should also be respected as mother tongue and spoken in our day-to-day lives to keep it alive." He also congratulated Roy Castelino on the well charted event.

Students and various associations/clubs, performed in talent shows. As many as 23 teams participated in the event. Just before the valedictory for an hour, Kum.Kasturi, a sight impaired talented singer, rendered 'Konkani bhakti geet' which enthralled the audience.
Cyprian Monteiro and other Karnataka Konkani Sahitya Academy members were present during the opening ceremony. Representatives of various Konkani organisations were present for the day long celebrations.

Write Comment
|

E-Mail
|
Facebook
|

Twitter
|

Print