Konkan Railway's Ro-Ro service not operational
Mangalore Today News Network
Mangaluru, Dec 4 2017: The roll-on, roll-off (Ro-Ro) service wherein trucks ride piggy-back on specially designed railway wagons, which has been a Unique Selling Proposition (USP) of Konkan Railway Corporation Ltd., (KRCL), has been shut since about a week.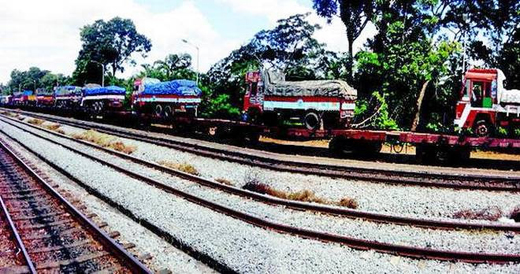 As KRCL has deployed all available loco pilots (train drivers) to operate special trains introduced to clear year-end passenger rush, pilots were not available to operate Ro-Ro services.

KRCL introduced Ro-Ro service between Kolad near Mumbai and Verna in Goa on January 26, 1999 and later extended it to Surathkal, off Mangaluru, on June 15, 2004. Starting with one rake, KRCL augmented the service, with six rakes. KRCL had also said that the move was aimed at reducing vehicular air pollution; ensuring safe roads and reducing road accidents. On an average, KRCL transports about 50,000 trucks through the service every year.

While exhorting the business fraternity of Mangaluru in January last year, KRCL Chairman and Managing Director Sanjay Gupta had said that Ro-Ro was a time-tabled service assuring delivery of trucks within 25 hours from end-to-end.

Entrepreneurs hit : However, the services got disrupted on December 29 last year with a loaded Ro-Ro rake that had left Kolad on Wednesday remaining stranded at Sawantwadi Station in Maharashtra. After much persuasion, the service arrived at Surathkal on Jan 1, Monday, said entrepreneur Shashidhar Shetty. He who deals in floor tiles and other construction material, gets them from Gujarat. While it costs Rs. 2,400 a ton to bring the material through Ro-Ro, it costs Rs. 3,600 a tonne if brought entirely by road. "I used to keep minimum margin and pass on the benefit to customers. Disruption of the service without KRCL issuing any notice has affected the business community much," Shetty told media.

To resume soon : Gupta said that the services would resume on Friday. KRCL had no option but to suspend Ro-Ro services for want of loco pilots who were deployed to operate special trains, he said.

Chief Public Relations Officer L.K. Verma claimed that the closure of National Highway 66 by the Maharashtra Government affected arrival of trucks at Kolad and hence, there were no trucks to load onto Ro-Ro. He, however, did not specify the duration of the highway closure nor the places where the highway was closed.

Write Comment
|

E-Mail
|
Facebook
|

Twitter
|

Print