Kishan in lead, IBCA Asian Chess meet for the visually challenged
Mangalore Today News Network
Mangaluru, Mar 29, 2017: Kishan Gangolli of Karnataka, continued his lead in the 23-player IBCA Asian Chess Championship for the visually challenged when he made short work of Krishna Udupa, also of Karnataka, in 24 moves at the Dr TMA Pai Hall on March 28, Tuesday.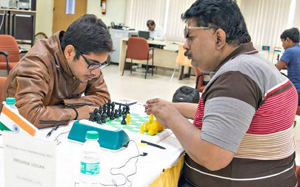 Top seed Husain Ejaz of Bangladesh was in the second spot with four points after beating Somendra of India.

On the top board, Krishna Udupa played the white pieces against Kishan and opted for queen's pawn opening. Kishan transposed to Benko Gambit and Udupa, hastily castled and went into the attack without a plan.

It was a costly move as the four-time national 'A' Indian champion Kishan was unsparing. He grabbed the opportunity and quickly brought about the end. It all finished in 24 moves.

On second board, Husain Ejaz of Bangladesh played with white pieces against Delhi's Somender. Ejaz played Kings Pawn Opening and Somender replied with Sicilian Defence.

The game was equal up to the 29th move. Husain then moved a pawn to c4, which was a blunder and lost the piece. Somender was in an advantageous position, in fact, strong enough to win the game. On the contrary, he blundered and resigned on the 51st move.

Results

Krishna Udupa (Ind) 3 lost to Kishan Gangolli (Ind) 5. Husain Ejaz (Ban) 4 beat Somender B L (Ind) 3. Makwana Ashvin K (Ind) 4 beat Yudhajeet De (Ind) 3. Soundarya Kumar Pradhan (Ind) 4 beat Aryan B Joshi (Ind) 2½. Swapanil Shah (Ind) 3½ beat Waghmare Sachin Lahu (Ind) 2. Prachurya Kumar Pradhan (Ind) 3 beat Rodolfo D. Sarmiento (Phi) 2. Vaishali Nrendra Salavkar (Ind) 2 lost to Marimuthu K (Ind) 3. Mrunali Pande (Ind) 2½ Beat Sarkar Bappi (Ban) 1½. Samant Milind (Ind) 2½ beat Liyana Arachchilage Upul Indrajith (Sri) 1. Tuan Rushdi (Sri) 1 lost to Patil Shirish (Ind) 2. Jose Antonio M. Maraguinot (Phi) 1½ beat Hiriyamulla Vithange Sanjeewa Karunarathna (Sri) 0.

Write Comment
|

E-Mail
|
Facebook
|

Twitter
|

Print