Kids day out at Mangaluru 'Krishna Vesha' contest
Mangalore Today News Network
Mangaluru, Sept 6, 2015: The ethos and glory of Lord Krishna was full blown at Kadri Temple here at the Krishna Vesha competition organised by Kalkura Prathishtana on September 5, Saturday. The kids of all shapes and sizes, gave a run to the audience.

Some temporary Krishna's were seen smacking butter and ice cream while parents were trying hard to make their children act their best. Also 'new avatara' of Krishna were seen. A little Krishna, holding Doraemon and Chota Bheema was also seen.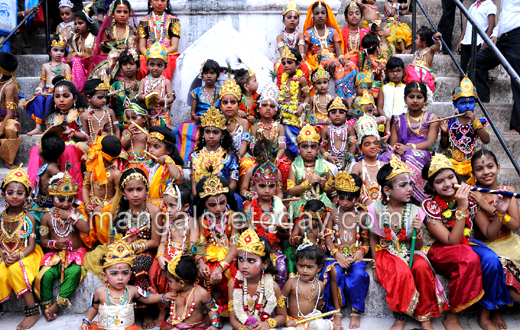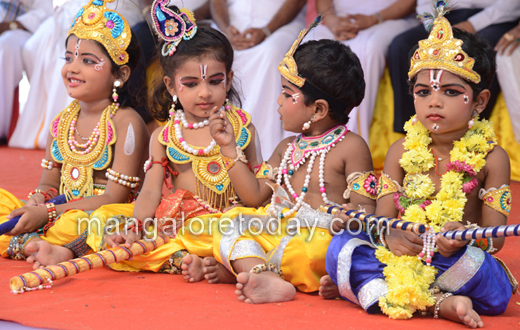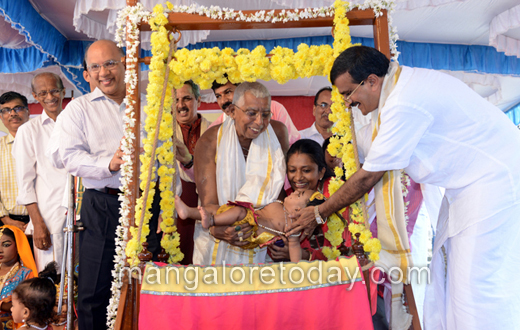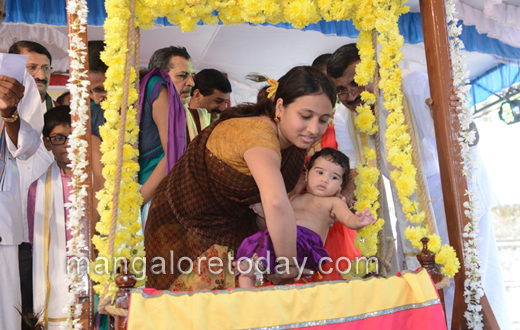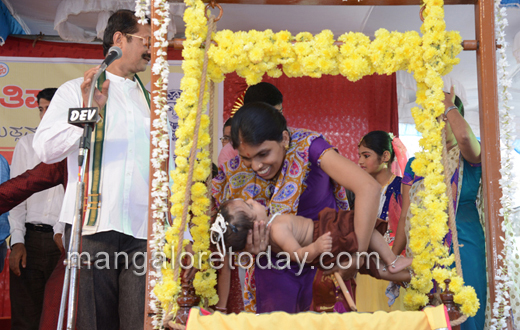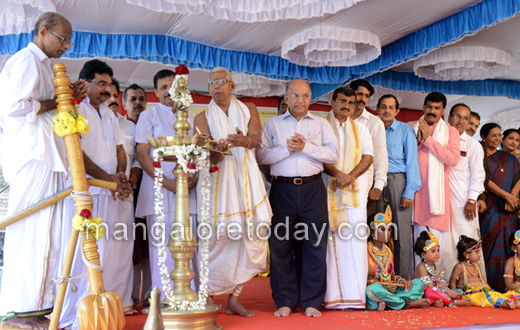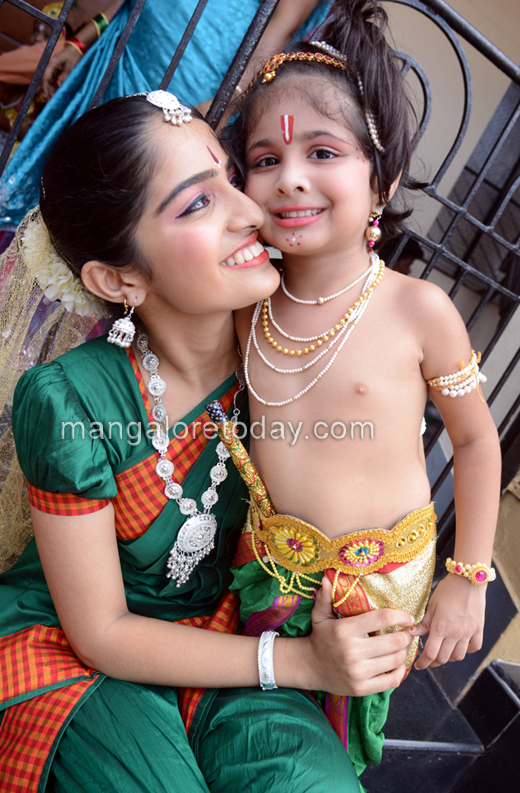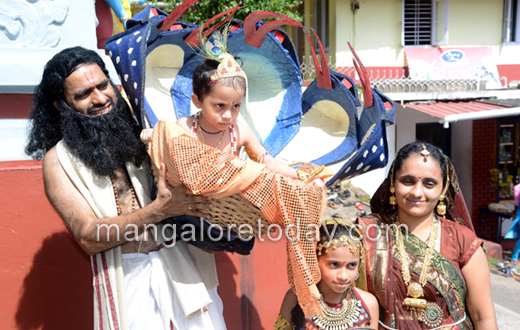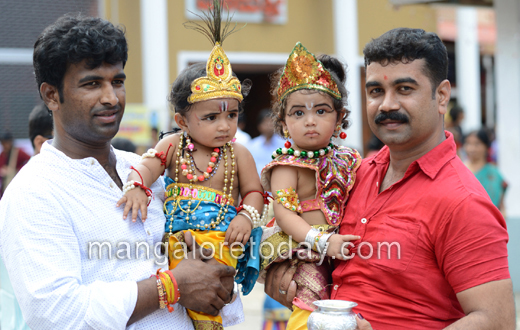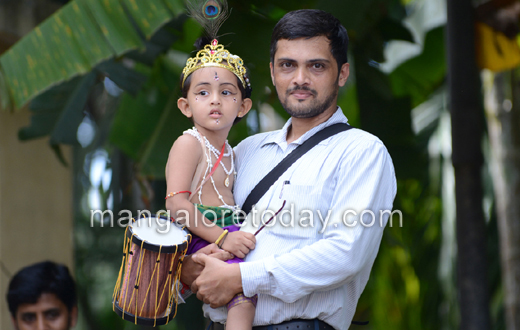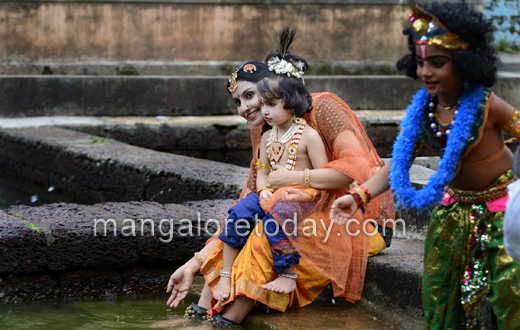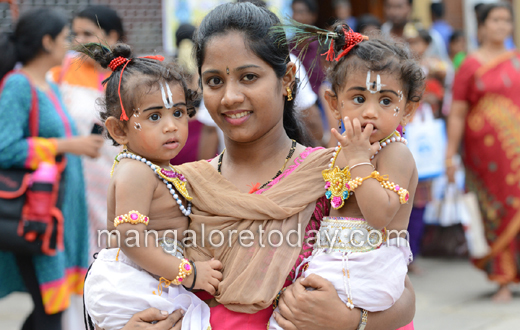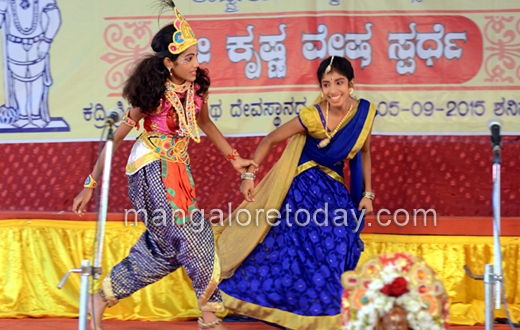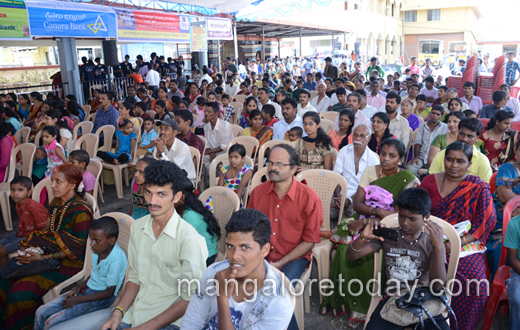 The competitions were held at nine different venues, in 25 categories. 'Sri Krishna Varna Vaibhava,' an art competition was the new addition to the list of competitions.

The events were: 'Kanda Krishna' (for tiny tots below one year and mother can lead the child to the stage); 'Muddukrishna' (for toddlers under two years and mothers are allowed to come on the stage along with the participants); Thuntakrishna (for the toddlers of two years to three years); 'Balakrishna' (for kids from Anganwadi and LKG), 'Kishor Krishna ' (for children from UKG and I std); 'Sri Krishna' (for II, III and IV standard children); Geetha Krishna (for students up to VII std, here one has to create Geethopadesha situation with costumes); 'Yakshakrishna' (for children upto X std; 'Radhakrishna' (children upto VII std(pair); 'Yashodha Krishna' (woman as Yashodha and any child as Krishna); Shankanada (For children upto VII std); 'Shankhaudgosha (for above seventh std and open to all); 'Devaki Krishna' (mother (previous participants of the competition) as Devaki and her child as Krishna can take part); Vasudeva Krishna. 'Nanda Gokula' (episde presentation of Lord Krishna's life by a group i.e entire family members with minimum five members); Balakrishna quiz competition (for children upto VII standard); 'Sri Krishna quiz contest (above VII std) and 'Krishna photography' in front of a stage in the temple premises.

The Sri Krishna Varna Vaibhava was held in six categories viz 'putani' 'shishu' (I to IV), 'Baala vibhaga' (fifth to seventh standard); 'Kishora vibhaga' (for eighth to tend std), 'Taruna vibhaga' (PU and degree) and open category.

Every participating child was honoured with an idol of Udupi Kadagolu Krishna made of panchaloha along with books on Sri Krishna, certificate, photo of Lord Kadri Sri Manjunatha and other sponsored gifts. Copies of Shrimad Bhagavathgeetha were given to all participants of Geetha Krishna section. Hot Milk, peda and ice cream were distributed to competing children.

The Krishna vesha competition was inaugurated by Kateel Sri Durgaparameshwari Temple chief priest Lakshminarayana Asranna. Artist Harish Acharya, Prasad, Sudheer Pandeshwar had created sand sculpture of Radhe, Krishna and Manjunath. The festive spirit and hype was evident in full measure.

Write Comment
|

E-Mail
|
Facebook
|

Twitter
|

Print