Kasturi report meet clouded by chaos
Mangalore Today News Network
Mangaluru, Feb 26, 2015: : Speaking at the public interaction to collect opinion about the report organised at Town Hall in Puttur town municipal council premises on Feb 25, Minister for Law and Parliamentary Affairs and member for cabinet sub-committee to review the recommendations of the Kasturirangan report T B Jayachandra has directed all gram panchayats of Dakshina Kannada district to form village-level committees. He said, the committees should comprise revenue officer, forest officer, elected representatives of gram panchayat, PDO and also the tahsildar to discuss the pros and cons of Kasturirangan recommendations and submit a report within 15 days.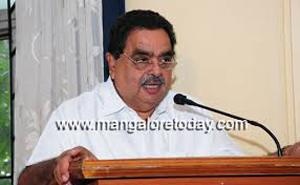 He further said that there is lack of information about Kasturirangan report among villagers. The main objective of the report is to save ecologically sensitive zones of Western Ghats. District Forest Officer, Deputy Commissioner and Zilla Panchayat Chief Executive Officer will look after the whole process, he said.

Report contents : It does not recommended any kind of eviction. There is no problem for agriculture or plantation. Farmers can also use chemicals and fertilisers for agriculture purpose.

Though the report has recommended banning mining, crushers and sand mining in ecologically sensitive zones, the cabinet sub-committee has recommended to ban only mining and regulate crushers and sand mining. The report allows to build schools or colleges with a base of 2,15,280 square feet. The committee has also recommended to consider the villages with more than 50 per cent forest as ESZ (report recommends 20 pc).

The Kasturirangan report has identified 37 per cent land in six states, including 10 districts of Karnataka as ecologically sensitive zones and recommended to ban Red category industries which cause pollution, thermal power plants and mining.

Cabinet sub-committee President and Minister for Forest, Environment and Ecology B Ramanath Rai said that the public opinion is being collected in Karnataka, Kerala, Goa, Gujarat, Maharastra and Tamil Nadu on Kasturirangan report. The report should be submitted to the Central government on April 15.

Kerala has agreed to ban sand mining and crushers. Karnataka will give top priority to public opinion and will implement the report more effectively. Opinion is collected in all other districts except Dakshina Kannada and Udupi. If there is no other solution, the committee may recommend to keep all 45 gram panchayats of the district out of the ESZ, he said.

Puttur Taluk Panchayat President Pulasya Rai said that people are getting information about Kasturirangan report at last minute. If they get a correct picture, they could be convinced. Protester Damodar opined that everything is in the hands of bureaucrats. In the issue of Kudremukh National Park, they didn't inform about eviction till last minute. Industries will not be allowed under the report. What about cashew and coffee pulping, he asked. Ramanath Rai said that they are kept out of red category industries.

Advocate Venkappa Gowda wanted the forest department more people-friendly. Officials should know the situation in villages and meeting should be conducted out of Mangaluru. Field verification should be done before submission of the report. Zilla Panchayat member Devraj said that people should not face problems for road, electricity and for their livelihood. Puduvettu GP Member Joseph K T said that laying border should be done in all gram Panchayats at the earliest.There is no need of appeasing corporates. There should be a open fund for development work, he said.

Title deeds : Ramanath Rai said that the regulation distance should be decreased to 0 from 10 km around ESZs. A recommendation will be submitted to the Central government on this regard. About deemed forest, a joint survey by the forest and revenue departments soon. Around 80,000 acres of land would go out of the department's hand, he said.

Meanwhile, Rai said that under Forest Rights' Act, tribals in forests for more than 75 years, but only 17 per cent applications were accepted. The cabinet has decided to re-consider all rejected applications and will also invite new applications from forest dwellers.

Urban Development Minister Vinay Kumar Sorake, Puttur MLA Shakunthala Shetty, Sullia MLA Angara, Forest Department Additional Chief Secretary Madan Gopal, Deputy Commissioner A B Ibrahim, CEO Tulasi Maddineni and others were present. There is lack of understanding and chaos between groups.
Protest : : Balakrishna Nelyadi of Kasturirangan Varadi Virodhi Horata Samiti alleged that no information is given among villagers about the recommendations about the report and boycotted the meeting. Another protestor came down heavily against officials and questioned the definition of natural and cultural landscapes. The recommendation allows to provide basic facility to public, but what is the definition of basic facility according to them. To get basic facility, panchayat should have the right, he said. Many had black bands as a protest in the matter.

Write Comment
|

E-Mail
|
Facebook
|

Twitter
|

Print