Kashi Math Row: Raghavendra Thirtha's Followers Call for Truce and 'Reunification'
Mangalore Today News Network
Mangaluru, July 12, 2016: In a surprising development it has come to light that followers of Raghavendra Thirtha, the estranged former disciple of Sudhindra Thirtha Swami, the previous head of Kashi Math Samsthan, had held a prayer meeting at Manjeshwar Srimath Anantheshwara Temple last Friday (8th July).

The objective of the prayer meet was ostensibly to mark the 27th anniversary of Deeksha (initiation into Sanyas) of Raghavendra Thirtha. An invitation message posted on Facebook by Dattatreya Bhat Gurpur states that the purpose of the meet was to pray for the overall betterment of the community. Prayer was also so that Raghavendra Thirtha would be able present himself soon to them for darshan.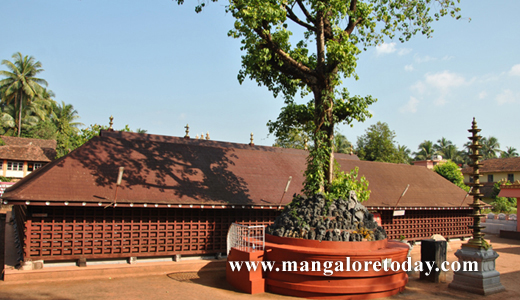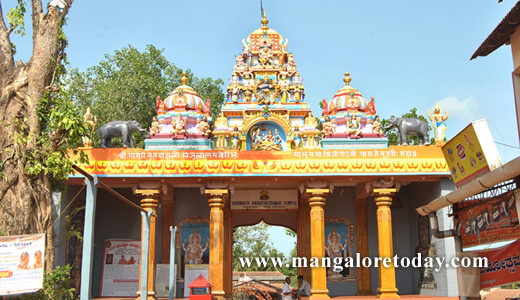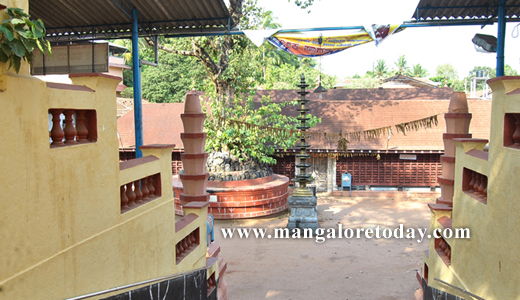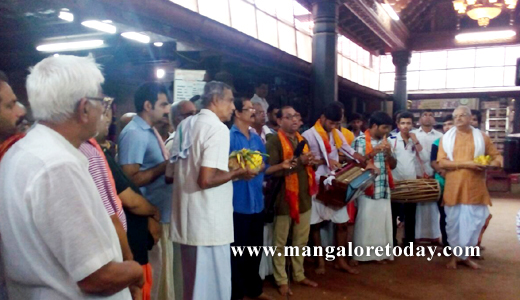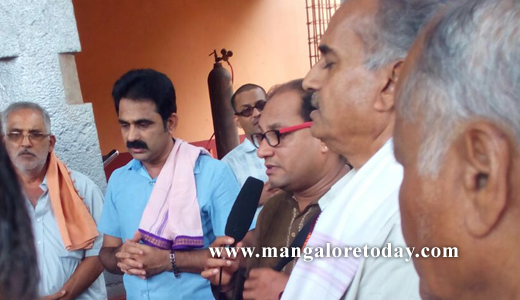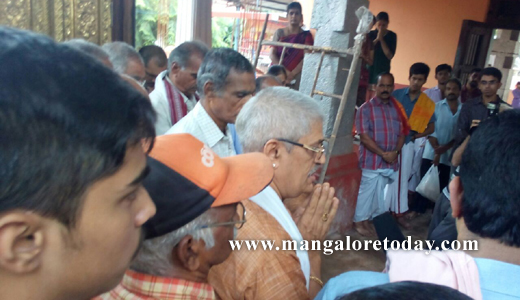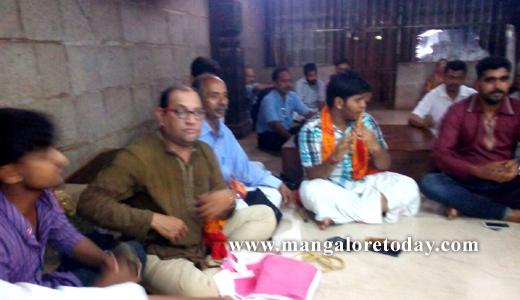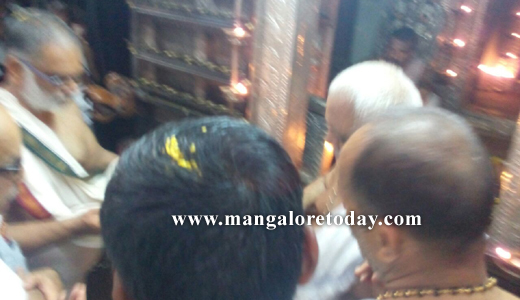 It may be recalled that the whereabouts of Raghavendra Thirtha is presently not known. While his followers claim that he has withdrawn into solitude for spiritual pursuits, his detractors accuse him of absconding in order to evade compliance with court orders.

CBI is presently on the lookout for him for enforcing court directives for the return of religious deities and sacred items belonging to Kashi Math.

Call for Truce and Reconciliation
The same Facebook invitation message further states: "It is a cherished hope that Raghavendra Thirtha and Samyamindra Thirtha (the present head of Kashi Math Samsthan) would join hands and together reunite and revive the glorious traditions of beloved Kashi Math so that the community may be blessed by the Guru Parampara". It called for those who wished for the betterment and reunification of the Math to attend the prayer meeting.

The meeting began at 5:30 p.m. on 8th July with a small group of devotees of Raghavendra Thirtha. Prayers were offered to the Vrindavans (memorial shrines) of Vibhudendra Thirtha Swami and Vasudendra Thirtha Swami. This was followed by recital of devotional songs by Ravindra Prabhu and circumambulation of the temple deity with dancing bhajans. Bhamy Sudhakar Shenoy then led the group in prayer. After the main pooja at 8:00 p.m., prasadam meals were served and the group dispersed.

"The prayer and Bhajan were for betterment of GSB community. There was no slogan shouting about any Swamiji. We only prayed to God to abolish hatred and bring peace," said one of the participants of the prayer meet.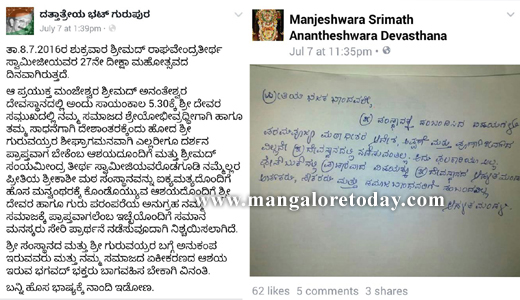 Meanwhile on 7th July, the Facebook page of Manjeshwar Srimath Anantheshwara Temple carried a disclaimer issued by the temple managing committee stating: "For all matters pertaining to Sri (Kashi Math) Samsthan, activities not having prior orders, permission and blessings of the pontiff are not allowed in the temple premises. Such activities will not be fruitful also. Matter published on Face book is unrelated to the temple management, priests, employees or community fraternity."

Surprising Development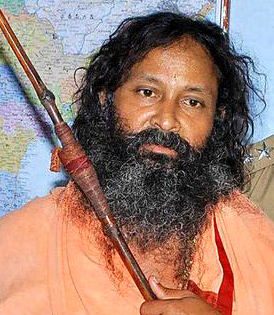 This is a surprising development mainly because Raghavendra Thirtha has been disgraced by the mainstream GSB community. They consider him to be a traitor to the guru-shishya tradition, which they hold to be sacrosanct. Many court cases have been filed against him.

His following, which is minuscule, has been subjected to social boycott by the community. They are not given space at the community temples for organizing programmes. Hence this programme has raised many eyebrows, as it has taken place at Manjeshwar Srimath Anantheshwara Temple, which is one of the oldest GSB community temples of the region with an 800 year history.

One of the organizers of the programme said that few days before the event he had taken one of the local community elders who is a trustee of the temple into confidence and convinced him about their good intensions. "I showed him the messages we shared through social media. Finally he was convinced and told me that we are doing good thing for our Samaj," the organiser said.

Significance in Vinayak Baliga Murder Issue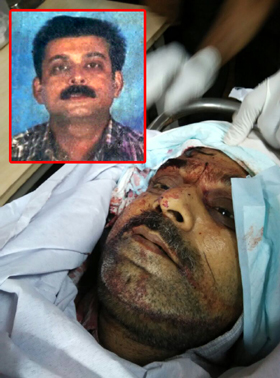 This new offer for 'reunification' of Kashi Math assumes significance in the wake of the circumstances surrounding Vinayak Baliga Murder Case. It is suspected that the motive for the sensational murder has to do with alleged financial irregularities at Venkatramana Temple, Car Street and Kashi Math. It is known that the slain RTI activist Vinayak Baliga was attempting to expose some such irregularities.

Naresh Shenoy, the prime accused in the murder, was known to be a vocal opponent of Raghavendra Thirtha and a driving force for his humiliation and downfall. He was arrested by the police a few weeks back following a three month long man hunt. At present he is in judicial custody.

These factors have led to a tense situation, wherein many feel that Raghavendra Thirtha's faction is attempting to take undue advantage of the situation. Many feel that they are bent on exacting revenge on Naresh Shenoy for unleashing a witch hunt on them. Naresh Shenoy's friends are accusing them of conspiring for Naresh's downfall.

So far the present Kashi Math establishment had been riding on high moral ground. Raghavendra Thirtha had been cast as the villain incarnate. Now the murder of RTI activist Vinayak Baliga seems to have turned the tables on Kashi Math establishment and its protagonists.

The potential outcome of the murder investigation threatens to destroy the sanctity of Kashi Math Samsthan. If the allegations of financial irregularities are proved to be true, then the Kashi Math establishment will lose its moral upper hand. In such an eventuality, it follows that the community will feel cheated. It is feared by Kashi Math supporters that people may feel that Raghavendra Thirtha had been wronged during all these years and public sympathy might shift to his side. Moreover there's a chance that large sections of the community may lose faith and withdraw from the temple and math activities altogether in disgust and revulsion.

Posturing for a happy ending?
Hence amidst such a tight situation and a potentially advantageous position, it is surprising that Raghavendra Thirtha's supporters should hold out the olive branch and seek reconciliation. This is perhaps because they are keen to shed their stigma of being seen as the villains throughout the ordeal spanning nearly two decades. They also do not want to take the blame for destabilizing and disintegrating the GSB community. Maybe they want to convey that their goal is not as devious and ambitious as publicly perceived and they are merely seeking an end to their social untouchability and isolation; and an acceptance among mainstream GSB community.

Even earlier when Sudhindra Thirtha Swami was on the deathbed, Raghavendra Thirtha's followers had attempted a compromise settlement. This was mainly because, having been completely cornered with a litany of litigations, they wanted to close the dispute before Sudhindra Thirtha's successor (Samyamindra Thirtha) would take over.

According to a letter written by Bhamy Sudhakar Shenoy, who led the delegation of Raghavendra Thirtha's supporters, a secret meeting was held with members of GSB All Temples Association, Mangalore on 16-01-2016 at Shirva, Manchakal to negotiate a compromise. This was a day before Sudhindra Thirtha's demise when news came in that his health condition was critical and he was being shifted from Mumbai to Haridwar as per his last wishes.

In November last year, Bhamy Sudhakar Shenoy and a few of Raghavendra Thirtha's supporters had been summoned by the CBI and CID for inquiry. After listening to their version of the story, a senior CBI officer had observed that the dispute concerning Kashi Math had better chances of being solved if settled internally through mutual negotiation. He had suggested that this option be explored. As it concerned matters of faith, recourse to the law would be inadequate, he had opined.

Accepting this advice, Bhamy Sudhakar Shenoy had written a letter to Raghuveer Bhandarkar, President of GSB All Temples Association on 1st January this year seeking a compromise. Hence Raghuveer Bhandarkar had arranged the meeting. Bhamy Sudhakar Shenoy had presented himself with Vaikunta Kudva of Surathkal and Vinayak Shenoy of Davanagere.

Apart from Raghuveer Bhandarkar, Ganapathy Pai, secretary of GSB All Temples Association, M. Padmanabha Pai and Jairaj Pai, Trustees of Venkatramana Temple, Car Street, Mangalore, Dinesh Kamath, Trustee of Koteshwar Temple and Jagannath Kamath, Administrator of Kashi Math Branch, Basrur were present.

Narayan Shenoy, who is knowledgeable about the legal affairs of Kashi Math was at hand for consultation. Naresh Shenoy and Manju Neereshwallya, prime accused and 7th accused respectively in Vinayak Baliga Murder Case, were present as supernumerary participants in the meeting.

Though it started off on a cordial note, the discussion ran into a dead end. It is learned that the Kashi Math side was conditionally agreeable to only one of the three demands submitted by the Raghavendra Thirtha's supporters. They subsequently had to leave the meeting empty handed. Having lost all the legal battles, and lacking in resources, they are pushed into a corner and are in no position to carry the fight further. Hence their eagerness for an amicable solution.

Raghavendra Thirtha's followers are still hopeful of achieving a breakthrough. They argue that according to Madhwa tradition followed by the Math and Guruparampara system, once a swami accepts a disciple, it is solemn and irreversible. As Sudhindra Thirtha had adopted two disciples, the situation can get further complicated in the long run and lead to more problems if it is not resolved by the community, they assert. If Raghavendra Thirtha were to accept a disciple under him, the problem could get carried on forever.

They give the example of two earlier occasions in Kashi Math history when the then swamis had adopted two disciples. On both occasions disputes arose and the community elders sat together and resolved the issues. They did not allow the dispute to be carried on to the next generation. Hence it is argued that community leaders should work out a compromise solution and ensure that the future succession is smooth and the timeline of the Math is not further disturbed.

Despite being a microscopic minority, Raghavendra Thirtha's supporters seem to be posturing for a happy ending to the dreadful saga of murder and mischief. Their stand seems pragmatic, well meaning and purposeful. It is to be seen how the rest of the community will respond to the emerging scenario.

Forgiveness and healing go hand in hand. There is now some scope for giving a dignified burial to the lingering acrimony between the two parties and pave the way for a more glorious future. The possibility of reaching a mutually agreeable solution needs to be earnestly explored. It is time for the larger community to act with confidence, guided by restraint, compassion and wisdom.

Write Comment
|

E-Mail
|
Facebook
|

Twitter
|

Print