Kasargod: Tuluva state call not in order - Kayyara Kinhanna Rai
Mangalore Today News Network
Kasargod, June 09, 2015: Speaking at his birthday celebrations in Peradala in Badiadka (Kasargod), he said there have been movements for a separate Tulunadu state. But, Tuluvas are part of Karnataka and are Kannadigas. Karnataka is one and all Kannadigas should stay united irrespective of their mother tongues. All Tuluvas should consider themselves as Kannadigas.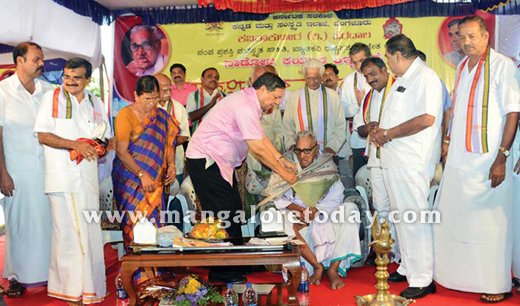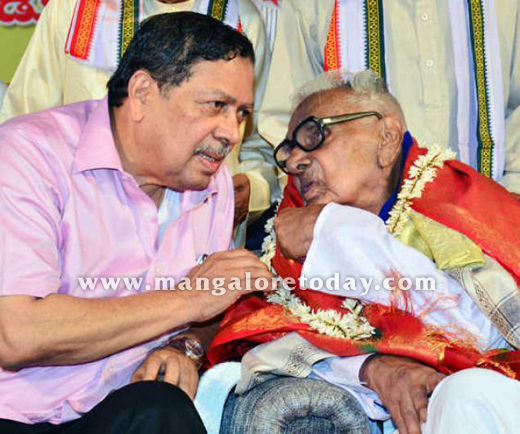 Centenarian litterateur Kayyara Kinhanna Rai called upon Tuluvas to take pride in considering themselves Kannadigas and felt there should not be a call for separate Tuluva state. Rai, who is acclaimed as elder of Kasargod, entered his 101st year on June 8, Monday.

Stating that he takes pride in being a Kannadiga he said that his mother tongue is Tulu, I studied English and I graduated in Sanskrit. But, my literary works have been in Kannada, the language which I revere. He added that he was proud for being a part of freedom movement. The sacrifice paid off when India attained freedom.

Held in great respect by Kannadigas and literary lovers for messages of solidarity spread through his popular work "Aikyagana" (song of unity), it said Kannadigas should respect Kannada but should not develop hatred towards other regional languages. Sanskrit is a national language for it surpasses regional differences.

Recalling earlier times, Kayyara Kinhanna Rai said he was born and bred in a village and believes in Indian way of living. He said that they were agriculturists, which, is the greatest privilege. Stating that agriculturists are real leaders of society, he wished he could carry out cultivation in the small land he possesses. He then said, " I am perfectly aware of my physical condition and age, which doesn't allow me",

Kayyara Kinhanna Rai quoted a Sanskrit verse "Shathamanam Bhavathi, Shatayuh Purushah.." which is uttered during blessings. Explaining the meaning he said those who complete 100 years, will continue to live for centuries. He said though he would accept the honour bestowed on him with all humility, he would not befit it, as he was a poor Kannadiga living in a place, separated from Karnataka.

DK district in-charge Minister B Ramanath Rai said dream of the centenarian litterateur Kayyara Kinhanna Rai, of unified Karnataka. He said conferring 'Karnataka Ratna' award on Kayyara Kinhanna Rai, is being considered. Kannada Sahitya Parishat DK district unit President Pradeep Kumar Kalkura urged the government to bestow 'Rastrakavi' award on Kayyara Kinhanna Rai. Former MLA C T Muhammed Ali urged Kerala government to republish entire literary works of Kayyara.

Former Justice and former Lokayukta N Santhosh Hegde, released 'Payaswini', 'Springs' and 'Aathma Nivedan', translated versions of Kayyara's Kannada poems, by Mithali Rai, A Narasimha Bhat and Prof Vishnu Bhat Sajankila respectively. Literary sessions on literature of Kayyara Kinhanna Rai were held. Puttur Narasimha Nayak and troupe presented Kayyara's songs. An exhibition on the works of Kayyara, was organised.

Write Comment
|

E-Mail
|
Facebook
|

Twitter
|

Print