Kasaragod gears up to witness 'Ring of Fire', a rare solar eclipse event
mangaloretoday/ newsminute
Kasargod, Dec 12: On December 26, the New Moon will cast its shadow on Earth covering a major part of the Sun but allowing its peripheral portion to be seen, forming a rare 'Ring of Fire' phenomenon or the Annular Solar Eclipse. Cheruvathur in Kerala's Kasaragod district is one of the few places where this rare phenomenon could be observed clearly on Earth.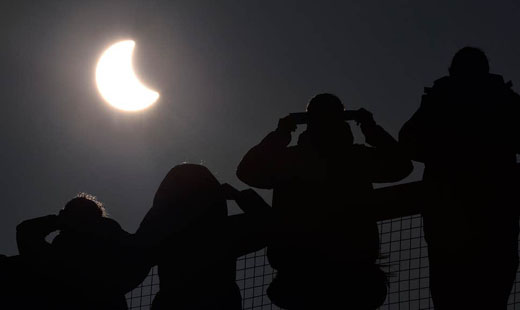 Making most of the opportunity, the district administration of Kasaragod has decided to arrange special facility for the public to view this rare phenomenon that happens during the eclipse. Kasaragod will also be among the first places in India to be witnessing the Annular Solar Eclipse.

The district administration associated with astro tourism firm named Space India will make facilities at Kadangot in Cheruvathur for people to observe the Annular Solar Eclipse.

The eclipse which will start at 8.04 am will reach its summit showing the 'Ring of Fire' phenomenon by 9.25 am. The 'Ring of Fire' is expected to have a duration of about 3 minutes and 12 seconds. The eclipse will conclude by 11.04 am.

"We have learned that Cheruvathur in Kasaragod district is one of the three places on Earth where this can be observed perfectly because of the geological location. The officials of Space India will be bringing special equipment for people to watch the eclipse," an official at Kasaragod district administration told TNM.

The full eclipse is also expected to be seen in Kannur and Wayanad districts in Kerala and districts like Coimbatore and Dindigul in Tamil Nadu. The eclipse will be partially visible from Mangaluru to Beypore in Kerala.

Space India has also made arrangements to conduct classes on misconceptions of astrology among people.

Meanwhile, District Collector Dr Sajith Babu has issued instructions for people to stay away from trying to observe the eclipse through the naked eye.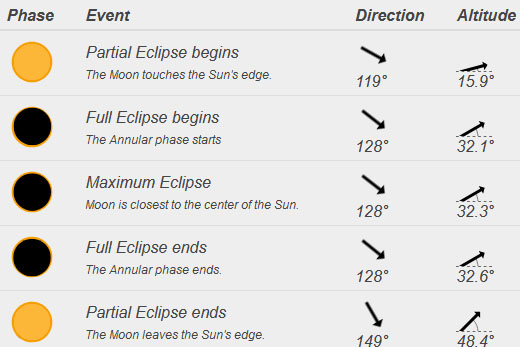 How to use altitude & direction to find in the sky

This annular solar eclipse is fully visible in Kasaragod. Observers there can experience the "ring of fire" that is characteristic for this kind of solar eclipse. This is a rare and spectacular event that can only be experienced along a relatively narrow strip on the Earth's surface. The eclipse is also visible in other areas, but the Moon does not move centrally in front of the Sun there and the "ring of fire" is not visible. Check the weather for Kasaragod.


Write Comment
|

E-Mail
|
Facebook
|

Twitter
|

Print