Karnataka HC issues notice to State Govt on Kambala
www.mangaloretoday.com
Mangaluru, Feb 19, 2016: The Karnataka High Court today issued notices to the State government and other respondents in the Public Interest Litigation (PIL) on holding 'Kambala' event in DK and Udupi districts.

Admitting a PIL filed by People forthe Ethical Treatment of Animals (PETA) India seeking an end toKambala, the court issued notices also to other respondents in thePIL including the Animal Welfare Board of India and DistrictCommittees of Kambala in Udupi and Dakshina Kannada districts.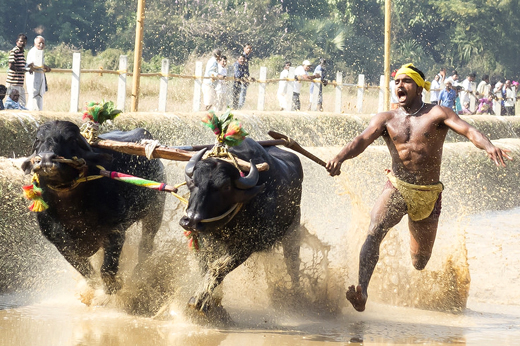 Senior advocate for the petitioner Mr Anand Grover argued thatthe Ministry of Animal Husbandry & Fisheries, Government ofKarnataka on December 17-2015 issued an order permitting Kambalaevents despite a 2014 Supreme Court judgement that categoricallyheld that such events are inherently cruel, violate the Preventionof Cruelty to Animal Act, 1960 and hence cannot be allowed.

"Buffalo bulls are forced to run in Kambala events through theinfliction of fear and pain. India's Supreme Court has alreadyconfirmed that such events are inherently cruel," PETA IndiaDirector of Veterinary Affairs Dr Manilal Valliyate said in arelease here.

"PETA will continue the fight to protect the bulls from abuse andwe are hopeful that justice to these animals will be served, asevents involving cruelty to animals have no place in civilisedsociety," he added.

As many as 65 non-cognisable offence complaints and one FIR were filed at just three events inspected by AWBI during 2014-15 Kambala events in Dakshina Kannada and Udupi Districts. The AWBI inspection reports contain a scientific assessment of the welfare of buffaloes when they are forced to participate in Kambala events. The reports further pointsout different forms of cruelty inflicted on the animals withphotographic evidences, such as being subjected to verbal andphysical force including shouting, hitting with hands, slapping onface, violent pulling of thick nose ropes (in some cases 2-3 noseropes inserted through the same hole in the nasal septum), roughhandling by pushing and pulling the animal, overpowering, tailpulling, and restricting the movements of the head using a woodenpole tied to the horns of both the animals. Many of the buffalo whofinished the race frothed at the mouth, salivated heavily and displayed increased respiration rates, establishing that buffalosare anatomically unfit for running.

Write Comment
|

E-Mail
|
Facebook
|

Twitter
|

Print